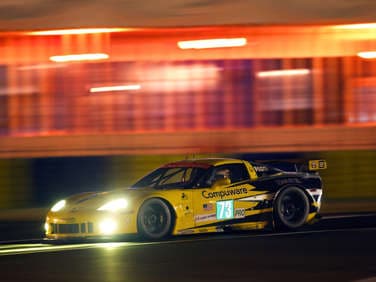 The 2012 Chevrolet Corvette is an exciting sports car that typically doesn't need to much more to coax buyers into showrooms other than a test drive to sample its ample charms. That hasn't stopped Chevrolet from rolling out the Race to Win Corvette Contest which is designed to raise awareness about the Chevrolet Corvette and its role in professional automobile racing while also illustrating how well the vehicle stacks up against one of its most accomplished competitors.
The contest itself offers a twist on the simple "give us your email, we'll give you a chance to win a car" concept. Fans of the Chevrolet Corvette can head over to the contest website, www.RacetoWinCorvette.com, where they then have to answer a series of trivia questions that directly compare the Chevrolet Grand Sport Convertible (the same 2012 model that is up for grabs as the contest's main prize) to the Porsche 911 Carrera S Cabriolet. The questions, which are presented in a multiple choice format, ask participants to guess the Corvette GS Convertible's 0-60 mile per hour time, how many horsepower it has and whether the vehicle is lighter or heavier than its Porsche rival. In fact, each and every question is designed to highlight the prowess of the Corvette over that of the 911. The contest website offers instant feedback for each selected answer, explaining the right and wrong choices before asking site visitors to fill in their contact information.
The 2012 Chevrolet Corvette Grand Sport Convertible is a special, competition-inspired edition of the standard Corvette ragtop that offers more aggressive gearing, unique aerodynamic add-ons, a striping package, bigger brakes and wider tires. The model also comes with a suspension system that is tuned to provide even better grip and handling than the already potent base Corvette.
In addition to winning a 2012 Chevrolet Corvette Grand Sport Convertible, grand prize winners will also be treated to a European vacation. Alongside the roadster, Chevrolet will award two airplane tickets to France, along with five days and four nights of hotel accommodations and $800 in spending money so that the contest winner and a lucky companion can attend the 2012 24 Hours of Le Mans race. VIP status will also be awarded to the pair at the race itself allowing for a closer look inside the Chevrolet racing program and the pit area of the world-famous event.
The Chevrolet Race to Win Corvette Contest is open until June 30, 2011.