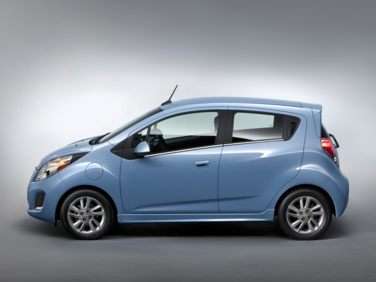 If it seems like I've been spending a lot of time on Chevy lately, it's only because I have, but it's unavoidable when you consider how many new products—including the Chevrolet Spark electric vehicle—that the brand has been introducing in the past few days. It's the kind of product onslaught we're more used to seeing from companies like Kia and Hyundai, except that in Chevy's case, the range of new vehicles is even wider. In addition to the all-electric Spark, the brand also has begun touting its gas-engined Spark, the all-new Chevy Colorado mid-size pickup, an eAssisted Chevrolet Equinox, the ultimate Chevy Camaro and, if you read between the lines, a fresh midsize SUV—a body-on-frame vehicle mind you, not a crossover. Add in the fact that the division is in the midst of rebooting its core car lineup with the Chevy Sonic, Chevy Cruze and 2013 Chevrolet Malibu, and that whole bailout business is starting to look like a pretty good deal indeed.[pageA Visit to Electric Chevyland
With the announcement that Chevy would offer an electric Spark in the U.S. in 2013, the brand has now put together a comprehensive electrification strategy that, in important ways, betters those created by Toyota and Ford. All three companies are both pushing electric vehicles and hedging their bets at the same time by offering products with different degrees of electrification. However, Chevy's approach seems to be the best fit for the current state of both the marketplace and the country's infrastructure.
It's clear that there is a relatively robust demand for EVs, since, all things considered, the Nissan Leaf continues to achieve fairly strong sales. Nissan sold more than 1,000 of them again in September, and that's an amazing number when you realize the car's EPA range is under 75 miles, it takes hours to recharge even with a 220-volt connection, public charging stations of any kind are hard to find, and it's only on sale in a very limited number of markets.
Leveraging that demand with an EV specifically designed for short-range, urban driving, in cities that are taking the lead in terms of charging solutions, would seem like an effective strategy, and that's what the Spark is all about. Plus, Chevy is already pre-empting volume worries by explicitly stating that the Spark EV would only be sold in very limited numbers. The coming pure EVs from Toyota and Ford—electrified versions of the Toyota RAV4 and Ford Focus—are going to face different kinds of expectations. With these modified versions of vehicles originally designed for a full gamut of driving scenarios, customers are likely going to be more sensitive to range issues than people who are buying products already positioned as primarily for interurban transportation. And that will be true even if the electric RAV4 and Focus deliver on their promised driving ranges of about 100 miles.
Although most people don't drive that many miles on a daily basis, they do so often enough that these vehicles simply won't suit customers who are looking for a single-vehicle transportation solution.
For that, you need something like the Volt. The Volt has a 35-mile all-electric range—and I was able to achieve 40 miles in real-world driving during a five-day test this summer—and when it does run on gas, it offers the highest gas-only city and combined EPA ratings in the U.S. It's true that the Volt is selling under a thousand units a month, including just 723 in September, but I still firmly believe that this reflects problems on the supply side more than it does demand by customers.
Toyota and Ford are countering the Volt with plug-in hybrid versions of the Toyota Prius and Ford C-MAX, but these will have drastically shorter all-electric driving ranges than the Volt—and if critics think the Chevy isn't "worth" its sticker price because of its "limited" range, I don't see how the Toyota or Ford will fare any better.
Chevy to Blaze a Familiar Trail with New SUV?
It's true that Chevrolet also is hedging its bets on the whole fuel-efficiency thing, but the difference is that, in addition to spreading its risk across a variety of electrified vehicles, as well as upcoming advances in gas-engine technology that will see a three-cylinder engine in future U.S. products, the General seems to be getting back on the body-on-frame bandwagon. The company already announced it would sell the all-new Chevy Colorado mid-size pickup in this country, and now word comes that a fresh mid-size SUV will resuscitate the Chevrolet TrailBlazer name.
Details are few at this point, with the press release, in its entirety, as follows: "Chevrolet will introduce the all-new, 2013 TrailBlazer midsize SUV in global markets, beginning in Thailand, in early 2012. Built on a new global midsize platform developed by GM do Brasil, the TrailBlazer will combine the hauling and towing capability of an SUV with the ride comfort and efficiency of a crossover. The new TrailBlazer will be unveiled at the Dubai International Motor Show, Nov. 10-14."
No, there's no explicit mention of the vehicle reaching the U.S., but remember, such was originally the case with the new Colorado, too.