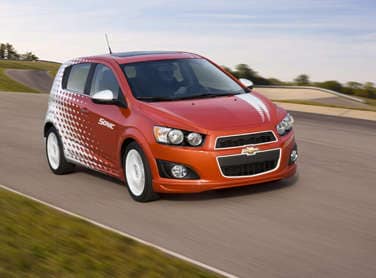 The 2012 Chevrolet Sonic has been priced, and the decision to give the vehicle a starting MSRP of $14,495 indicates that the Bowtie brand has adopted a more aggressive strategy with regards to its subcompact lineup in years past. The 2012 Chevrolet Sonic will not rely on deeply discounted sticker prices to help move metal, but rather entice first-time car buyers more interested in quality than cut-rate materials and ultra-low monthly payments.
The decision to start the 2012 Chevrolet Sonic's pricing in the mid-teens indicates just how much the small car marketplace has changed over the past two years. Vehicles like the Ford Fiesta and the redesigned Hyundai Elantra were presented to subcompact car shoppers based on their merits as legitimately comfortable and fuel efficient automobiles, not just as cheap daily drivers to be disposed of as soon as the warranty expires. The Chevrolet Sonic is set to follow in the footsteps of these automobiles, and when it goes on sale this coming fall it will cost close to $2,500 more than the entry-level Chevrolet Aveo model that it replaces.
Like Ford did with the Fiesta, GM has chosen to market the 2012 Chevrolet Sonic as a "technology car," a vehicle which takes advantage of high tech features and specifications in order to deliver strong fuel economy and reasonable power for its class. Chevrolet is also touting the fact that the Sonic is the only subcompact car available on the North American market that is actually built in the United States, which is a dig at Ford's Euro-derived Fiesta and competitors like the Honda Fit and the Hyundai Elantra. It is also a marked departure from Chevrolet's past subcompact car strategy of rebadging Korean-built econo-models as low-buck loss leaders.
The entry-level 2012 Chevrolet Sonic sedan is most affordable version of the Chevrolet subcompact (base hatchback Sonics start at $15,395), and standard features include OnStar, 10 air bags, 15-inch alloy wheels, power door locks and air conditioning. Drivers who feel like adding a few more creature comforts to the 2012 Sonic can do so by opting for the LT trim ($15,695 sedan, $16,495 hatchback), which installs a CD player, power windows and heated side mirrors. The most expensive Chevrolet Sonic model is the LTZ, which checks in with an MSRP of $17,295 for the sedan and $17,995 for the hatchback. This price bump brings with it imitation leather seats (heated in the front two positions), 17-inch wheels, cruise control and USB and Bluetooth connectivity for the vehicle's sound system.
The 2012 Chevrolet Sonic starts out with a 1.8-liter, 138 horsepower four-cylinder engine under the hood that comes with a five-speed manual transmission or the choice of an six-speed automatic gearbox for an extra $1,070. A 1.4-liter, turbocharged four-cylinder engine that is matched with a six-speed manual is also available as an option ($700), and GM promises that this motor will provide a slight power increase over the larger engine while still returning fuel mileage in the 40-mpg range.
The 2012 Chevrolet Sonic is slightly more expensive than the Ford Fiesta, but still cheaper than the popular Honda Fit. Time will tell whether new car shoppers are willing to buy in to Chevrolet's new subcompact image, but the decision by so many automakers to invest significant sums of money developing high quality affordable cars means that it is becoming increasingly difficult to purchase a "bad" vehicle in this area of the market.