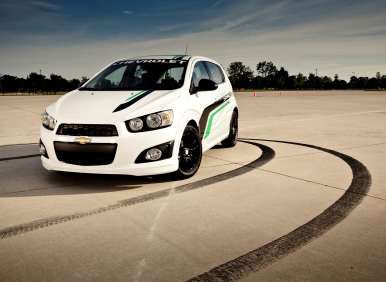 The digital marketing experiment continues for General Motors with the announcement of a program that is designed to distribute extended-length test drives of the all-new 2012 Chevrolet Sonic to individuals who have demonstrated exceptional "social influence" online. According to Automotive News, the campaign is being run in conjunction with Klout, a company which tracks the movers and shakers of the Internet world.
GM's goal is to raise the profile of its newest subcompact automobile by attracting the attention of young tastemakers who have the kind of social contacts required to spread the word to the entry-level demographic that the Chevrolet Sonic is aimed at. In order to be selected for the marketing campaign, individuals must score above a certain level on Klout's internal social influence meter, which tracks the reach of each participant, how well they are able to amplify a given message throughout their network and how much weight their social network actually carries in the online and offline worlds.
Those who qualify will be given a new Chevrolet Sonic for a three day period, and although no one is required to actually tweet, comment or put together a blog post about the vehicle it is expected that most who are involved in the program will do at least one of those things. 139 individuals in five cities (Chicago, New York, Dallas, San Francisco and Atlanta) will be selected by Klout for the Sonic promotion, which runs until December 14. GM and Klout have previously worked together on a similar campaign attached to the Chevrolet Volt, which saw an overwhelmingly positive online response from the group of 20 selected test drivers.
Chevrolet is hoping that its Klout partnership will do a better job of helping to generate online buzz about the 2012 Chevrolet Sonic than its most recent Internet effort. This past fall the automaker offered a giveaway of as many as 10 editions of the Chevy Sonic through an online contest dubbed "Game of Firsts," which asked participants to film or photograph themselves engaging in zany or unusual activities for the first time.
Once posted on the web, the public was able to vote on each "first," with those gaining the most votes earning points, badges and potentially a new Sonic. The promotion began in October and was also set to award one random participant a brand new Sonic each month through early 2012. However, the contest was abandoned at the end of November by Chevrolet, with only a vague sentence about "technical difficulties" provided as an explanation on the company's website.