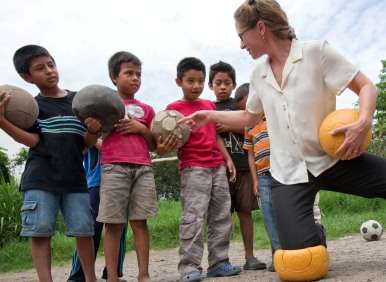 While baseball, hot dogs, etc., etc., will remain an integral part of Chevy lore here in the U.S., the brand is looking to a different sport to boost its position in the global marketplace: Soccer, of course.
Thus, Chevrolet recently announced it would take to the pitch with three different soccer-oriented initiatives. First and foremost, Chevy has signed on as the Official Automotive Partner of Manchester United—sort of the New York Yankees of English football. Currently owned by American entrepreneur Malcolm Glazer, the Red Devils have won 19 league championships and a bevy of international honors, and the team is so popular globally that Forbes rated it as the most valuable sports team in the world in April 2012.
Said the Manchester United's chief executive, David Gill: "Although part of two very different industries, Chevrolet and Manchester United share many of the same values. Like the club, it is steeped in history, having recently celebrated its centenary, and it has also grown to be a global brand, selling cars in more than 140 countries.
"Above all, it, too, strives to be the best in its field and I am delighted to welcome Chevrolet as our official automotive partner."
Chevy and Soccer: Chevrolet China Cup
In conjunction with its sponsorship of Manchester United, Chevy will launch the inaugural Chevrolet China Cup in July, providing support for a series of exhibition matches between Man U and Chinese soccer teams. The games will be played in two Chinese cities, including Shanghai, home base for one of GM's most successful joint ventures in that country.
"Our preseason tour is an important process for the club as it allows us to prepare for the season ahead as well as engage with our fans and partners in different markets," said Manchester's Gill. "We had a fantastic amount of support from our fans last time we played a pre-season game in China. We were overwhelmed by the passion and excitement generated by the fans who came out to support us, and we hope that many more join us again this year. This is the first time we will play for the Chevrolet China Cup and I think it marks a fantastic start to what we believe will be a long and successful relationship with Chevrolet."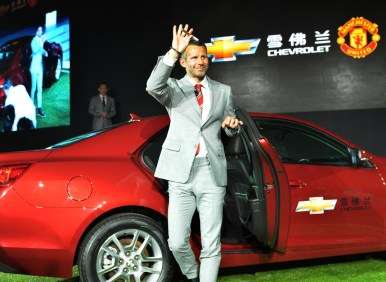 Chevy and Soccer: One World Futbol Project
Separately, Chevrolet also is partnering with the One World Futbol Project, which is committed to supporting youth soccer in impoverished and war-torn regions around the globe. The project already has helped better the lives of more than 525,000 kids in 137 countries, and among Chevy's efforts will be the donation of 1.5 million special soccer balls, specifically designed to be virtually indestructible. Chevrolet is the very first corporate sponsor of the program.
"The One World Futbol Project celebrates a primary value that is very close to Chevrolet, and that is football can touch lives, provide opportunities and bring positive change to people throughout the world," said Joel Ewanick, GM's global chief marketing officer. "The beauty of football is as much about the people as it is the game. One World Futbol Project has the potential to rally millions throughout the world to join in this effort, resulting in a global movement for the good of the game and people who are passionate about it. That's the kind of movement that Chevrolet is committed to lead."