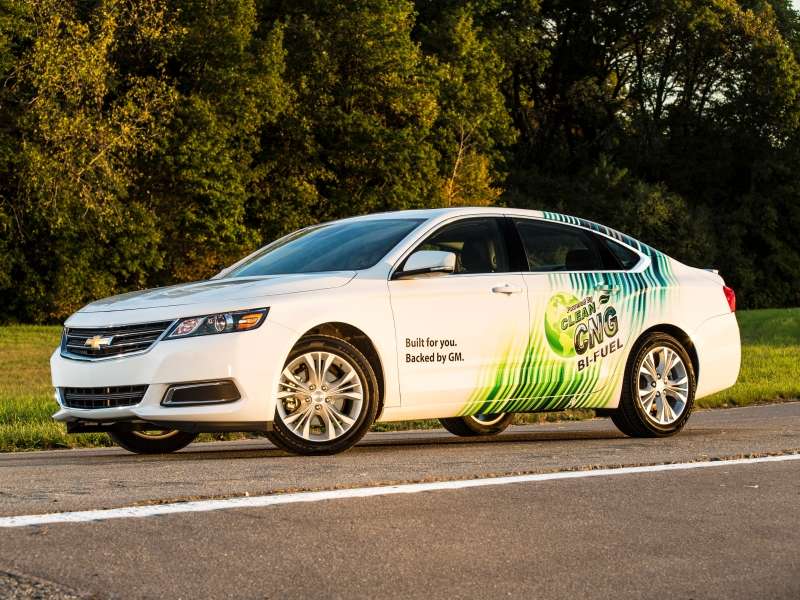 The Honda Civic's long reign as the only mass-produced CNG-capable car from a mainstream OEM soon will be over, and that's thanks to an unlikely challenger: the 2015 Chevy Impala.
GM is going all-in, too, by offering the 2015 Chevy Impala with a bi-fuel powertrain—able to run on both compressed natural gas and standard gasoline—at all U.S. dealerships, for both retail and fleet customers, and in both an entry-level LS trim and a more premium LT version.
Now, there will be a bit of a premium for the bi-fuel setup, as the MSRP of the CNG-capable Impala will start at $38,210, which is a steep $11,350 above the entry point to the 2014 Impala lineup (pricing for the rest of the 2015 Chevy Impala family has not been released yet). But drivers will benefit from the ability to save about $1.25 per gallon when filling the car with CNG instead of gasoline, at today's prices, and the General further reports that: "natural gas is one of the cleanest-burning fuels available, so vehicles that run on CNG produce fewer greenhouse gas emissions than gasoline-powered cars."
In addition, while the exact specs for the bi-fuel 2015 Chevy Impala are still being finalized, the brand claims the car will be able to deliver a city driving range of about 150 miles with CNG, at the equivalent of roughly 19 mpg, then seamlessly switch over to gasoline for an additional 350 or so miles of urban driving. Drivers will be able to control which fuel is used, too, thanks to a handy dashboard button. And that's with the Impala's 3.6-liter V-6, capable of making 305 hp and 264 lb.-ft. of torque when running on gasoline and something less than that with CNG. Note: The CNG option will not be offered with the Impala's standard four-cylinder engine.
For added owner confidence, the bi-fuel system offered for the 2015 Chevy Impala will be covered by GM's standard three-year/36,000-mile new-vehicle warranty and five-year/100,000-mile powertrain warranty.
The party line from Ed Peper, U.S. vice president, GM Fleet & Commercial: "The Impala nameplate has recently seen market share growth, and critical acclaim for its design, functionality and low cost of ownership. Now, with the addition of bi-fuel capabilities it will also help customers reduce fuel costs and greenhouse gas emissions,"