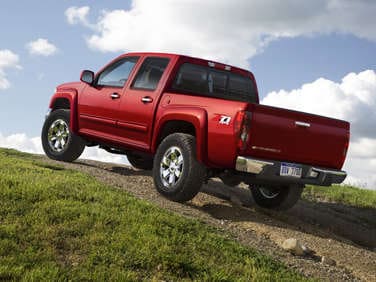 For those who were not quite sure they wanted a version of Chevrolet's next generation Colorado pickup, General Motors has turned the heat up a notch. GM South America has revealed the Colorado Rally concept.
Chevrolet first showed off its vision for the next generation Colorado last March in Thailand where smaller trucks are popular. Since South America is another small pickup hotspot, GM is using the Buenos Aires International Motor Show as the backdrop to premiere a new version built to take on the rough terrain of Argentina.
This truck takes the clean lines and Chevy's familiar corporate face of the original concept, and then it is given a major shot of adrenaline. Much of the upgraded stance comes from a lifted suspension and 18-inch BF Goodrich Mud Terrain T/A tires. This is topped off, literally, with a LED light bar reminiscent to the one found on the GMC Sierra All Terrain HD concept.
GM's South American team made sure that this concept was genuinely ready for an off-road race. The rally concept includes a full roll cage, bed-mounted spare tire, adjustable suspension, remote tire pressure adjustment, five-point racing seatbelts, and acrylic windows (for better impact resistance). One of the more interesting pieces is a pair of four-ton winches incorporated into the front and rear bumpers.
Powering the concept truck is a 2.8-liter turbo diesel engine. This is the kind of motor that traditionally does not make it into the U.S., but GM may want to consider trying to adapt it for this market. The lack of any other compact diesel trucks over here could be used as a sales tool.
As cool as this uber-pickup may be in appearance, it still may be a case of 'look but don't touch.' This truck has been confirmed for other parts of the world, but it is still only a rumor for North America. Now that GM's South American arm has shown how aggressive the new Colorado can be, small pickup fans may want to send a letter to Chevrolet that include phrases like, "I will give my (insert appendage here) for one," and "Here's my deposit."