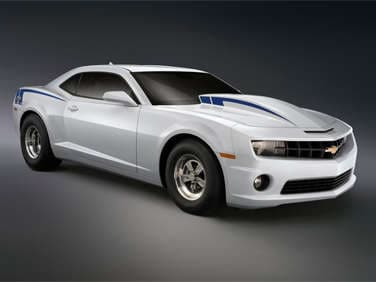 When the Chevrolet Camaro ZL1 was introduced for 2012, amateur racers across the country began to salivate at the prospect of a factory-backed track edition of the car in the vein of similar models that had been offered by Ford and Dodge in an effort to snare both the drag crowd and road course fiends. This week, Chevrolet announced that a very limited competition-oriented edition of the Camaro ZL1 would be made available this coming summer.
The Chevrolet COPO Camaro is intended to appeal to drivers looking to be competitive in NHRA Stock Eliminator and Super Stock drag racing classes. Although the Camaro ZL-1 already holds the title of the fastest-ever street legal version of the muscle car, the Chevrolet COPO Camaro will reign as the speediest model in the history of the vehicle. Buyers will have the choice of either a 7.0-liter V-8 or one of two supercharged 5.3-liter V-8 engines under the hood, and the car also comes with a Powerglide automatic transmission, a solid rear axle, a roll cage and a full weight loss regimen that includes stripping out most of the vehicle's niceties. Racing seats and harnesses are also provided with the car free of charge.
Chevrolet has not released specific horsepower numbers for its COPO drivetrain options, as each engine will be built according to the specific class the vehicle is intended to be entered into. If buyers so choose, it is possible for each owner to hand-assemble their own engines at the GM Performance Build Center. The COPO Camaro is sold with special graphics, a choice of five colors and the availability of an unusual 'collector's package' where all three engine choices can be purchased and keyed to the vehicle with the same serial number.
The COPO program is a nod to the Central Office Production Order process used by Chevrolet dealers in the '60s and '70s to have vehicles built that worked their way around corporate restrictions regarding engine and platform configurations. COPO cars often featured enormously powerful drivetrains shoehorned into small cars in order to create factory hot rods. COPO muscle cars enjoy a special place in the classic vehicle pantheon due to their extreme rarity, a trait that will also be shared by the modern incarnation of the Chevrolet COPO Camaro: just 69 of the vehicles will ever be made available to the public. The vehicle is not being offered directly for sale at this time - instead, a select number of individuals will be contacted by Chevrolet (individuals who have expressed interest in this type of drag racing package in the past) and given the opportunity to say yea or nay to the COPO Camaro's $89,000 purchase price.