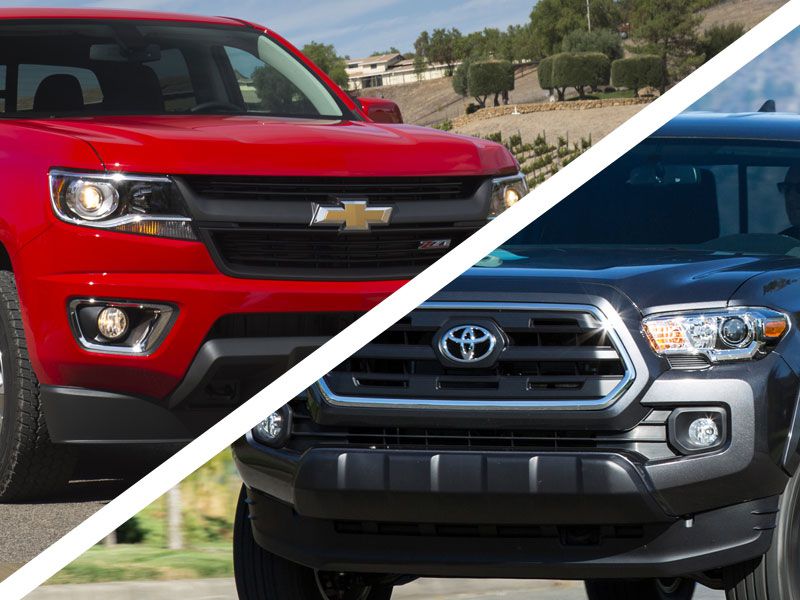 Chevrolet Colorado vs Toyota Tacoma grilles
Choosing between the 2016 Chevrolet Colorado and 2016 Toyota Tacoma is tough. Both are excellent midsize pickup trucks, coming from manufac-turers who are well aware of their customers' needs.
Midsize is super-convenient. In parking lots and other tight situations, getting an idea of the vehicle's boundaries is much easier than in a full-size truck like a Chevy Silverado or Ford F-150.
But the midsize pickup world hasn't been so well serviced. Ford stopped making its Ranger for the United States back in 2011, for example. Which has left the Tacoma as one of the few major players, entering its third gen-eration for this 2016 model year.
Chevrolet revitalized the Colorado only last year (a second-generation mid-cycle revamp), but brought a couple of updates this year, mainly a new die-sel engine option and smartphone integration in the form of Apple CarPlay and Android Auto. Let the tug-of-war commence.
Colorado vs. Tacoma: Pricing and Trim Levels
The 2016 Chevrolet Colorado starts at $20,995 and goes up to $36,335. Trim levels are base, Work Truck, LT and Z71.
The 2016 Toyota Tacoma ranges from $24,560 to $39,080. Trim levels are SR, SR5, TRD Sport, TRD Off-Road and Limited.
Not a simple choice here. The Colorado is priced with more value, but the Tacoma offers more trim levels and a wider range of capability with its off-roading version.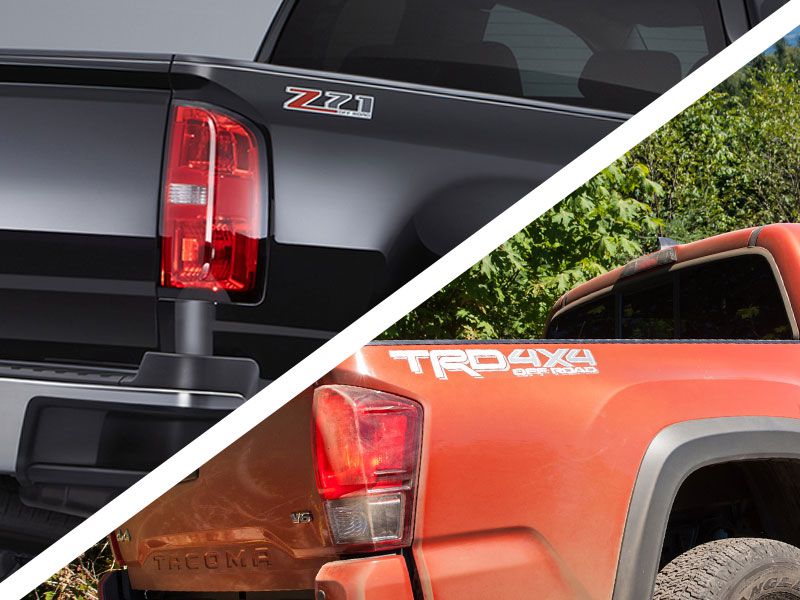 Colorado vs. Tacoma: Cab Sizes and Bed Lengths
Colorado cab choices are straightforward: 2-door Extended and 4-door Crew. Both come with seating for five.
Bed lengths are 6.2 feet (available with the Extended cab only) and 5.2 feet (available with both cab styles).
The smaller of the two Tacoma cabs is the 4-seater Access, with little rear doors that open the opposite way to the fronts. The larger cab is the 5-seater Double (normally called a Crew Cab). The Access Cab comes solely with a 6-foot bed; the Double Cab also offers the choice of a 5-foot bed.
Let's call this a tie.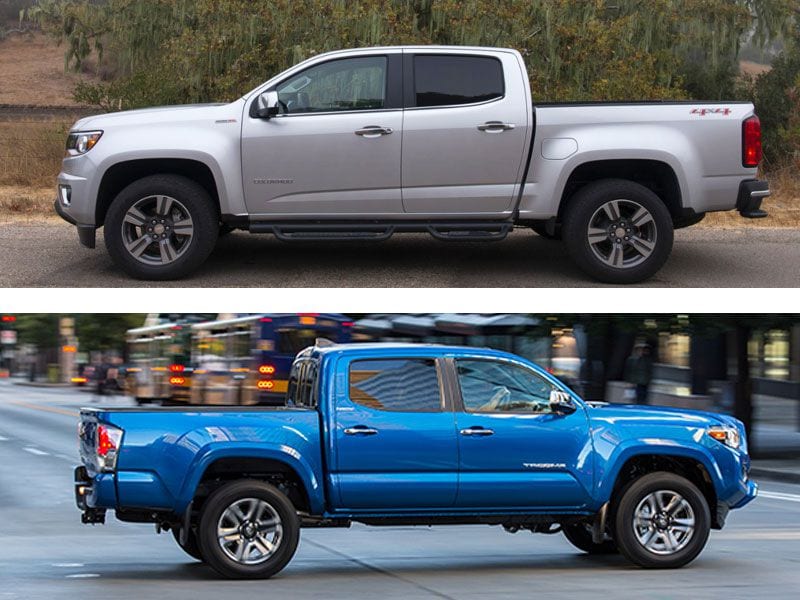 Colorado vs. Tacoma: Standard Equipment
Making the choice really depends on how the truck will be used.
The Colorado's basic trim comes only with the Extended cab, along with 16-inch steel wheels, rearview camera, a steering wheel that adjusts only for height, deletable rear seats, plus vinyl upholstery and flooring. Work Truck trim brings cloth upholstery and carpeting. Moving up to the Z71 means 17-inch alloy wheels, locking rear differential, hill descent control, and a suspension tuned for more off-road prowess.
The Tacoma SR starts out with 16-inch steel wheels, bed liner, rearview camera, Bluetooth, windshield mount for a GoPro camera, and bed rails with adjustable lashing hooks. TRD stands for Toyota Racing Development and the TRD Sport comes with a tauter suspension (among other extra features). Naturally, the TRD Off-Road model has its own specialist equipment. And the Double Cab-only Limited version is the most luxurious, with dual-zone automatic climate control, heated front seats, plus many items that are optional in the lower trims.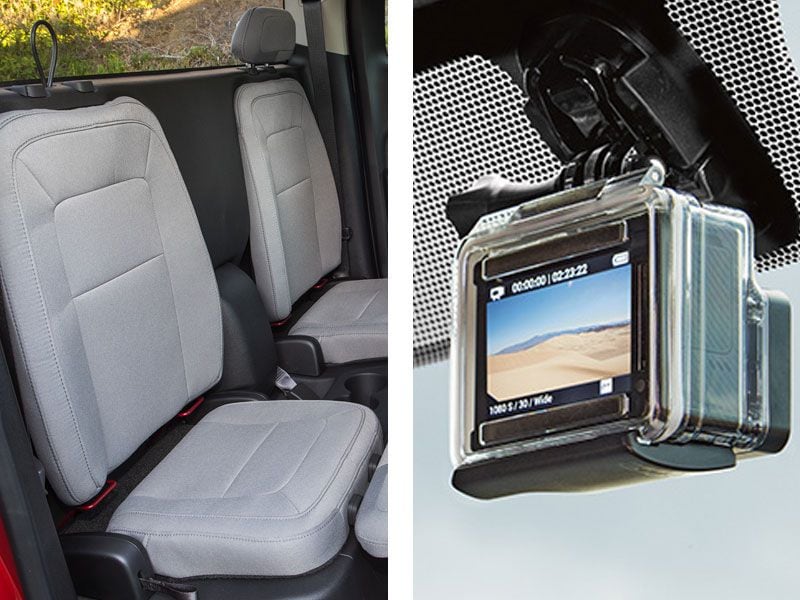 Colorado vs. Tacoma: Options
The "EZ-Lift" tailgate in the Colorado is essentially damped to stop it slamming down when opening, and helps when lifting it to close. It's standard in the top two trims, optional in the lower two. The Tacoma has something similar which is actually standard throughout its range.
The Colorado also offers heated front seats, spray-in bedliner, trailer package, sport exhaust, automatic locking rear differential, and Wi-fi.
Among the Tacoma's options are a hard tonneau cover, heated front seats, JBL audio system, rear parking sensors, and a towing package.
In both cases, there are enough features to please most customers.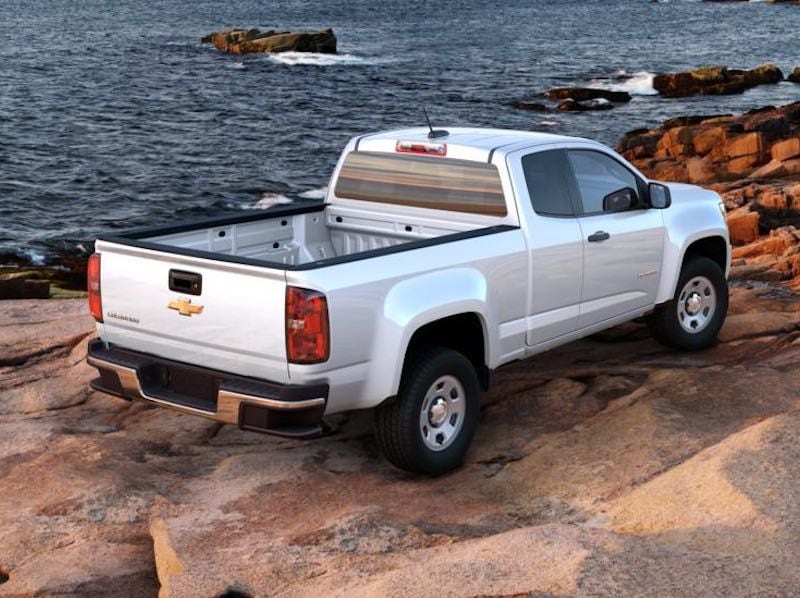 Photo by Chevrolet
Colorado vs. Tacoma: Powertrains
The base engine in the Colorado's lower two trims is a 2.5-liter unit (200 hp/191 lb-ft of torque). A 6-speed manual transmission is standard with rear-drive versions.
The lowest two Tacoma trims come standard with a 2.7-liter engine (159 hp/180 lb-ft of torque). Rear-drive versions have a 6-speed automatic transmission. All-wheel-drive versions also offer a 5-speed manual.
One more major thing in the Colorado's favor: Crew cab versions of the LT and Z71 also offer a new-for-2016 diesel engine. It's a 2.8-liter 4-cylinder turbocharged unit making 181 hp and a superb 369 lb-ft of torque, linked to 6-speed automatic transmission.
The Colorado's upgrade is a 3.6-liter V6 (305 hp/269 lb-ft) linked to a 6-speed automatic transmission. The Tacoma offers a 3.5-liter V6 (278 hp/265 lb-ft). A 6-speed automatic transmission is standard, but a 6-speed manual is also available.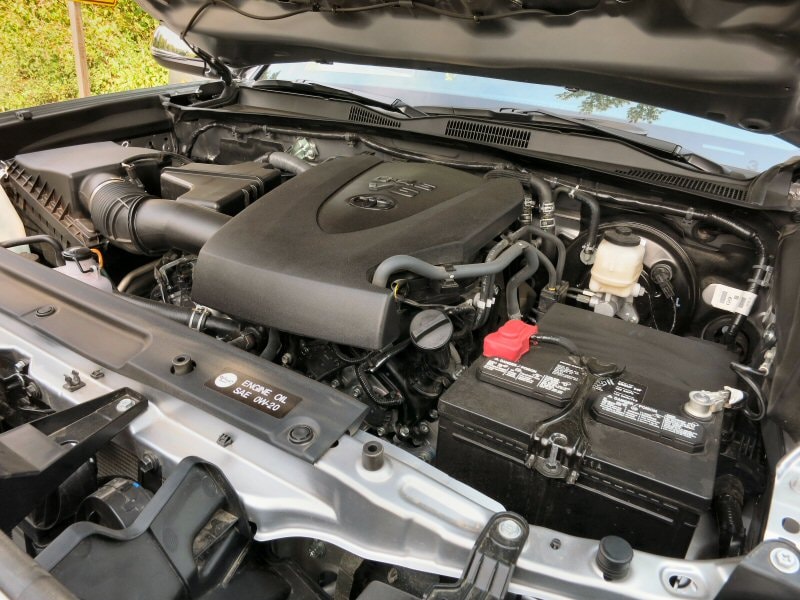 Photo by Benjamin Hunting
Colorado vs. Tacoma: Fuel Economy
The Environmental Protection Agency (EPA) estimates fuel consumption for the Colorado's base 2.5 engine at 19 mpg city, 26 mpg highway and 22 mpg combined. Adding the 6-speed automatic transmission results in 20/27/22 mpg; all-wheel drive brings 19/25/21 mpg.
The Tacoma's 2.7 with the rear-drive/automatic combination achieves 19/23/21 mpg. Add all-wheel drive and the figures are 19/22/20 mpg. With the manual, the result is 19/21/20 mpg.
The Colorado is the clear winner in this respect, with greater power and better fuel consumption.
The Chevy's diesel engine is even more impressive. With rear-wheel drive, the EPA figures are 22/31/25 mpg; with all-wheel drive, they're 20/29/23 mpg.
Looking at the V6 engines, once again it's advantage Colorado. Rear-drive models return 18/26/21 mpg; all-wheel-drive versions achieve 17/24/20 mpg.
With rear-wheel drive and the automatic, the Tacoma V6 makes 19/24/21 mpg. All-wheel drive adjusts those numbers to 18/23/20 mpg. With the manual transmission, it's 17/21/19 mpg (the Double Cab returns 18 mpg combined).
Colorado vs. Tacoma: Stand-out Features
The Colorado goes for modern technology such as Apple CarPlay and Android Auto, both methods of bringing more smartphone integration into the vehicle.
The Tacoma's greater ground clearance and availability of off-road equipment makes this a serious contender for going into the wilds and coming back out.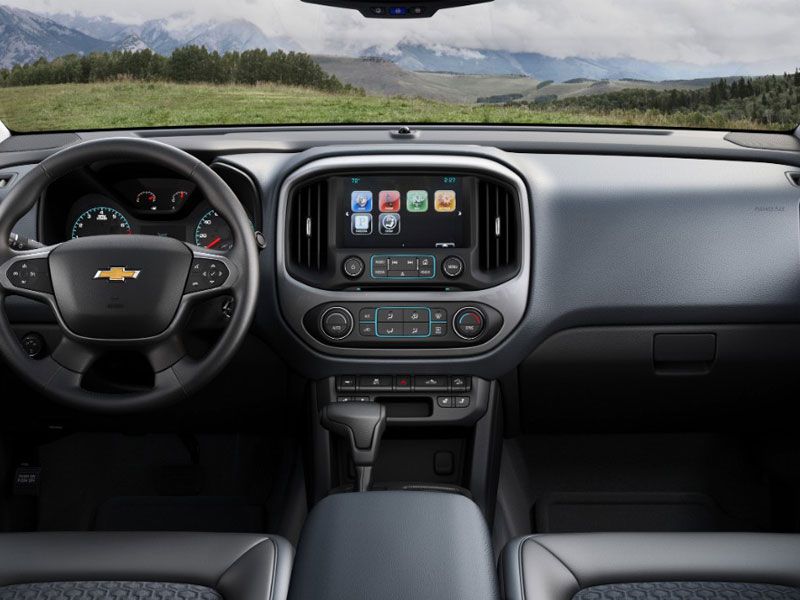 Photo by General Motors
Colorado vs. Tacoma: Exterior Design
Outward appearances might be low on the list of priorities when deciding which is best between a Colorado and a Tacoma. And pickup design is an area where form is dictated by function.
The Colorado attempts to look like a bigger truck, with an imposing hood and low front lip. That lip improves aerodynamics and so brings an advantage to fuel consumption, but it hinders ground clearance for any off-roading adventures. Luckily, it is removable.
The Tacoma enjoys more ground clearance, so it comes across as off-road-capable even in its most basic form. Overall, it feels more like of an evolution from the last generation's styling. Considering that was a good seller for Toyota, no doubt there was a reluctance to change things too drastically.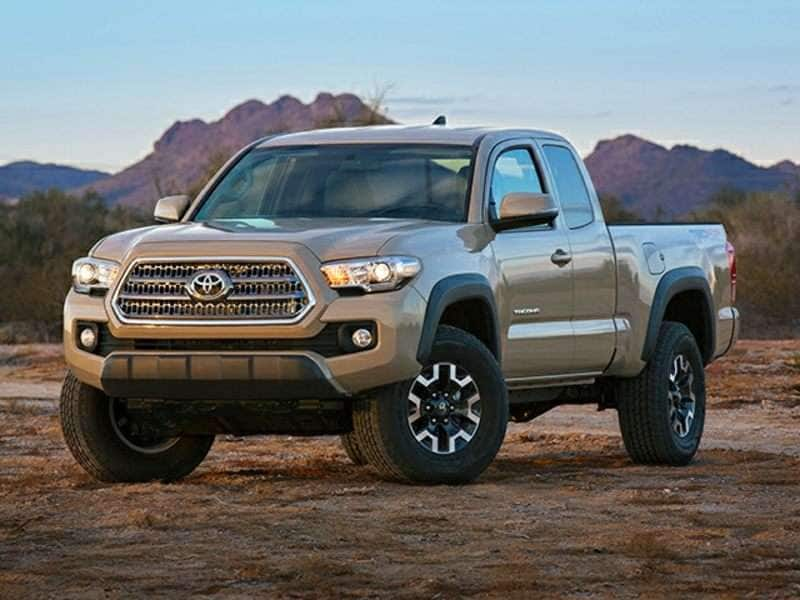 Colorado vs. Tacoma: Interior Design
Both trucks have excellent levels of stowage, but here's another aspect where the Chevy has the edge.
In Crew Cab form, the Colorado's occupant space is more than adequate. The rear section has a useful amount of room for heads and legs, and all the seats are notably comfortable.
If only the Tacoma's seats were as welcoming. But they're not. However, the cabin arranges its hard-wearing materials in a sleek, modern and sim-ple-to-use manner, with many controls that can respond to a gloved hand.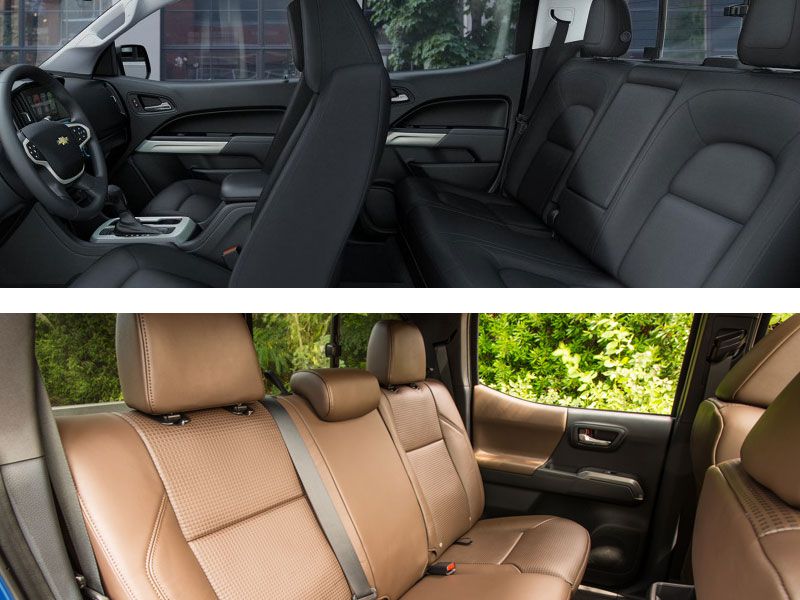 Colorado vs. Tacoma: Towing and Payload
When properly equipped, the rear-drive Colorado diesel can tow 7,700 pounds, which is best in class. All-wheel-drive versions can still pull 7,600 pounds. The V6 can handle 7,000 pounds and the 2.5 can still cope with 3,500 pounds. Total payload capability is 1,580 pounds (6.2-foot bed/all-wheel drive).
The V6 Tacoma comes quite close to its Colorado counterpart, with towing ability at 6,800 pounds. The gasoline 4-cylinder version matches its rival's 3,500 pounds. And maximum payload is a slightly superior 1,620 pounds (6-foot bed/rear-wheel drive).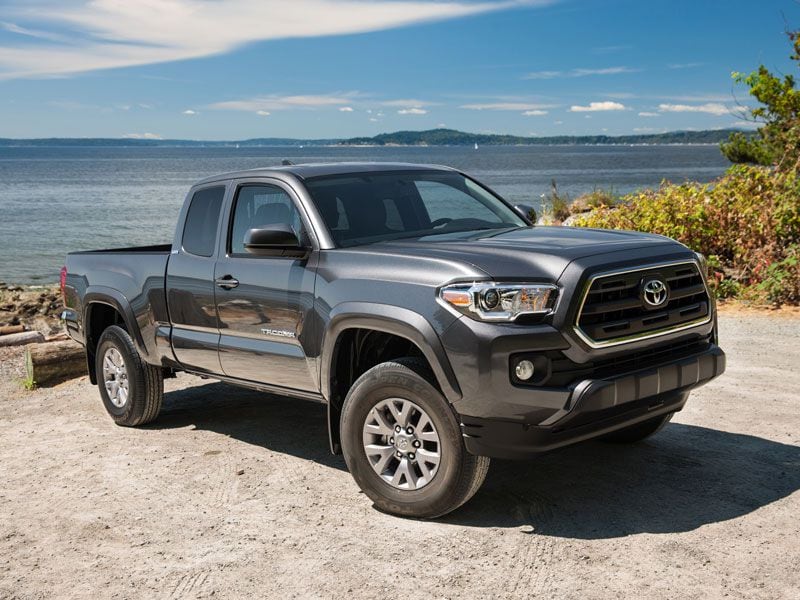 Photo by Toyota