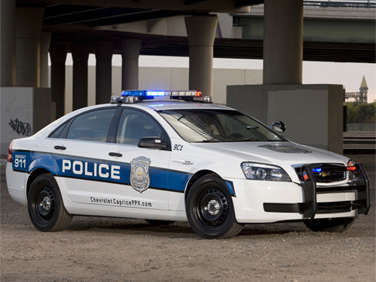 Emergency vehicle fans - specifically, those who enjoy scoring great deals on retired police and rescue cars and trucks once they have been retired from active duty - have no doubt been disappointed with the small number of Chevrolet Caprice police package automobiles currently plying American roads. The Chevrolet Caprice full-size sedan, which is based on a Holden design and is only available to law enforcement fleets, has encountered a number of issues that have delayed its wide scale adoption by police departments across the country.
One of the chief problems faced by the Chevrolet Caprice has to due with logistics. The Caprice's originator, Holden, is based in Australia and up to this point General Motors has been unable to accurately plan for the shipping times associated with transporting orders from Down Under to Detroit. According to the duPont Registry, this stumbling block has been compounded by further waits as Chevrolet dealerships struggle to outfit each vehicle with the special gear that helps each vehicle adapt to the specific needs of individual agencies. The problem is tied to a series of 'last-minute' design changes made to the Caprice that kept aftermarket equipment manufacturers guessing when it came time to build their law enforcement support products.
Just how long are some police departments waiting for the Chevrolet Caprice? The duPont Registry article reports that several Florida-based law enforcement agencies have been cooling their heels for more than 10 months for vehicles that they ordered as test candidates in order to evaluate the legitimacy of the Caprice as a replacement for their now-discontinued Ford Crown Victorias. The dual shipment and dealership delays have pushed Chevrolet police car procurement well past the 60 to 90 day window that competitor Chrysler has been able to offer departments interested in vehicles like the Dodge Charger.
GM has responded to the frustration expressed by law enforcement fleet managers by acknowledging the problem and claiming that streamlined import processes have helped Chevrolet build a small "pool of inventory" at the port. Fortunately for Chevrolet the Chevrolet Caprice Police Patrol Vehicle is coveted by police department test drivers across the country eager to find an affordable and robust replacement for the Crown Victorias that have formed America's highway patrol and all-around duty backbone for decades. The rear-wheel drive Caprice is seen as less complex and more durable than the Ford Taurus police interceptor and roomier inside than the admittedly high performance Charger police sedan.