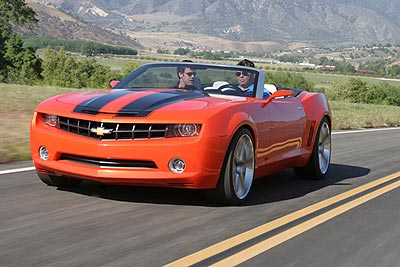 Chevrolet Camaro Convertible Concept – First Drive: The first Camaro I fell in love with was the vehicular equivalent of a pound dog. My buddy's car, it was a hideous collage of primer, weird green paint and scratches, a mean-sounding and rough '68 model on its last legs. Sadly for him, that was one year shy of what many think of as the most notable Camaro version, so notable, in fact, that they modeled the new Camaro Concept after the vintage '69 edition. But no matter. It would have taken a miracle to get that ol' beater in Barrett-Jackson shape, and we scarcely cared; it was our ticket to freedom. We'd meet up at the AM/PM, get ourselves a coke, sit around for awhile and then, eventually, take off into the night, cruising for girls (fat chance) and challenging the Camaro's mechanicals and our own guts to see how fast we could go around one certain sweeper on the outskirts of Orange County. Made it past 100 mph. Once. And breaking the century mark around that corner felt like a rite of passage. The second Camaro I fell in love with was a bright yellow 1979 edition, far different than the old 1968 model and fun in an entirely different way. My Dad's car, it was fast and bodacious – fitting for the time. That Camaro made me realize – to be a Camaro was to be powerful, sure – but it also was to be something special to look at. And brother, the old man's Camaro was like a shiny penny in your hand. Unfortunately, he loved that car as much as I did, so I knew when he'd let me take it out that the mileage had been checked and the body examined. That took all the damn fun out of it, except for the part when we'd open that sucker up on a nice long straight-away just to see how fast we could go. In that car, we always made it past 100. I never forgave him for selling it to a brother-in-law who didn't really appreciate the Camaroness of it. He was a Mustang guy, of all things, rarely washed it and eventually blew the engine on the 405 freeway. Left it for scrap in the middle of LA and broke my young heart. It took sometime to fall in love with a Camaro again. Almost 20 years, in fact, and through that time I watched it complete a long slow fade into obscurity. From a car that said something about driving to a nothing special vehicle for people looking to get to work and home with a yawn, I watched in stunned amazement as General Motors tossed away the Camaro legacy with boring designs, shoddy interiors and inefficient V-6 powertrains. All the while, Camaro fans struggled to keep it relevant: the car eeked out enough sales to keep the production line open all the way past the 2002 model year. Yet even with that tug on the sleeve, GM still didn't get it; they didn't get that the Camaro was about power and style, about making a statement stronger than your typical Camry-Accord insanity. Eight-cylinder or six, the Camaro gave us poor working stiffs something to look forward to when we closed the front door of our homes and headed out for the day. They get it now. Yes sir, it sure looks like they get it now.
What's New: Outside
Designers say that the exterior design of the Chevrolet Camaro Convertible Concept is very close to the real thing, that it goes back to the classic Camaros of the past – particularly the 1969 model. From the grille to the side vents and rear haunches, the Camaro Convertible Concept has a definite retro-sixties-meets-the-Jetsons vibe. Other features include a long hood, a short deck and wheels pushed out to the corners that measure 21 inches up front and 22 in back. Then there's that Hugger Orange pearl tri-coat color with gunmetal gray racing stripes. The original Hugger Orange, by the way, was offered in the 1969. Inside Based on my brief drive of the concept, interior style is a comfortable, futuristic take on the sixties and seventies model Camaros, with wide seats and plenty of legroom – for front passengers – in true Camaro style. Where the Mustang offers a minimalist interior, the Camaro will give passengers plenty to look at with deep-dish gauges, chrome touches throughout the cockpit and on most of the instrumentation. There's a light-and-dark color scheme that is supposed to enhance the "airy" feel of the convertible. As for concept touches, the shifter was the showpiece. A tall, exquisitely designed aluminum stalk, it made the act of shifting rather cumbersome, but was still a delightful piece of work to behold. Under the Hood Baby Boomers will love this Camaro because it takes them back to when they were wild and free; youngsters will love it because it's a flat-out, smoky-tire cool ride. Automotive journalists and car enthusiasts will love it because it flat rocks, and looks like GM is doing it right: the right powertrains, with a rumored Corvette-derived engine. That would be the 6.0-liter powerplant, making 400 horsepower and just as many smiles, driving the rear wheels via a six-speed manual transmission. There will be the now-common Active Fuel Management, of course, and the V6 engine/automatic transmission for those who can't afford the V-8 experience. And Mustang fans, take note: the Camaro is built on a four-wheel independent suspension system.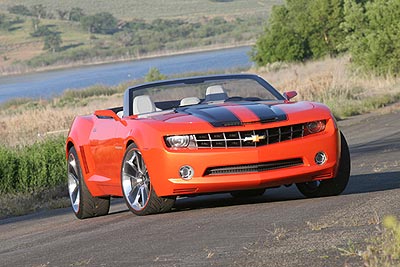 Driving: Camaro Convertible Concept, Tejon Ranch, Calif
Tejon Ranch, Calif, is a historic 270,000 acre ranch in the grapevine area between the Central Valley and Southern California. An active ranch, Tejon Ranch is often used as a film location, including car commercials, and we weren't much different: here to drive the Camaro, we were also here to shoot a video review of this landmark vehicle. Performance I've found my third Camaro to love – maybe – given that my drive in the Camaro Convertible Concept was speed-limited to around 40 mph. In fact, it was a bit like my friend's old primer and green Camaro – sort of rattled and hummed, and you could tell that a little too much throttle and, well, the fun would be over. As a proud GM employee said to me as I slipped behind the wheel: "Please remember that this is a show car, please, and it's really not meant to be driven." That was true, but it was drivable enough for me to get a taste, to spark the infatuation, to feel what it will be like to sit behind the wheel of the production model Camaro Convertible. What a feeling that will be. Granted, there's a bit of marketing magic being done here, given that the last F-Body rolled in the 2002 model year – hardly a long time ago. In truth, the Camaro is the poster child for what's wrong, and now, right, at General Motors: start with many years spent building cheap and uninspiring cars, add a lack of focus on design and performance…then subtract all the bad juju of the last 20 years with the re-emergence of, well, fun in the GM model lineup. Thanks, Mr. Lutz. My drive in the concept revealed little about performance but quite a bit about what GM seems to be about nowadays: striking design, smile-makin' power and modern architecture. In other words, judging from what I saw and heard at Tejon Ranch, it looks like car guys are doing the talking – and The General is listening. The result is likely to be a thoroughly modern vehicle with power going to the back wheels, a four-wheel independent suspension and plenty of airbags all the way around. Few things are better – I can feel it. You're never too old to fall for a cool car, and the Camaro's back, coming soon, and with it romance and rebellion for the common man. Comfort You could arguably divide the history of the Camaro into two when it comes to the interior: early models were comfortable, with wide seats, plenty of legroom and nice sightlines. This continued into the seventies and eighties, except with big and tall front seats that were a nightmare to see around but were comfy and supportive. Back seat riding was never a thing of luxury in the Camaro, however earlier models were more comfortable than later versions. As the Camaro gained in age, in essence, the back seat shrank in size. Later Camaros featured smaller, less comfortable seats up front, too, ones that penalized people with a lack of support, a poor driving position and too few adjustments. Final models were simply a pain in the back. This new Camaro, however, promises a taller ride, something with a step-in that's closer to that of a grown-up sedan than a low-ridin' kid car. In terms of direction, the concept seems to offer comfortable, supportive seats that may not be designed for performance driving but will do a fine job of keeping driver and passenger in place.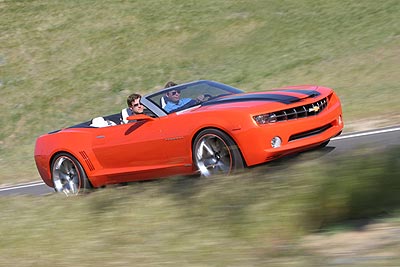 Advice: Selling Points
It's a Camaro – that's a big selling point right there. For those less infatuated with the car, however, consider the unique style, history and power of a true rear-wheel car with today's modern technologies. Like the Mustang, the Camaro will offer a slew of trims, from V-8 sticks to V-6 slush boxes. With a four-wheel independent suspension, it should be more agile than a live-axle Mustang and about as powerful up and down the trim lineup. The Camaro is a show-me car for people who either like to drive, like to be seen driving, or both. Deal Breakers Fuel economy, fuel economy, fuel economy – and don't even start with that Active Fuel Management hooey. Bean counters and other reasonable people are probably wondering why GM is even bothering to bring back the Camaro, anyway: it's a big two-door in a sedan world that will probably get around 20 mpg – with a V-6 engine. On a sale-by-sale basis, even though Ford moved a robust 160,000 Mustangs last year, for the first time in recent memory they slapped discounts on the hood. It's hardly a growing market, to be sure – but then, the Camaro wins on show as well as go. As a sort of "reverse" halo car, the Camaro just may inspire people to check out a dealership and see what else Chevrolet has to offer. Competitors Mustang, Mustang, Mustang. You know the saying: the more things change, the more they stay the same, right? Back in the sixties, the Camaro was Chevy's answer to Ford's Mustang, and it's the same story today but with a few added wrinkles: the dominating strength of import sedans, the sheer number of fun-to-drive choices on the market and a little something Dodge is working on – a rumored V-8 only Challenger, due out just before the Camaro rolls.
Specifications
Test Vehicle: Chevrolet Camaro Convertible Concept Price Range: TBD, but plan on a range between $19,000 - $32,000 Engine Size and Type: V-8 Engine Horsepower: NA Engine Torque: NA Transmission: manual Curb Weight, lbs.: NA Length: 186.2 inches Width: 79.6 inches Wheelbase: 110.5 inches Height: 53 inches Suspension: four-wheel independent: MacPherson strut front, multilink rear, progressive rate coil springs, gas-pressurized dampers Tires: 275/30R21 front, 305/30R22 rear Wheels: Cast aluminum; 21-in front, 22-in rear Brakes: four-wheel disc, 14-inch rotors with four-piston calipers Max. Seating Capacity: 4 By Brian Chee Photo credit:Ron Perry