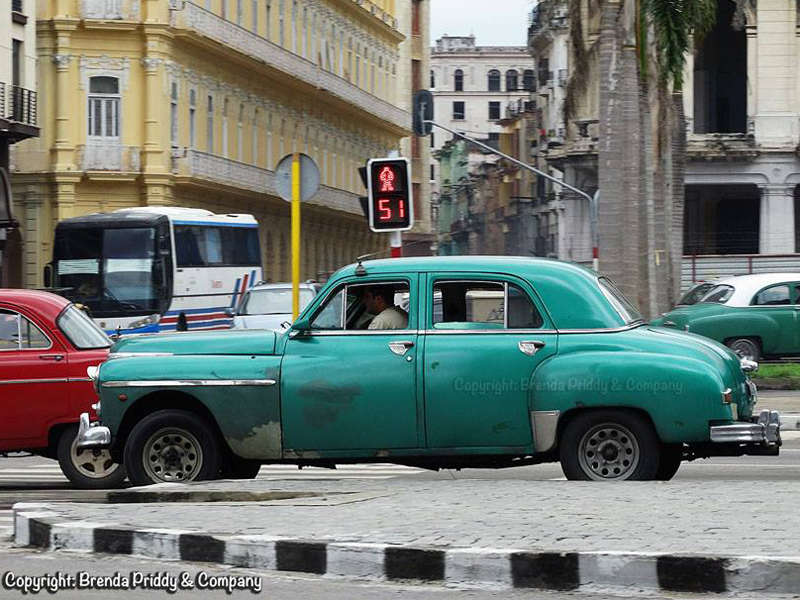 If you're looking for a once-in-a-lifetime automotive adventure come this October, Earthbound Expeditions has a Priddy good suggestion: How about travelling to Cuba with Brenda Priddy—one of the auto industry's leading "spy" photographers—to check out the classic car culture in Cuba?
Now, just to be clear, despite the somewhat clandestine nature of Priddy's day job, you won't be sneaking into Havana under the cover of darkness. The excursion is part of the U.S. Department of Treasury's "People to People" program, with Earthbound Expeditions helping to handle the paperwork. As a result, people can concentrate on enjoying a unique automotive environment that likely won't be around much longer.
Cuba, remember, was essentially closed to the auto industry after Fidel Castro took power in 1959, so most of today's Cuban drivers are still relying on the same vehicles that had been imported into the country before 1960. However, the Cuban government began relaxing the rules about new-car purchases earlier this year, and it's only a matter of time before the vintage vehicles disappear. The Priddy expedition will pay homage to those classic cars and trucks before then, highlighted by a visit with one of the most influential of the country's car clubs, "A lo Cubano." On the itinerary as well is a visit to Cuba's "official" automotive museum and, while most of the in-country travel will be by motor coach, all visitors will get (passenger) seat time in a classic as part of a half-day road trip.
The Cuba expedition currently is scheduled for Oct. 11-19, 2014, and even with some 60,000 old-school rides on the road there, that would be a lot of time to focus solely on cars. With that in mind, visitors will get to explore many more facets of the Cuban culture, including its dance, art, cuisine, history and nature, all while chaperoned by Earthbound Expeditions, a bilingual Cuban guide and Priddy—who happens to be an artist herself, documenting the Cuban car scene in the past and currently exhibiting at the Chandler Center for the Arts in Arizona.
Pricing for the trip starts at $3,950 per person, including air travel from Miami to Havana, and more details about the program can be found here: http://www.earthboundexpeditions.com/wp-content/uploads/2014/03/Cubas-Classical-Cars-with-Brenda-Priddy-2014.pdf
Also, if you have any questions for Priddy , you can contact her at: cuba2014.BrendaPriddy@gmail.com
(Photo courtesy of Brenda Priddy.)