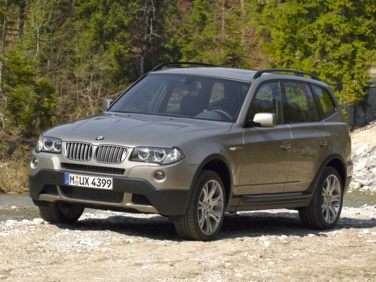 When shopping for a luxury car, even at the lower range of an automaker's lineup, prices can be quite high. Not only are buyers forced to pay more for the extensive options, powerful engines and excellent performance of a luxury vehicle, but they are also expected to cough up a premium for the privilege of displaying the automaker's badge on the vehicle's hood. This is especially true of European luxury car companies, who have a checkered history of de-contenting their entry-level automobiles but still charging serious dollars in order for buyers to purchase a car that may have fewer features than much cheaper vehicles from domestic manufacturers.
Of course, this is one of the factors which has driven many luxury car enthusiasts to consider choosing a used vehicle over a new one. The other overriding concern is depreciation. Luxury cars hold their value to a much smaller degree than any other segment of the automotive market, meaning that as time goes on their purchase price erodes to the point where it is significantly cheaper than vehicles just a few years newer. While some status-conscious car buyers would not want to be caught dead in an older car, most buyers are far more concerned with getting good value for their money than keeping up with the Joneses. In fact, the power of these luxury brands is so great that some people simply associate these vehicles with a new and exclusive image regardless of the age of the car itself.
Careful shopping and good research are effective tools when it comes to finding the best deals on a used luxury car. This article takes a look at the three cheapest vehicles in the current BMW lineup and compares them to their counterparts on the used market in order to help buyers choose whether a new or secondhand vehicle represents the greatest value for them. Prices will of course vary depending upon the condition of the vehicle being looked at, as well as its mileage, but in general the numbers quoted in this article are good ballpark figures to use for comparison.
The 2008 BMW 328i sedan is the least expensive four-door vehicle to be found in BMW showrooms. However, at a hefty $33,200, it still commands a fairly serious sticker price. The 328i is powered by a 230 horsepower, 3.0-liter straight 6 engine and comes with a 6-speed manual transmission. Standard equipment includes dynamic stability control and traction control, 4-wheel anti-lock brakes and an interior outfitted with leatherette seats and wood trim.
In 2005, BMW's entry-level vehicle was labeled the 325i, and featured a 184 horsepower, 2.5-liter six-cylinder engine. The sedan is based on the previous generation 3 Series platform, which is excellent, and which provides levels of handling and comfort that are very similar to the new model. The most striking differences can be found in the appearance of these vehicles. The older 3 Series is much more conservatively styled, whereas the 2008 model bears a swoopy, flared design that stands out from other more organic-looking automobiles. Interior equipment is generally at the same level for both vehicles, with the newer 3 Series edging out the used vehicle in terms of fit and finish.
When shopping for a 2005 BMW 325i sedan with between 20,000 and 30,000 miles, buyers can expect to pay between $18,000 and $20,000 dollars - a difference of more than $13,000 compared to the new vehicle. Often times, it is possible to scoop up a 325i with options like an automatic transmission, or better stereo system within this price range. While it would seem that the 2005 325i presents a greater value than the newer 3 Series, it is important to consider the fact that there is not only a serious difference in power between the two automobiles, but also a different level of technological sophistication. If price is the most crucial issue, then it is unlikely that buyers will be disappointed with the older 3 Series. However, if performance is at all important, then it might be worth either paying a little more for a used 330i which offers a similar level of horsepower as the 328i, or simply biting the bullet and buying the 2008 edition of the car.
The compact Z4 roadster is a fun, agile vehicle which is priced at around $37,000. For their money buyers get the 3.0i model, which offers a 215 horsepower, 3.0-liter 6-cylinder engine, a 6-speed manual transmission, and the same traction and stability systems as the BMW 3 Series. Run-flat tires, ventilated brakes and speed-sensitive steering round out the list of safety features, and a manual soft top which stores easily in the trunk lets the sunshine in on a beautiful day.
For all intents and purposes, the 2005 version of the Z4 is an identical car. Both feature the same styling, platform and features. However, in the 2005 model year the 3.0-liter engine represented the top of the line option, with the based model being powered by a 184 horsepower 2.5-liter. Strangely, on the used car market either engine is priced within a few thousand dollars of the other, with most cars coming in at around $24,000 for a vehicle with fewer than 20,000 miles. 3.0-liter cars are common and are much more desirable thanks to the extra torque. Many of the larger-engine cars are also equipped with a premium package of options that includes HID headlights, a nicer stereo system and an automatic top.
Given that the vehicles are so close in terms of performance and equipment, especially when considering the availability of high-option cars, it is clear that an older Z4 makes a much better buy than the newer model. Conveniences such as an automatic top are quite useful on a convertible, and the first time it starts to rain at a stoplight, the feature becomes indispensable. Frugal buyers will also appreciate being able to save over $10,000 off of the sticker price, which represents almost a third of the cost of the 2008 model.
The 2008 BMW X3 is offered in a single trim, the 3.0i. Coming in at a lofty $39,000, the X3 is outfitted with a 260 horsepower version of BMW's ubiquitous 3.0-liter 6-cylinder engine, combined with the xDrive all-wheel drive system and a 6-speed manual transmission. The X3 features useful technologies such as hill descent control and a number of other braking systems designed to help keep the vehicle controllable in off-road situations. Inside the vehicle, wood trim, power front seats and a dual-panel panoramic moon roof work to give the vehicle an upscale feel.
The 2005 BMW X3 looks very similar to its newer sibling. Differences include a less powerful 225 horsepower version of the same 3.0-liter engine, along with a 184 horsepower 2.5-liter mill for the base model. Transmissions are the same, and a 5-speed automatic is a popular option. The entry-level 2005 X3 was not given nearly as much standard equipment as the newer vehicle, making it feel a bit austere in comparison. This in part explains why so few 2.5-liter vehicles are found on used car lots, with the vast majority of X3's for sale featuring the more capable engine and corresponding optional upgrades, which can include nicer leather seats, a sport suspension and blacked out trim.
With prices for low mileage vehicles hovering around $20,000, the older X3 makes a strong case for purchase over the 2008 edition. The X3 has not held up well in terms of value in the 3 years since it has been released, and the ultra-competitive compact SUV market has been dominated by strong entries from several other major manufacturers. Savvy buyers will stick with the older but still capable 2005 BMW X3 3.0i and let others take the almost 50% depreciation hit on the much pricier 2008 vehicle.