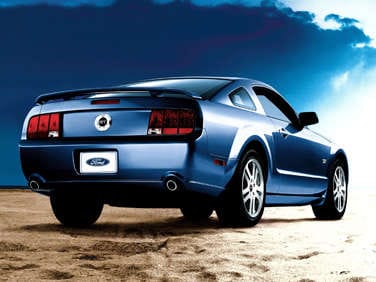 In the not too distant past, going fast straight off the dealership floor meant having to pony up the bucks for your pony car. You may have seen the news lately regarding the outrageous prices being paid for rare high-performance muscle cars. There's a very good reason these cars are rare, they were bloody expensive back in the day. Until recently, there was no such thing as a cheap fast car. The top-of-the-line engines could add nearly one-third to the MSRP of a car during the heyday of the muscle car era. It's little wonder car buyers were hesitant to spring for the juggernaut engines when there were usually several other less-expensive engine options available. Today, few passenger cars have optional engine choices. Instead, automakers create a variety of trim lines for each of their products. Trim lines start with a base model and each successive trim adds equipment, options, and sometimes more powerful engines. The highest trim lines are almost always the most powerful and usually the most expensive. While this technique arguably homogenizes the cars, it also does one very important thing -- it brings the price down. By standardizing the products, automakers have been able to give us cheap fast cars that would have sent us teetering to the edge of bankruptcy just a few years back. Buyers can now get a car that does 0-60 in less than 6 seconds for under $24,000. Is this a great time to be shopping for a car, or what?
We compared 10 high-performance cars -- 5 domestics and 5 imports -- and ranked them based primarily on 0-60 elapsed time, MSRP, and overall value. We capped our price at $28,500; the current average selling price across all passenger cars. Driving a Dodge Viper might be about as fun as it comes, but there are only so many weeks in a row we can stand to eat instant ramen noodles. Not surprisingly, the domestics still lead the pack when it comes to raw power straight out of the showroom.
While it's true that high-performance cars these days are comparatively less expensive than the muscle cars of yesteryear, the bottom line is that the faster you want to go, the more you have to pay. The slowest car in the pack is the 2007 Chevy Cobalt SS with a 0-60 of 7.3 seconds, but it's also the least expensive on the list at $17,595. The fastest car on the list is the 2007 Ford Mustang GT at 5.5 seconds and $26,875. If you want to get faster than 5-seconds, you will likely be tossing down enough cash to buy 3 or 4 Mustangs. You can pay the fun tax quite a few times with what you save by buying a car off our list -- not to mention these are cars you can live with on a daily basis.
 standard model shown
0-60 Time: 5.5-seconds MSRP: $26,875 There's an old saying amongst racers: there is no replacement for displacement. This holds true for our list of low-buck factory hot rods as the top two on our list are American V8s.Coming in at the top spot is the 2007 Ford Mustang GT (New Prices, Used Prices, Financing), a performance icon that has been terrorizing the streets for over 40 years. Our 2007 model is equipped with a 300-horsepower 4.6-liter V8. Not only does the car do an amazing 0-60 in 5.5 seconds, the old school rear-wheel-drive V8 manages 17-mpg city and 25-mpg highway.
0-60 Time: 5.6-seconds MSRP: $28,040 The most expensive car on the list is also the most luxurious and arguably the least likely to draw unwanted attention from your local keeper of the peace. The Chevy Impala is another name that goes back decades, but instead of a rip-snorting coupe, the Impala SS dresses up a 303-horsepower 5.3-liter V8 with a respectable four-door sedan body. With the Impala SS, you can dust pretty much everything in your path and still have the convenience and utility of a four-door. As a bonus, the car is rated at 18-mpg city and 27-mpg highway.
0-60 Time: 5.9-seconds MSRP: $22,995 No performance list is complete without the showing of at least one SRT. Picking up where the hot Neon SRT-4 left off, the Caliber carries on a tradition of packing serious horsepower into a small package. The turbocharged 4-banger is only 2.4-liters, but squeezes out a freakishly high 300-horsepower and 260 lb.-ft. of torque. All we can say is save some cash for the dentist, because the acceleration is going to rip the fillings straight out of your teeth.
0-60 Time: 6.0-seconds MSRP: $23,995 Nobody builds an all-wheel-drive rocket quite like Subaru. The company has been dominating rally racing for eons. Fortunately for us, Subaru has translated that racing experience into street cars that look as good as they perform. The horizontally aligned 4-cylinder is just 2.5-liters and 224-horsepower, but the all-wheel-drive system puts every ounce of this power to good use. Bonuses include four-door utility and mileage upwards of 27-mpg on the highway. It's true that there are faster Impreza WRX, but they'll run you 10 grand more. Besides, it's hard not to love a car when the first thing you notice when looking at it is the over-sized hood scoop.
0-60 Time: 6.2-seconds MSRP: $24,450 There was a time when Pontiac was the car to beat on the street. The G6 GTP comes close to regaining that honor. Not only is the car one of Pontiac's fastest, it's also one of Pontiac's best looking. The slippery shape hides a 252-horsepower 3.6-liter V6, which propels the car to 60-mph in a touch over 6 seconds. Not at all bad for a car that is rated for 28-mpg on the highway. Mileage, good looks, and performance... it's no wonder the vast majority of owners love their GTP coupes.
0-60 Time: 6.5-seconds MSRP: $23,399 Put bluntly, the car looks like something that could have been in the background of the movie Bladerunner, and in our book that kicks ass. The Eclipse GT is motivated by a 263-horsepower 3.8-liter V6 coupled with a 6-speed manual transmission (a 5-speed automatic is available). You can grab the GT in colors such as Ultra Red, Liquid Silver, and Still Blue, but make no mistake, there's nothing still about this ride. In case you were wondering, mileage ratings come in at 18-city, and 27-highway.
0-60 Time: 6.7-seconds MSRP: $26,435 It's easy to laugh at the tiny engine found under the strange looking sheetmetal of a Mazda RX-8. Come on, it's only 1.3-liters and a 2-cyli.... rotor. What the hell is a rotor? That's what most people say until they get their doors blown off by it. That little 1.3 rotary puts out 232-horsepower, propels the RX-8 from 0-60 in 6.7 seconds, is cleaner burning, and gets up to 24-mpg. Mazda is the only manufacturer in the world to find success mass-producing rotary engines for automotive use. With all the advantages to the rotary design, it's difficult to imagine why that is.
0-60 Time: 6.7-seconds MSRP: $22,220 The Volkswagen GTI is available in a trio of flavors, including coupe, sedan, and the hot little Fahrenheit. All of them are comparable in performance. The Fahrenheit adds a little spark to the line-up, but will run you $27,665. There are only a handful being produced, so the likelihood of getting your hands on one is slim. Anyway, back to the cars under 451 degrees. The GTI comes very near to being a complete package. It has the convenience of coupe and sedan body styles, it gets a miserly 32-mpg on the highway, and it spins the speedo up to 60-mph in less than 7-seconds. All of this from a 2.0-liter 4-cylinder producing 200-horsepower.
0-60 Time: 7.0-seconds MSRP: $21,490 Here it is, the car that you knew had to be on the list. The tuner-favorite, the car that put Honda on the map, the car that appeals to just about everybody regardless of their age, income, or lifestyle. The Honda Civic. The Si can be an elusive critter. It's cheap, it's fast, it's economical, it's useful, it looks good, and it sells faster than a talking monkey at a sideshow convention. The 2.0-liter i-VTEC engine is the second-lowest output engines in our top-10, with a mere 197-horsepower. As cool as this car is, we'd be hard pressed not to go for the talking monkey.
0-60 Time: 7.3-seconds MSRP: $17,595 And finally we have our last contender, the Cobalt SS. There are actually three versions of the SS, including a coupe, a sedan, and the supercharged. The standard Cobalt SS features a 2.4-liter 4-cylinder pumping out 173-horsepower, while the supercharged SS makes use of a 2.0-liter 4-cylinder pushing 205-horsepower. Both get great mileage; up to 29-highway for the supercharged and 34 for the standard cars. However, the supercharged will bump the MSRP up to $20,495. The only question is, are you willing to pay 3 large for a few tenths? We would seriously consider it.