Improved PowerStroke Diesel Engine, Stronger F-450, Minor Updates For King Ranch Trim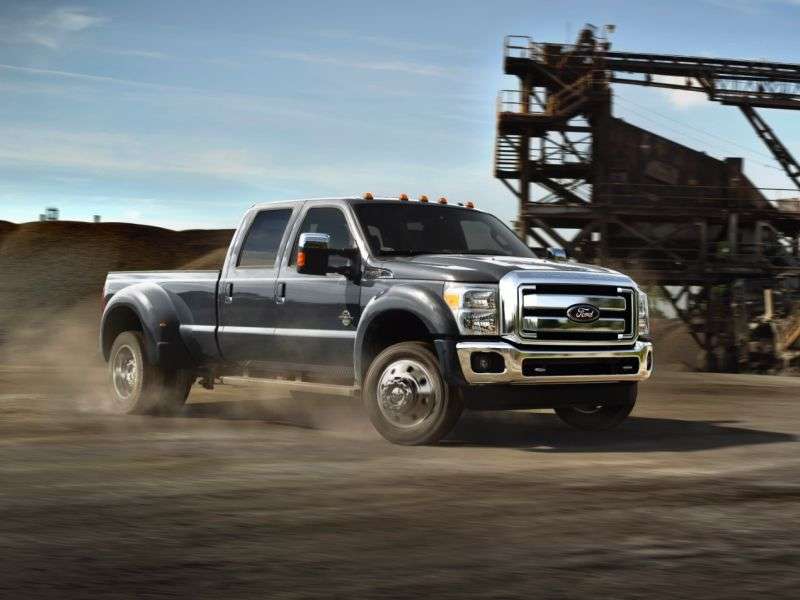 The Texas State Fair has begun and that means one thing for the automotive world; news about trucks. Ford used the fair yesterday to introduce the new 2015 F-Series Super Duty pickups.
The big news for the 2015 models is a revised 6.7L PowerStroke Diesel V8 engine. Ford says the revised V8 will "...produce more power beyond today's 400 horsepower and 800 lb.-ft. of torque," found in the current PowerStoke V8 engine. How much power? Ford isn't saying at this time.
What Ford is saying about the new PowerStroke V8 relates mostly to what's new. The big change is the addition of larger turbochargers which not only improve power output, but also allow Ford to make the PowerStroke V8 less complex by removing the wastegate system and redesigning the oil and cooling lines for the turbos. Other changes for the PowerStroke include a high-pressure fuel pump and injectors, stronger engine components, and an upgraded torque converter for the six-speed automatic.
Next up is the F-Series Super Duty's biggest and most capable truck, the F-450. For the 2015 model year, the F-450 will get a strengthened frame, suspension, rear leaf springs, front and rear antiroll bars, shocks, and commercial-grade 19.5-inch wheels. The F-450 will also get its own engine calibration for the PowerStroke V8.
Wrapping up the changes for the 2015 F-Series Super Duty is the King Ranch trim. Ford made the "Running W" on the seats and center console look branded by cutting out the 'W' and stitching it in. The interior also gets a lighter shade of Mesa-colored leather. On the exterior, the wheel lips, bumpers and lower body get a darker shade of brown.