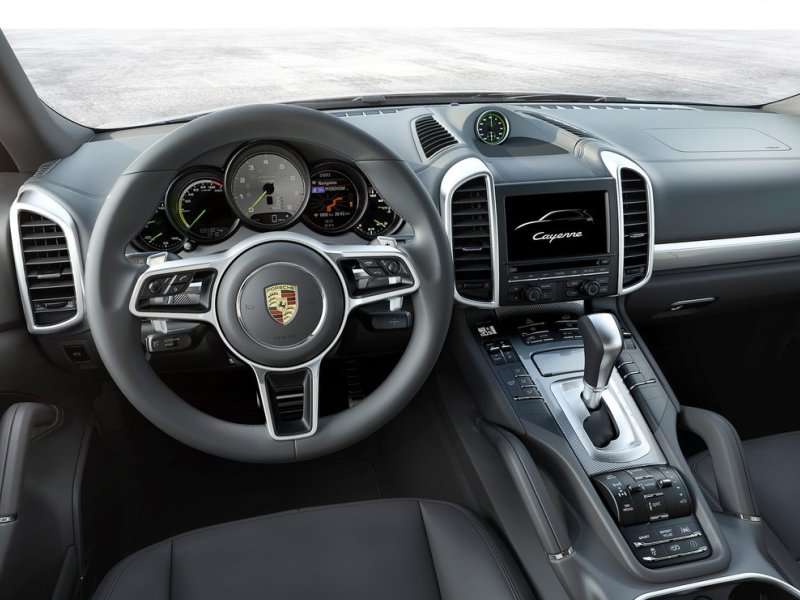 2015 Porsche Cayenne interior
Porsche has revealed details on the updated 2015 Cayenne, which boasts a revised look inside and out, and some changes to the powertrain lineup.
To begin, both the front and rear of the 2015 Cayenne have been changed dramatically. The front gets a new bumper, fenders, and hood. There's also air fins flanking the nose to direct air into the intercoolers, and new headlights. The back features new taillights, lower rear fascia, and exhaust pipes. Inside, there is a new steering wheel inspired by the 918 Spyder and optional ventilated rear seats.
On the powertrain front, the Cayenne S Hybrid steps aside for the plug-in Cayenne S E-Hybrid. The Cayenne S E-Hybrid uses the powertrain from the Panamera S E-Hybrid which is comprised of a 3.0L supercharged V6 with 333 horsepower and an electric motor producing 95 horsepower. Total output stands at 416 horsepower and 435 pound-feet of torque. Performance specs for the Cayenne S E-Hybrid are 0-60mph in 5.4 seconds, an all-electric top speed of 78 MPH, and a top speed of 151 MPH.
Porsche says the Cayenne S E-Hybrid's battery pack can be recharged while driving or by plugging it into a regular household charger. Fuel economy numbers haven't been revealed at this time.
The other change for the Cayenne's powertrain lineup is the departure of the 4.8L V8 engine for the Cayenne S. In its place is a twin-turbo 3.6L V6 producing 420 horsepower and 406 pound-feet. Porsche quotes a 0-60 time of 5.2 seconds.
Staying put in the Cayenne's powertrain lineup is the 3.0L diesel V6 which becomes the base model, and the Turbo which makes 520 horsepower and 553 pound-feet of torque from a twin-turbo 4.8L V8.
The 2015 Cayenne family arrives at Porsche dealers in November. Pricing is as follows:
Cayenne Diesel: $62,695
Cayenne S: $75,095
Cayenne S E-Hybrid: $77,395
Cayenne Turbo: $114,595
Prices include a $995 destination charge.