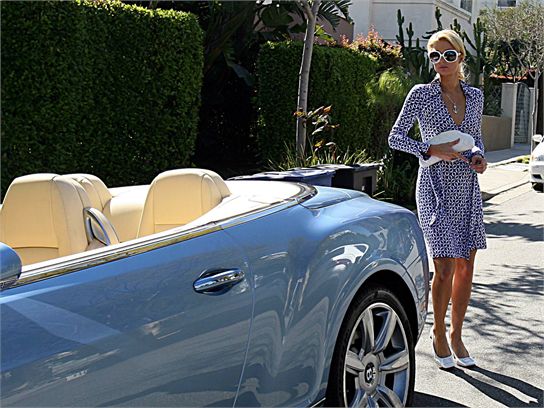 Convertibles excel at two things over their hardtop counterparts: maximizing enjoyment of the good weather summer brings, and allowing occupants to show off. Since a good deal of celebrities live in Southern California and enjoy sunny weather year round, I've concentrated this gallery on which celebrity convertibles are (or aren't) nailing the showing off part, or as I like to say…
By E Photo credit: Splash News
Page 2
I should mention that part of standing in the celebrity car Parade crowd is learning the language of the Parade. In its most basic use, to stunt (or stuntin', present participle) is to show off one's material wealth. Therefore a car with a high Stunt Factor* possesses a level of flashiness or look-at-me value that turns heads, which is inherent to some degree in all convertibles. The best test of a car's Stunt Factor is this: Can you get someone with very little knowledge of cars to stop what they're doing and stare? With that in mind, enjoy this Celebrity Car Parade Spotlight on celebrities and their convertibles.
*Rating given out by the International Society of Stuntin', based on a 1-5 Scale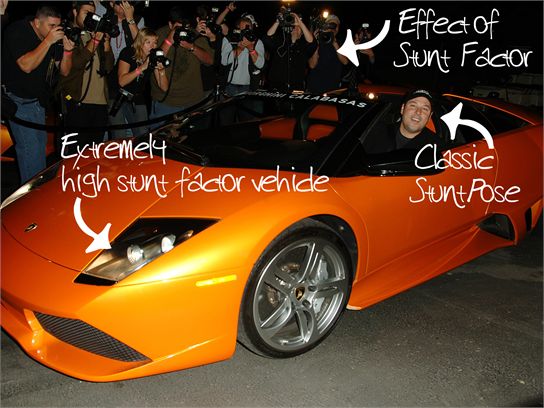 Page 3
It's a given: If you drive a red Ferrari convertible, people are going to look. They might have to look at you because you're pulling up to their drive-through window, but they're going to look. It's almost assumed a Ferrari has a Stunt Factor of 4, with a 5 reserved for vehicles like the Enzo, the F50, and the FXX (which is not street-legal and pretty much off the Stunt Factor charts). It's a known fact Rod Stewart has been stuntin' Ferrari convertibles for decades.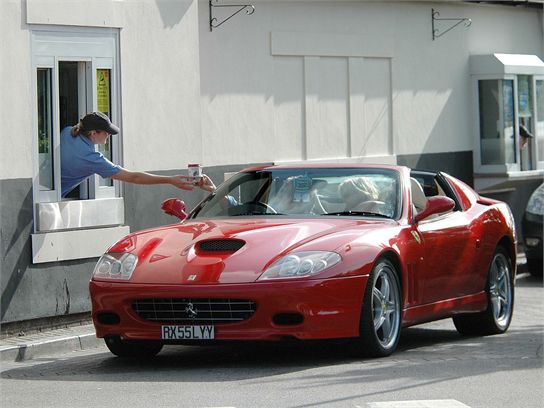 Page 4
There's a rule that goes, "If it's small, cute, and hip, son you can't stunt that whip". With that in mind the Mini has a very low Stunt Factor. Considering too that Fallon is the new host of the "Late Night" spot replacing Conan O'Brien, I think it's time to upgrade to something with a Stunt Factor to match. Or not. Choosing to stunt is a personality thing, and some celebrities prefer to fly low which is cool too.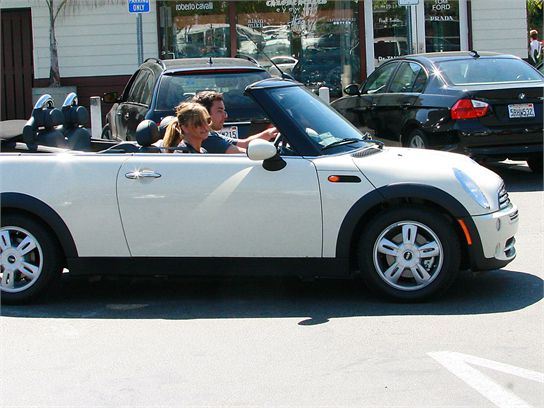 Page 5
He might be the Governor of California, but that doesn't mean he can't stunt every now and then. A Bentley by itself is always an attention getter, and the drop top is a perfect way to let the sunshine and stares in. Why not a Stunt Factor of 5 for the GTC? Quite frankly in Malibu where the Gov. rolls, the GTC turns heads, but it isn't exactly a rarity. Now a Bentley Azure, that would be a 5. What's the difference? About $140,000, or the cost of a small house.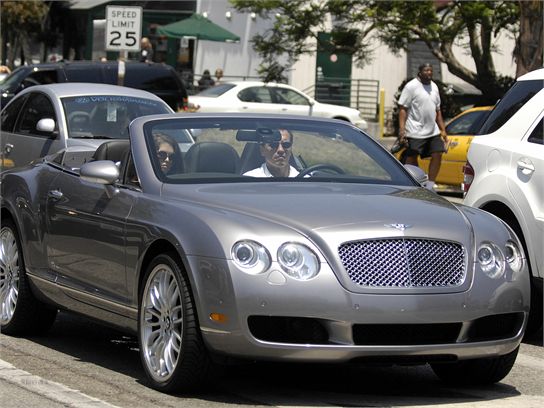 Page 6
I can hear the pack of wild automotive enthusiasts shouting now: the BMW Z8 was rated a 3? Are you crazy? It has an all aluminum frame, an M5 engine, a low production run, and an original base price over $120,000! Slow down, chief. I agree, the Z8 is a phenomenal vehicle, but to the common person it looks like a glorified BMW Z3, and if you can't make Johnny McCommon stop mid-sentence and drool, you aren't stuntin'. The case isn't helped by the fact that Gerard Butler isn't that well know (among other things, he starred in 300).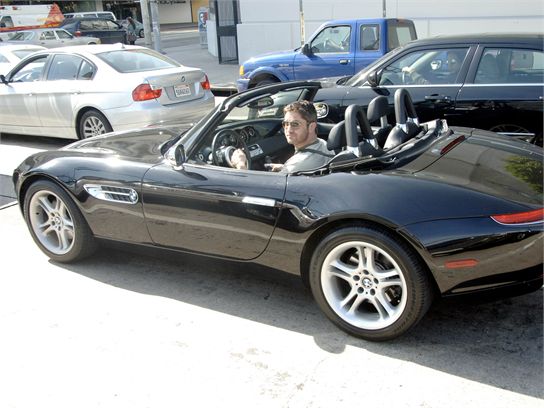 Page 7
The Lincoln gets a high Stunt Factor rating partly because of its celebrity stunt-heritage. JFK rolled a Lincoln Continental convertible in parades (okay maybe he should have stuck with the coupe), and while today's rappers praise the virtues of showing off in Maybachs (see 50 Cent & G-Unit, Stunt 101), the original rap supergroup The Sugarhill Gang was all about the Lincoln [ fade in Rapper's Delight bassline] I've got a Lincoln Continental and sunroofed Cadillac. That said, I'm sure Kid Rock has no problem turning heads with his own Lincoln Continental in 2008, even with Pamela Anderson long gone from the passenger seat.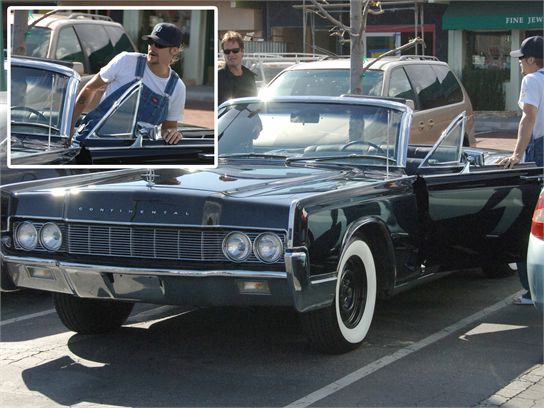 Page 8
The BMW 6 Series is a tight car, and a downright beaut when you throw singer Christina Milian in the driver's seat. Drop the top and you have a ride with solid Stunt Factor approaching 3. Add some body-matched 20" rims on that thing and Captain Stunt, the ship has reached level 4! Which brings me to my next point: rims and other accessories can take a solid car and up the Stunt Factor big time, so much respect to you Christina. It can work in reverse too. Take customization too far and you go from stuntin' to clownin'.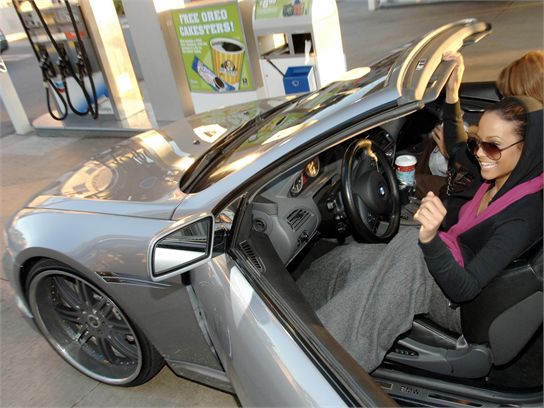 Page 9
Everything about this cars screams "I'm stuntin", from the vertical doors to the carpet-height ground clearance, and an exhaust note meaner than a pack of Rottweilers. It gets a Stunt Factor rating of 5 only because the scale isn't out of 6. Elvis bareback riding Godzilla on a tricycle couldn't attract more attention. You get the point, and so does Jermaine.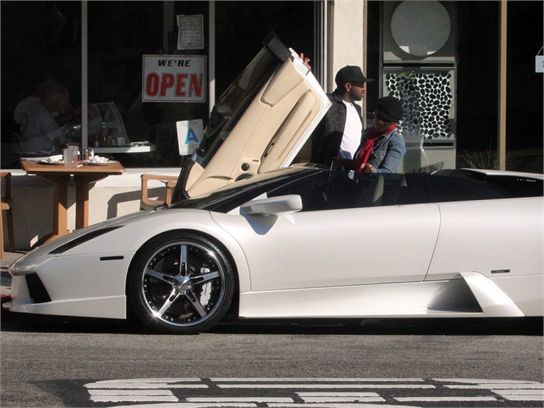 Page 10
Check out Autobytel's Celebrity Car Parade for more celebrities and their rides, like artist Seal chilling in this Ferrari F430. Stunt Factor? I think you can make that call.