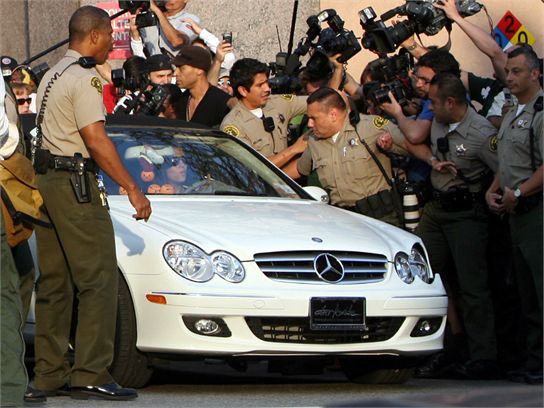 Why is everyone in such a hurry to bust out the cameras? It's obvious they want to see what Britney Spears is driving. I'm happy to point out that Britney, who was car shopping again just yesterday, has a pretty decent collection of rides.
To save you the hassle of fighting through the police and paparazzi, check out this Celebrity Car Parade Spotlight on the automotive world of Britney Spears, because quite frankly, the world needs to pay attention to more cars and less drama.
Page 2
Some people put the convertible top up in the rain, others in the middle of a paparazzi storm. Looks like Britney also pimped out her Mercedes-Benz CLK350 for Halloween.
Britney's a big fan of convertibles and owns at least five or six of them. Find your own convertible(s) on MyRide.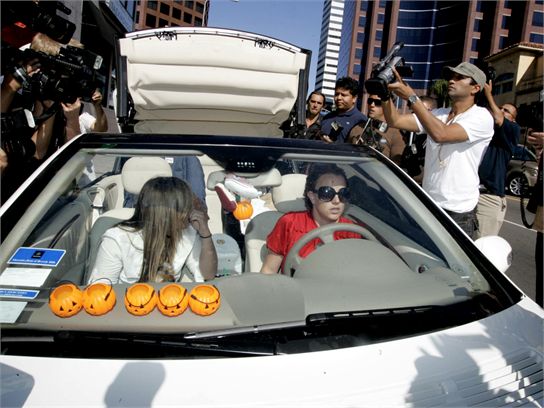 Page 3
Perhaps nobody told Britney that it's pronounced "Ro-DAY-o" drive, not "RoDEEo." At least she got the message about riding a Benz and not a horse.
The Mercedes-Benz CLK is the perfect ride for today's urban cowgirl. Britney loves them so much she has two of them.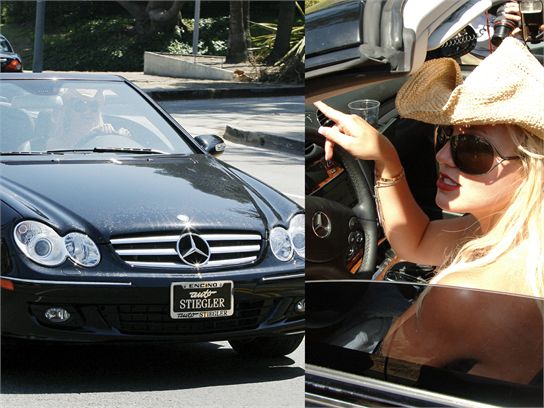 Page 4
Britney Spears and Alli Simms (cousin, former assistant) have occasionally been spotted in this smoking hot Jaguar XK8. The chick in the blue jacket, however, does not look impressed, employing a classic player-hater stance/stare.
I never thought I'd be giving women advice on accessories, but the XK is one accessory that will guarantee guys pay attention to you.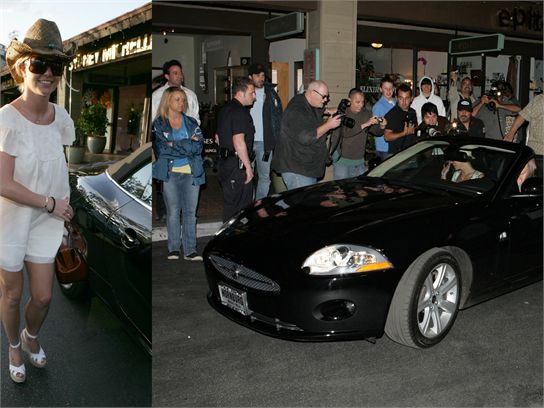 Page 5
How quickly Ms. Spears' presence can transform a Chevron station into paparazzi pit row. Looks like the photographer in blue is about to learn the hard way what happens when you put your foot underneath Brit's Porsche.
This photo is caption worthy, give it your best shot.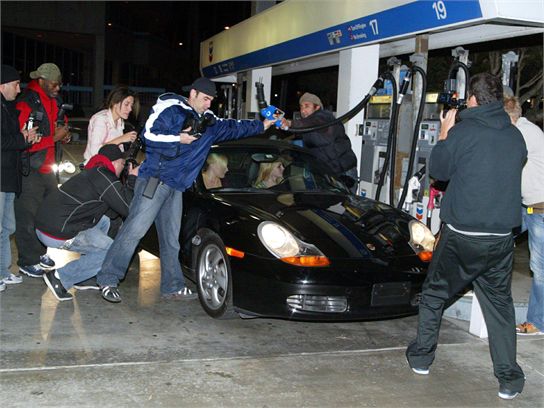 Page 6
…not to be confused with Mini-Britney.
You don't need to be a celebrity to roll in a MINI Cooper convertible.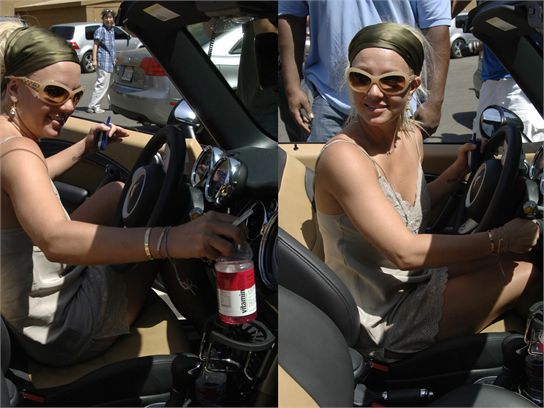 Page 7
Tired of idiots criticizing her for driving with a dog in her lap, Britney sits shotgun and lets her dog take the wheel. The Humane Society could not be reached for comment.
Word of advice, if pampering your dog with sweaters doesn't spoil your dog, letting it drive an Escalade will.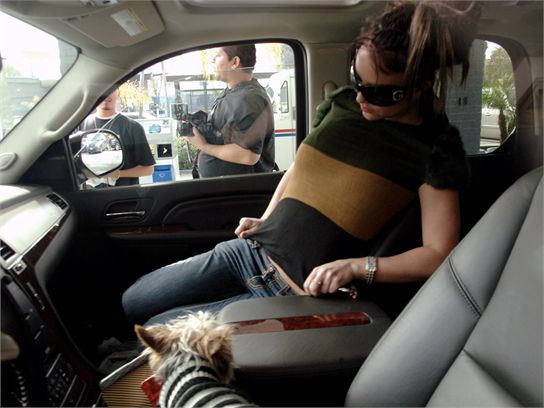 Page 8
Britney's son, Sean Preston, chops it up in an Escalade EXT. Father/part-time rapper Kevin Federline chipped in for the truck's chrome rims.
Buy one for baby and one for daddy.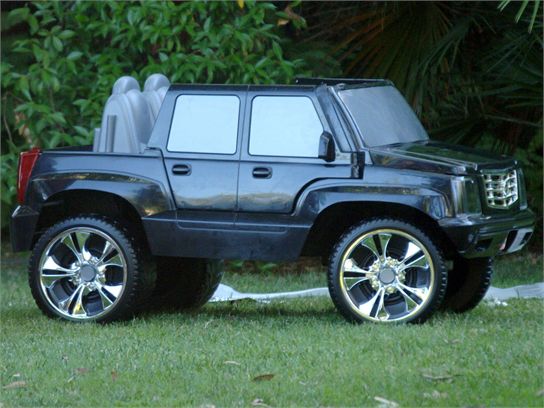 Page 9
I'm still trying to figure out whose call it was to purchase an Audi A8. It doesn't fit with Britney's convertible fetish (CLK, Mini Cooper, SL65, Porsche), and it doesn't really fit with K-Fed's tastes (Ferrari 360, Harley Davidson, no shoelaces) either. That said, it's a responsible choice for any wealthy couple trying to start a family. Ahhh, martial bliss…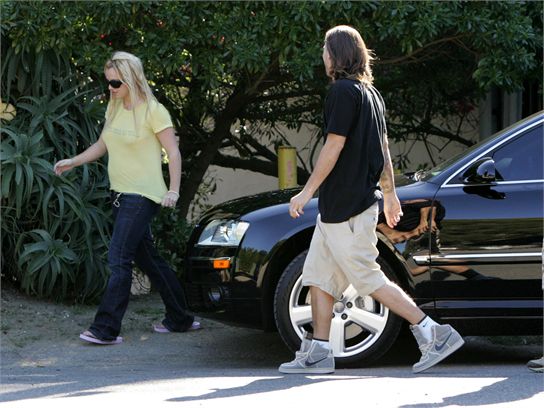 Page 10
Younger siblings usually resent hand-me-downs, but when your older sister is Britney Spears, sometimes you're handed down the keys to a Range Rover. Even though Jamie Lynne was sixteen at the time this was taken, she let her boyfriend do the driving (and let's hope he doesn't mind driving a minivan in a couple months).
If you dig hand-me-downs, go used! The above can easily be had for under $40,000.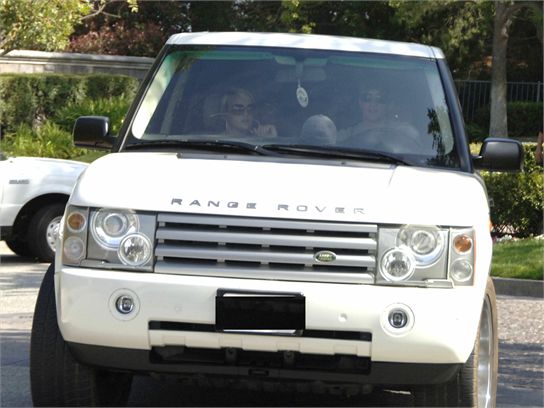 Page 11
In November Britney went car shopping. The final decision came down between two cars: Blends like camouflage in Hollywood Poor visibility + constant crowds = eventual PR disaster
604 units of paparazzi-outrunning horsepower 2 seats for a mom with 2 kids