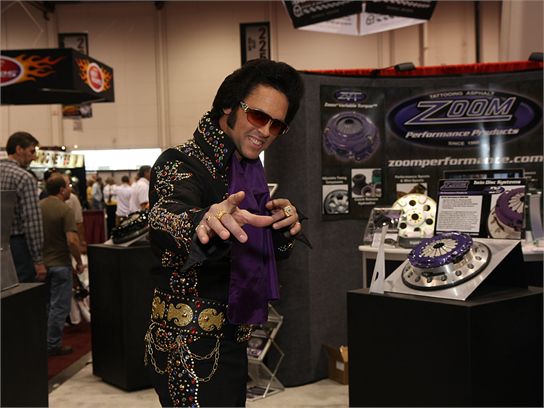 Superstars and shiny cars at the 2008 SEMA Show
Fame and fast cars go together like crushed ice and margarita mix: sweetly. That's especially true at the SEMA show in Las Vegas, and the 2008 SEMA show was no exception. We spotted hip-hop superstars Nelly and Funkmaster Flex duetting and digging around Nelly's new SEMA-fied Ford Flex. Then we started seeing super-tuner Chip Foose, um, everywhere we looked.
Over at the Cooper Tire stand, TV star Frankie Muniz (Malcom in the Middle) sported blue eyes, a big smile, and big eyes to get into driving in the Champ Car World Series next year. Then we ran into Guy Fieri from the T.G.I. Friday's commercials. Seriously.
And what trip to Las Vegas would be complete without running into The King? That's right, folks, Elvis was in the building and he sparkled like fireworks.
Who did we hang with? These cats:
Nelly and Funkmaster Flex
Super-tuner Chip Foose
TV star Frankie Muniz
Guy Fieri from the T.G.I. Friday's commercials
The King, Elvis
And these were the dudes. If you want to see the car-lovin' women of the 2008 SEMA show, this is the place to go.
By Richard Homan
Photography: MyRide Staff