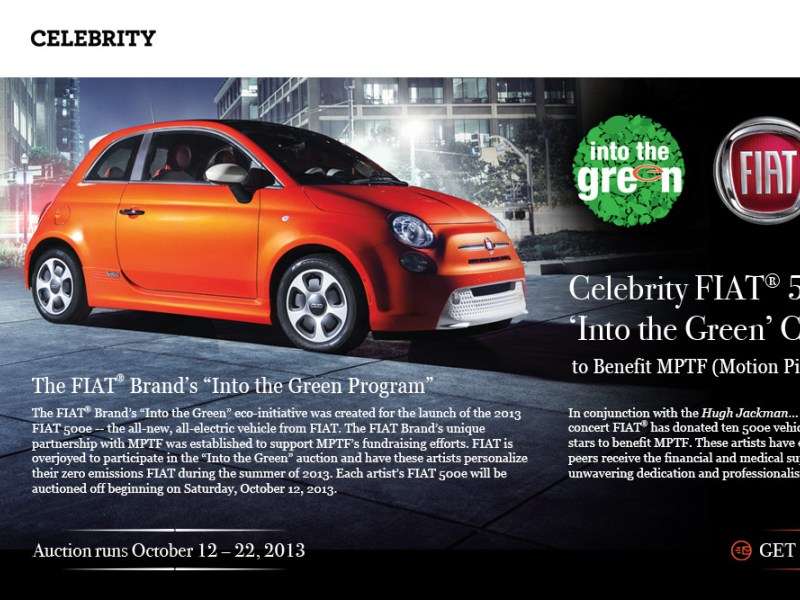 When it comes to getting a Fiat 500e autographed by Clint Eastwood, you have to ask yourself one question: "Do I feel lucky?" If so, and you also happen to be the highest bidder at Fiat's upcoming "Into the Green" charity auction, you actually can get your hands on a vehicle that combines high-fashion flair, a clean and green 87-mile all-electric driving range, and Dirty Harry's etched signature on its glovebox. And the Eastwood-etched EV will be one of 10 Fiats getting the star treatment for the auction, with Hugh Jackman, Anne Hathaway, Barbra Streisand and Ron Howard among the other celebs who will lend their autographs to a Fiat 500e for the effort.
It's all to help raise money for the Motion Picture & Television Fund (MPTF)—an entertainment-industry charity "in support of sustaining a safety net ... for the benefit of fellow industry members in times of need"—with the first of the exclusive Fiat 500e models scheduled to cross the auction block live at a Fiat-sponsored MPTF gala on Oct. 12, 2013, at the Dolby Theater in L.A. The other nine, however, will be up for grabs on eBay Motors. Bidding will run from 8:00 p.m. (ET) on Oct. 12, 2013, and close 10 days later, on Oct. 22, 2013, also at 8:00 p.m. (ET).
For more info, and to get involved in the bidding, visit: (www.ebay.com/fiat500emptf.
"The Fiat brand's partnership with MPTF brings electric power and star power together for a good cause," said Jason Stoicevich, head of Fiat Brand North America. "The funds raised as part our Celebrity Fiat 500e 'Into the Green' Charity Auction will help support the MPTF's initiatives, including services and environmental efforts."