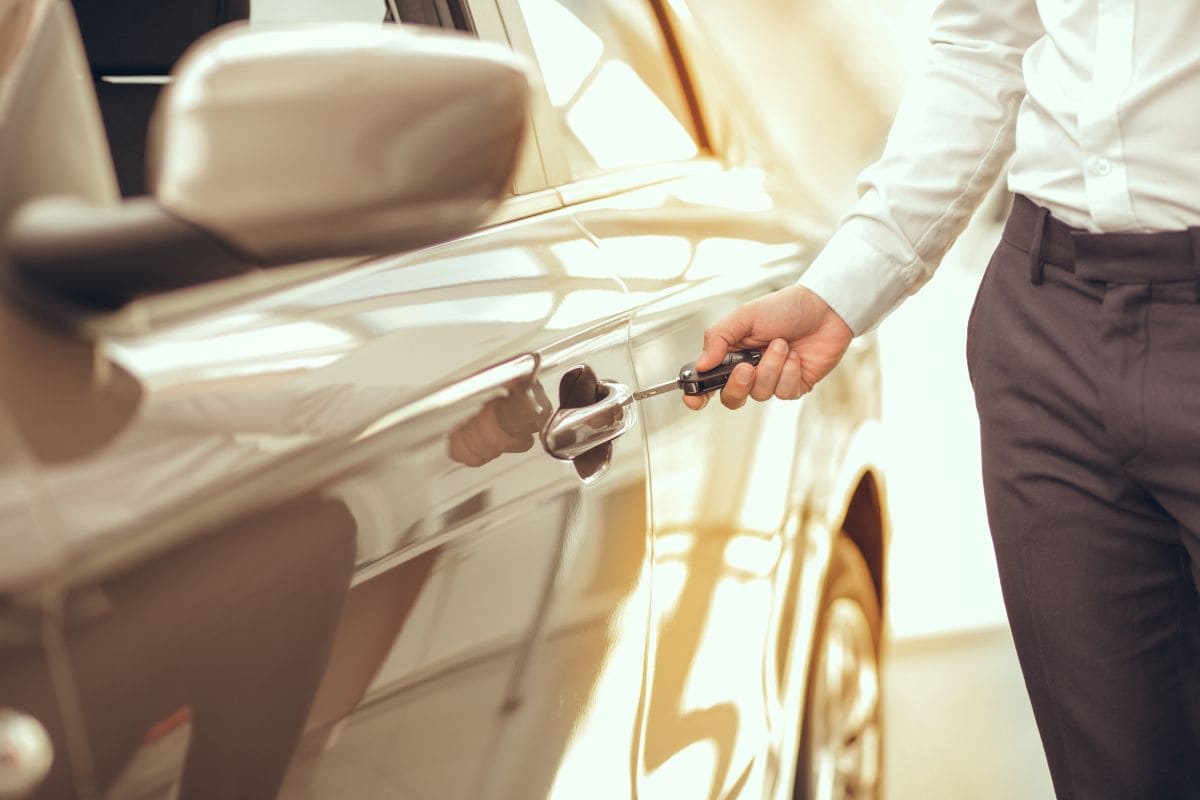 Because knowledge is power. ・ Photo by Adobe Stock
Before anyone buys a new or used car, they first should learn the language of car shopping. Whether you're shopping for a new or used car, truck, or SUV, it's important to understand the terminology. You don't have to become an expert, but you should familiarize yourself the most important terms and their definitions. Understanding the jargon of car shopping will ensure that you understand the salesman and get the best deal possible. To help, we've put together this glossary of terms every car shopper should know. We've covered everything, from acquisition fee to vehicle history report, and we've written clear and concise definitions for all 35 terms. We've even assembled them in alphabetical order so it's easy to follow and you can use it as a quick reference on your smartphone when you're negotiating on the dealer lot.
When you lease a car, the deal is financed by a lender, usually the financial institution owned by the car company, such as Audi Financial or GM Financial. These lenders charge dealers an acquisition fee, which is typically passed onto the consumer. Depending on the cost of the vehicle, the fee usually is usually between $300 and $1,000. Unfortunately, it's rarely negotiable.
Annual percentage rate (most often called by its initials, APR) is a fancy way of referring to the interest on any car loan. It's the percentage of the amount you've borrowed, calculated over 12 months, and it applies to the purchase of any car or a lease that is not paid upfront in cash. Often it's referred to as a finance rate, but it's usually called the APR of a loan.
Most shoppers have heard of Kelley Blue Book, which has been publishing a well-known used car pricing guide since 1926. This guide still exists and is commonly used by dealers and consumers to determine the trade-in value of a vehicle. The values are based on year, make, model, equipment, mileage and condition.
This is the most common type of new car lease. When you lease a car, you agree to a duration or term of that lease, which is usually 36 months. At the end of that time, you have the option of either returning the vehicle to the dealer without further liability or cost, or buying the vehicle for a predetermined amount.
When car companies want to move a slow-selling model, they often offer dealers special deals and discounts, which are usually passed on to the car buyers to generate sales. These incentives are also common during seasonal sales around holidays or at the end of the year.
It's common for dealers to modify a car or truck with add-ons like undercoating, a secondary security system, stripes, or even flashy aftermarket wheels. If modifications to the car have been made, they will appear on an addendum sticker, which is a secondary window sticker outlining those modifications and their additional cost. Shoppers should know that the price of these items is negotiable.
The destination fee or destination charge is an unfortunate and unavoidable cost on every new car. It's the price of transporting the vehicle from its assembly plant to the dealership, and it's rarely the same from automaker to automaker. Destination fees usually range somewhere between $825 and $1,250, and they are not negotiable. Sometimes it's factored into an advertised MSRP, but most often it is not.
This also sometimes referred to as a termination fee, and it's rarely negotiable. It's also very common. It's a fee charged by finance companies or lenders to the lessee at the conclusion or termination of a lease to cover any cleaning, repairs, and servicing of the vehicle before it is resold as a used car.
This is a fee charged by the dealer to cover the processing of paperwork. It's rarely negotiable, but it should be challenged if it's more than $100. Consumers should also know that its amount varies from state to state. It's also often referred to as a doc fee, and buyers should realize it does not appear in the MSRP of the vehicle or anywhere on its window sticker.
Commonly referred to as a down, this is any cash you've decided to pay upfront to reduce your monthly payments and the overall size of a loan. Although $0 down payments are often advertised, eligibility does depend on your credit rating. Buyers with low credit scores are usually required to make a sizable down payment whether they are leasing or purchasing a vehicle.
Sometimes this is called Total Due at Signing, and it's exactly what it sounds like. It's the total amount of money a buyer or lessee must pay to take possession of the vehicle and drive it off the lot. If you're leasing the car or truck, the drive off usually includes the down payment, first month's payment, doc fee, acquisition fee, sales tax, and title. If you're purchasing the vehicle, the total amount will include your down payment, doc fee, sales tax, and title.
If you've decided to end a lease early, no matter the reason, then you will often be charged this large penalty fee, usually hundreds of dollars. You may also be required to pay the full amount the remaining monthly payments. To avoid these costs, many lessees find someone to take over their lease, if their lease is transferable (most can be transferred). If you lack gap insurance, you may also be charged an early termination fee if the vehicle is totaled or stolen.
When you return a car at the end of a lease, it will be inspected for damage, and you will probably get a bill for things like excess mileage, and wear determined to be beyond the norm. You'll be charged for paint damage, dents, and scarred or scraped wheels. Usually, modifications will also be called out. To avoid these charges, reversing modifications like lowered suspensions, aftermarket wheels or tinted windows, usually makes financial sense.
Sold by the dealer at considerable profit, this is also commonly called a service contract. Usually, it covers any repairs or servicing of the vehicle beyond the duration of the vehicle's factory warranty. These may make sense if you plan to keep the car for over a decade and 100,000 miles, but the upfront cost can be considerable. These plans are also available for used cars, whose age and mileage may have already gone beyond the duration of their factory warranties.
Usually, these are cash-back rebate offers or low loan interest rates from the automaker to spur sales of slow-selling models or to generate interest during holiday sales events. These are different then dealer incentives, because these enhanced deals go from the car company directly to the consumer.
This piece of shorthand refers to the Finance and Insurance office at the dealership. This is where you'll be directed to sign and complete all the paperwork after the deal has been negotiated. F&I is also where the dealer will try to sell you any additional items like vehicle modifications and extended warranties.
This is additional insurance beyond your collision policy, and it is optional. Gap insurance is attractive to many buyers who finance a vehicle because it may pay the difference (or "gap") between a vehicle's value and the balance remaining on a lease or loan if the vehicle is stolen, totaled in an accident, destroyed in a flood, or experiences some other catastrophic event.
This is the same as the Annual Percentage Rate. It's simply the interest on a loan. It's calculated as the percentage of the borrowed amount calculated over 12 months and is usually between 0.9 percent and 9.9 percent. It's also commonly referred to as the finance rate or APR.
This is the price the dealer has paid the manufacturer for the vehicle. It's sometimes referred to a Dealer Invoice. Every dollar you pay the dealer above the cars invoice price is the dealer's profit. The invoice price for any new car can be found on the internet, but the invoice price of a used car is anybody's guess. The dealer's profit margin on a new car can be as little as $250, but it can also range into the thousands. The invoice price is always lower than a car's MSRP, but it may be higher than a negotiated sales price due to incentives.
Every car manufacturer covers its vehicles with a warranty. It's included in the price of every new car, truck, and SUV. However, it is limited by time and mileage, which vary from manufacturer to manufacturer and sometimes model to model. Usually these warranties cover the car for six years or 60,000 miles, whichever comes first. Also, the cars' wear items like tires and wiper blades are usually not covered.
MAP stands for Minimum Advertised Pricing. It's basically the lowest price a dealer can advertise a specific model as dictated by its manufacturer. Not every car company has a MAP policy. Those that do, like Honda, feel it keeps dealers from advertising models at extremely low and unsustainable prices, which can be misleading for the consumer.
This is the car's window sticker. It displays the vehicle's pricing, fuel mileage, country of origin, and other important information. Every new car and truck has one. It's has been required by law since 1958, and it's named for Almer Stillwell "Mike" Monroney, a United States senator from Oklahoma who sponsored the legislation.
These four letters stand for Manufacturer's Suggested Retail Price. It's the price the vehicle's manufacturer recommends the dealer charges for the vehicle. Every car has one, but the dealer can sell the car for any amount it wants. Most cars are sold for less than their MSRP, but occasionally they are sold for more.
These are a common example of a factory incentive offered by automakers to consumers. A rebate is a partial refund, often between $500 and $3,000, for purchasing a new car. Rebates are often used to fuel the sales of slow-moving models. Most automakers offer rebates on some models throughout the course of a year, but not all.
This refers to the value of a used car or truck, and predictions of residual value are used to determine the overall cost of a vehicle lease. If a $30,000 car is worth $20,000 at the end of a three-year lease, then its residual value is $20,000. Cars with higher residual values are usually less expensive to lease because the automaker can sell it for more money after you turn it in. And if you buy a car with high residual value, you also will get a higher percentage of what you paid when you resell it.
A salvage title means the car has been severely damaged and totaled by an insurance company at some point in its history. That damage may have been repaired, but the car will forever be on a salvage title. A normal title would be referred to as a clean title.
Often referred to as an extended warranty, this will be offered at additional cost in the F&I office. It potentially covers repairs or service beyond the duration of the vehicle's factory warranty, but it's rarely necessary for most buyers. Service contracts are highly profitable for dealers, so they are usually mentioned before the deal is signed.
These higher-risk loans have higher interest rates and increased down payments, because they're granted to individuals with little credit history or low credit scores. (Subprime loans are also common in real estate deals.)
Usually between 24 and 72 months, the term is the agreed duration of a new car lease or car loan. The loan or lease term also determines the number of monthly payments.
Issued by the state, the certificate of title is the vehicle's ownership paper. It's often referred to as the pink slip, and it's the car's most important piece of paperwork. Used car buyers should walk away from cars without a title.
A trade-in is when you sell another vehicle to a dealer as part of the negotiation on the purchase or lease of another vehicle. The agreed-upon trade-in value is subtracted from the negotiated price of the new car. The price of a trade-in is often less than the value of the car if sold to an individual buyer. Often a dealer will determine its price by its Blue Book Value.
Most cars, trucks, and SUVs are offered in a variety of trim levels. These trim levels affect the vehicle's standard equipment and MSRP. Trim levels may have names like Sport or Limited, or letter designations like SE or LX. In the case of the Nissan Altima SV, for example, Nissan is the Make, Altima is the Model, and SV is the Trim Level.
When you're "upside down," it means you owe more money on your vehicle loan than your car or truck is worth, which means selling or trading in the car wouldn't be enough to pay off the loan. Being upside down can also be an issue if the vehicle is totaled. If you don't have gap insurance, the insurance company will pay the car's value, but not the additional money owed.
There are several services online that will provide you with a detailed vehicle history report of any used car for a modest fee. You'll just need the car's VIN and the report can be produced in seconds. It will tell you about the car's sales and maintenance history. You'll also learn if it has been in any accidents, big or small.
The VIN is the Vehicle Identification Number. Every car has one. It's a long list of letters and numbers that can often be decoded to reveal information about a vehicle. Before buying a used car, make sure the VIN on the vehicle matches the VIN on all the paperwork, including the title.