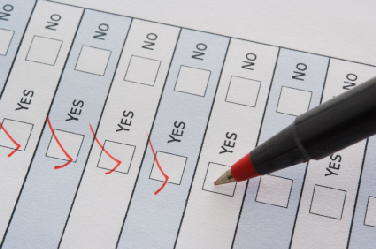 Buying a car is the second largest purchase most people will make in their life. 
Number one, of course, is buying a house.  When people start shopping for a home, they have a checklist, written or unwritten, of what they want.  Those items might include what neighborhood the home is in, local schools, the house size, number of bedrooms and bathrooms, an updated kitchen, home condition, and so on.  Some people insist on a brand new home, others are looking for an older home with character. And obviously, budget and financing are critical to any home choice.
The same kind of thinking applies when you're buying a car. When shopping, a car checklist will help you decide what kind of vehicle is right for you; whether it's a 50mpg economy car or a massive people-and-cargo hauler.  A checklist for buying a car should also help you understand what your budget is, how much you can afford in terms of payments, what to look for in that new or used car, and what questions to ask the salesman, dealer or private owner.
A car buying checklist will also help you see what to look for in a used car, how to approach buying a new car, how to do a vehicle inspection and even what to look for on your test drive.
In fact, we've provided four different Car Buying Checklists that will help you determine the size, type, features, financing and condition of the car you're looking to buy.  You can take our car checklist to the dealer or to a private owner.  Or, use our ideas to create your own car buying checklist.
Your car buying checklist should help you understand what you're looking for---and what you don't want.  Here's our top 15 tips for your checklist for buying a car.  After all, it is your money.
Know what kind of vehicle you're looking for (SUV, small car, minivan) etc.
Check Autobytel.com for car reviews, pricing information, and dealer recommendations.
Know your car-buying budget; your budget is your income minus expenses and savings.
Know the sales or trade-in value or your existing car.
Know your credit score to see if you qualify for a loan. You can get a free credit reports online.
Try to get a new or used car loan pre-approved from your bank or credit union. 
Go for a test drive to see if the cars you've picked out are right for you.
Test the features of the car before the test drive; do the seats fit your family? Is there enough cargo space?  Is it easy to adjust the seat and mirrors, and use the controls?
On the test drive, drive your own route and take your time.
Do the accessories and amenities (like the stereo, air conditioning, heat, navigation device, etc) all work?
How is the car's power, steering and handling, braking?
Don't start negotiating with the salesman or owner during the test drive.  Pay attention to the car, not to his comments.
Take your time. Your test drive should be at least 30 minutes. If the salesman tries to rush you, take a walk.
Similarly, if you don't like the price or the salespeople are trying to talk you into unnecessary add-ons when negotiating, leave; there are plenty of other cars out there.
If there's a used car you like but you're not certain of its mechanical quality, get a mechanic to look at it.