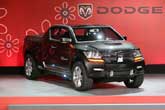 CHICAGO – Call it a Ridgeline for big boys, the ultimate home improvement hauler, or an over-the-top example of trying to stuff every single trick of the trade on top of four wheels. At the 2006 Chicago Auto Show, Dodge debuted a concept called Rampage, a truck that did so many things, offered so much versatility and choice, that – should they ever build it – would send legions of yuppies straight into therapy.
Just imagine the confusion. Just bolt on a hybrid powertrain, and poof – you've got great fuel economy, too – and it's good for the environment!
Thank goodness they aren't going to build it. Then again, if they did, Dodge would offer the most versatile truck on the market, one that would make that look like a midget. Initially posed as an example of what they could do, it may be that the Rampage is a design exercise showing some of the innovations coming soon to a Ram truck. Or it could be a concept headed to production, a Honda – Avalanche fighter. Take a 5.7-liter HEMI V8, put it in a truck shell that's built on the minivan line with front-wheel drive and an independent suspension, and there you go – the most versatile car, er, truck, er, SUV, er, minivan, on the planet
Thank goodness they're going to build it. See, we're already confused. All we know for sure is that we love the innovation: First, there's those hiding seats, which really is just DaimlerChrysler's stow and go system built into a truck. Those sliding rear doors? Ditto. Combine the width of a Dodge Ram with the overall length of a Dodge Dakota, featuring seating for five and a five-foot cargo box, a power glass midgate and an enclosed area under the bed and there you go – ready for business, in 2010 or beyond. The look is also innovative, and may signal some design elements for future Rams.