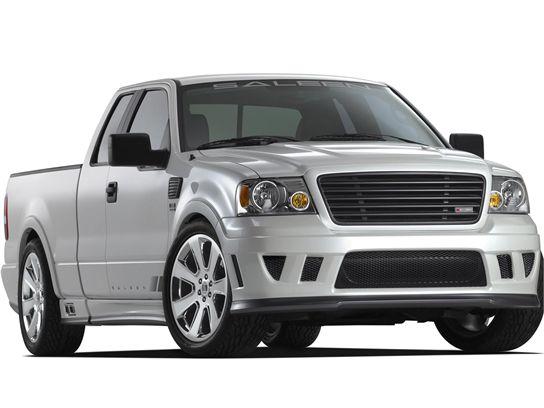 In the world of niche performance trucks, the new rooster crowing the loudest is the Dodge Ram SRT-10 with its claim of fastest production pickup. There was a time when that designation belonged to the Ford F-150 Lightning, and you can bet the boys in Dearborn tasted the bitter pill of defeat what that heralded title was lost.
Apparently, Ford engineers and Steve Saleen don't like the view from second place, so much so that they've created the 2007 Saleen Sport Truck S331, an F-150-based SuperCab pickup that promises to give the Ram SRT-10 a serious run for its money.
With about 5,000 vehicles built in 2005, including three versions of the Mustang, the GT supercar, and the stellar S7, Steve Saleen and his crew have proven they know how to build fast cars. The Sport Truck S331 is no exception, thanks to the availability of two engines: a 24-valve V8 cranking out 325 horsepower and 400 lb.-ft. of torque, and another V8 with twin superchargers pushing 450 horsepower and 500 lb.-ft. of twist. Saleen hasn't talked about fuel mileage, but you can bet that won't be this screamer's best selling point.
Anyone who's familiar with Saleen vehicles knows they can expect more than just oodles of power. In the case of the 2007 Sport Truck S331, those extras include reworked front and rear fascias with honeycomb inserts, a new horizontal-slat grille, a supersized front air dam, and an integrated rear bumper with a diffuser. The hood is new, with a sculpted vent, the flanks are dressed with lower skirts, and gracing the wheel wells are 23-inch alloys, which Saleen suggests are the largest standard wheels on a production truck. Inside the five-passenger cabin are unique gauges, race pedals, and a supercharger gauge cluster is mounted atop the center dash on the 450-horsepower models. The Saleen name is embroidered on the seats and printed on the gauges, while the floor mats feature the S331 designation.
If the 2007 Saleen Sport Truck S331 sounds like your kinda truck, you'll have to wait until July 2006 for units to arrive at Saleen-authorized Ford dealers. Prices for the 325-horsepower models will start in the high $30,000 range, whereas the 450-horsepower S331 will sticker for closer to $50,000.
By Thom Blackett
Photos by Ron Perry