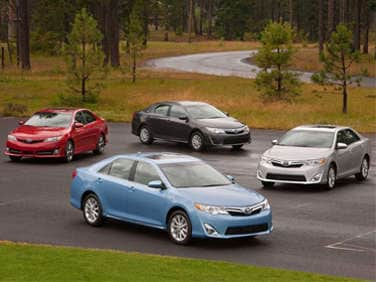 Given Toyota's current position in the industry, a strong case can be made that the launch of the redesigned 2012 Toyota Camry—which debuted on August 23—will be one of the most important in the company's long history. The company's recent woes, from the Recallathon to the earthquake/tsunami in Japan, have hammered its sales, reputation and profits at a time when competition has never been more fierce. And while there's still plenty of momentum behind the Camry, which, despite everything, was once again the best-selling car in America in July, Toyota clearly needs to advance its game. Unfortunately, it looks like its powertrain engineers have been standing still, since most expectations are that the "all-new" Camry will keep its current powertrain.
Now, I realize that the Camry's engine and six-speed automatic transmission were just introduced for the car's mid-cycle refresh in 2009, so getting yet another new powertrain just two years later wouldn't be a traditional move, but Toyota is hardly in its traditional place in the U.S. market right now.
Pictured: 2012 Toyota Camry lineup
Doing Things the Right Way?
Coming off a year in which its sales were essentially flat, Toyota has watched its numbers take a massive nosedive this year, and last month it was still reeling under the effects of this spring's disasters. Toyota's sales fell another 19.7 percent in July, and by the end of that month, the company's year-to-date results showed a 7.1 percent decrease. At the same time, the industry gained .9 percent last month and is up almost 11 percent through July.
Further, every car from the Toyota division itself was in the red both in July and for the year, and its core trio—Camry, Toyota Corolla and Toyota RAV4—recorded falloffs of 20 percent, 33.2 percent and 42.7 percent, in that order, last month. In that context, the Camry's July volume of 27,016 is no doubt an incredible accomplishment. But as compared to the July standings last year, the Corolla has dropped out of the top 10, slipping from sixth to 11th, while the RAV4 has fallen from the 17th spot to drop off the top 20 list entirely.
Yet there were some interesting bright spots last month: The all-new Scion tC scored a healthy 27.6 percent increase in customers in July, while the relatively fresh Toyota Sienna managed a 6.2 percent bump northward. This is important because it shows that, even in very challenging conditions, Toyota actually was able to achieve some positive growth with the right vehicles. To me, this is not insignificant evidence that at least part of what's holding down the company's sales is that its current lineup doesn't include enough of the "right" products for today's customers.
Pictured: 2011 Toyota Camry
R&D and Toyota
And if we're looking at why this may be, it may be worthwhile to look at some recent news turned up by Autoline Detroit's John McElroy, who presented data about R&D spending in the industry. It turns out that while Toyota was No. 2 in the world last year, spending about $8.5 billion to VW's $9.2 billion, the company was only in the ninth spot in terms of R&D spending as a percentage of revenue.
The easy thing to do would be to focus on the $8.5 billion Toyota has spent, which, compared to third-place GM's $7 billion, seems quite satisfactory. Of course, it wasn't that many years ago that being merely "satisfactory" in any part of the business was anathema to the automaker, and the apparent lowering of expectations is an odd turn of events—but nonetheless, it seems to be real.
For example, the automaker recently announced MSRPs for the 2012 Toyota Tundra lineup, and a price tag for the regular cab version was notable for its absence. The word is that Toyota either has or will cancel that model, which either is or will be a tacit admission of the truck's failure to compete with the big three from Detroit. Some say it's no great loss because regular cab pickups are typically fleet-only models and Toyota doesn't do a lot of fleet sales. But fleet sales for big pickups are a different animal from fleet sales for sedans, and having trucks seen on jobsites makes a positive impression in a way seeing the Camry in an airport rental fleet doesn't.
I've also previously detailed the powertrain choices on the new 2012 Toyota Yaris, which will offer a four-speed automatic at a time when the competition is two cogs past that mark. And now we've got a similar situation with the Camry. Yes, the car's current I4 engine and six-speed automatic will likely be fine for 2012 and keep the Camry competitive against its rivals. But debuting an all-new vehicle that is only "competitive" with what's already on the road is a strategy right out of the playbook of the old GM.
Pictured: 2012 Toyota Yaris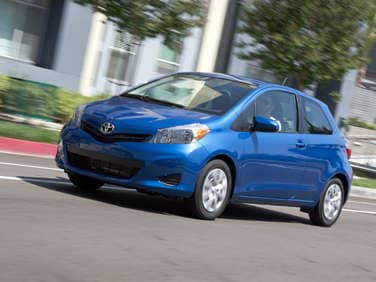 The Hybrid Factor
On the other hand, there are rumblings that the 2012 Toyota Camry Hybrid will finally be worthy of that name, and having Toyota's proven hybrid technology wrapped up in a traditional body style should be good for a nice increase in customers. The problem is, Toyota has taken so long to do it that Hyundai has essentially gotten there first with the Hyundai Sonata Hybrid. And that car's sales are likely to be a whole lot better than just "competitive" or "satisfactory."
Pictured: 2012 Toyota Camry Hybrid