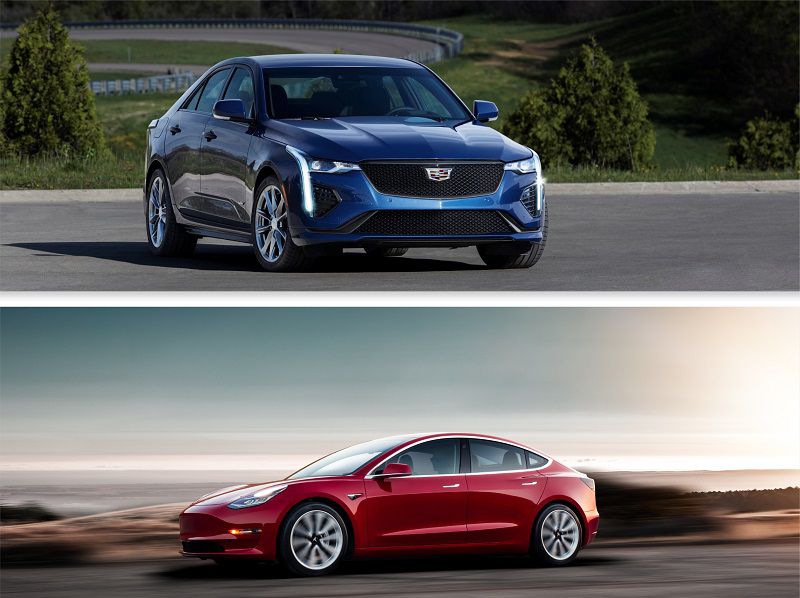 2020 Cadillac Tesla Super Cruise Autopilot Hero ・ Photo by Tesla / Cadillac
Advanced driver-assistance systems (ADAS) started appearing on production passenger vehicles within the last decade. Generally speaking, these systems include some kind of automated decision-making by the vehicle. For example, adaptive cruise control is usually the first ADAS system in any list. This feature allows a vehicle to follow the prevailing traffic speed when cruise control is engaged. Most adaptive cruise systems in current model year vehicles can come to a complete stop, if necessary.
Other common ADAS features include automatic high beams, automated parking, blind-spot monitoring with lane change assistance, driver monitoring, hill descent control, and many other services. As vehicles become more sophisticated, automakers are using ADAS to make traveling safer for their passengers, and for people outside the vehicle as well. Two of the leading ADAS systems on the market today are Cadillac's Super Cruise and Tesla's Autopilot, each allowing the vehicle to take over some basic driving duties. Click through to find out what technology is behind each system and what each system can do for you.
What is Super Cruise?
Cadillac's Super Cruise has a good claim to be the most advanced ADAS system on the market today. It is the only system that explicitly allows the driver to take his or her hands off the steering wheel. When Super Cruise is active, the driver can rely on the Cadillac to steer itself around curves in the road and maintain a safe following distance to the vehicle ahead. Super Cruise works only on limited-access highways and freeways in the United States and Canada.
To engage the Super Cruise system, the driver brings the Cadillac onto the freeway under human control. An icon lights up on the dashboard when Super Cruise functionality is available. A button on the steering wheel engages Super Cruise and the top of the steering wheel glows green to tell the driver that it's safe to remove hands from the wheels. The driver can regain control of the car by simply taking hold of the wheel or stepping on either of the pedals. Also, if the Super Cruise system cannot safely steer, it will signal the driver to retake the wheel.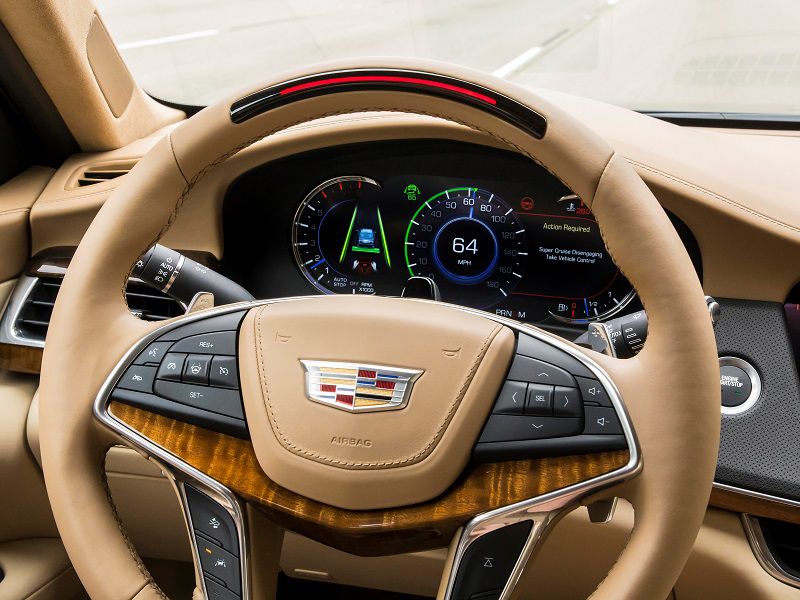 Photo by Cadillac
What is Autopilot?
Tesla's Autopilot has been under development since 2014. Tesla vehicles built through 2016 have a less-capable version of the system than newer Teslas. Current Tesla models offer two distinct optional systems: Autopilot and Full Self-Driving Capability.
The basic Autopilot system consists of adaptive "Traffic-Aware" cruise control that follows the prevailing speed of surrounding traffic. The system also provides Autosteer, which keeps the Tesla within a clearly marked traffic lane. It's important to note that Autopilot requires full driver attention, and Tesla states that the driver must keep his or her hands on the wheel at all times and must be ready to take over control of the vehicle. Tesla states, "The currently enabled features do not make the vehicle autonomous."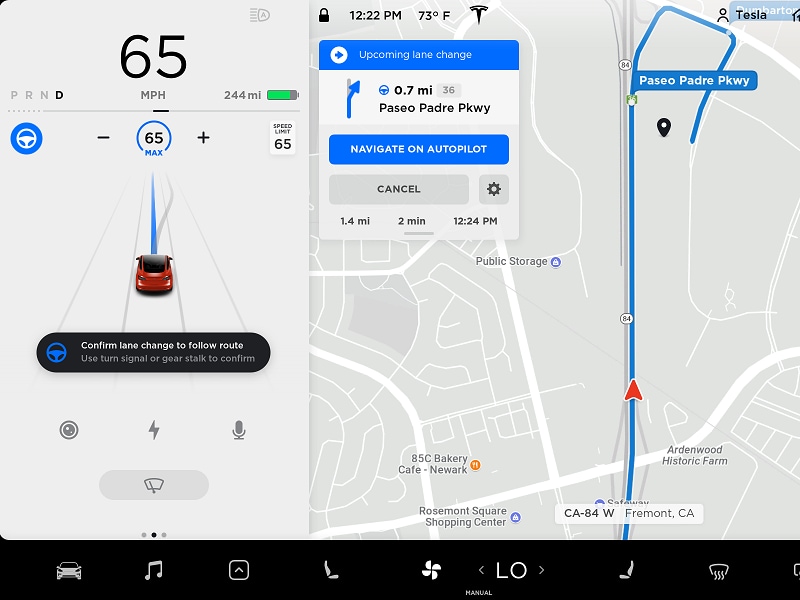 Photo by Tesla
Tesla Full Self-Driving Capability
Above Autopilot, Tesla offers what it calls "Full Self-Driving Capability." This is somewhat misleading because Tesla requires that the driver keeps his or her hands on the wheel at all times and maintain attention to driving. The driver still must be ready to assume control, and despite the name, the system is not fully self-driving. 
However, with those rules in place, Tesla states that the system can navigate the car from on-ramp to off-ramp, including suggested lane changes, managing freeway interchange ramps, and selecting the desired freeway exit. The advanced Tesla system manages turn signaling and assists with lane changes, too. Tesla has stated that in the near future, its vehicles with Full Self-Driving Capability will "recognize and respond to traffic lights and stop signs" and be capable of automatic driving on city streets, which Autopilot does not do today.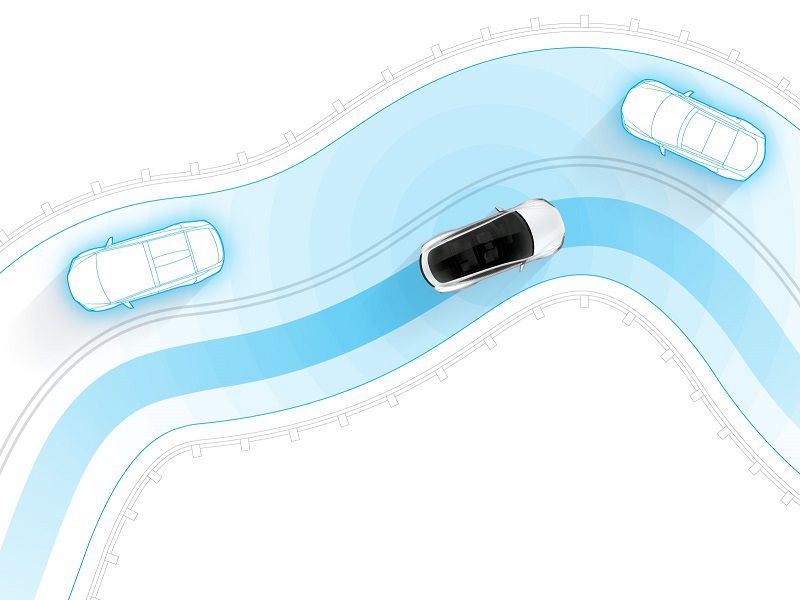 Photo by Tesla
Super Cruise Road Following
Cadillac developed Super Cruise by deploying a fleet of vehicles set up to map over 200,000 miles of the U.S. and Canadian interstate highway systems. Cadillac's mapping vehicles use high-resolution GPS, laser radar (LIDAR), and cameras. What they got was a high-resolution map that allows a Cadillac to know where it is within a few inches at all times. Then the Cadillac augments that position information with its own camera and radar systems to monitor surrounding traffic.
To use the Super Cruise system, a Cadillac must be traveling on a mapped highway. The Cadillac will remain in its lane at all times, using adaptive cruise control to set a safe following distance to the vehicle ahead. If the Cadillac comes up on a slow-moving vehicle, it's up to the driver to take control, change lanes, and restart Super Cruise.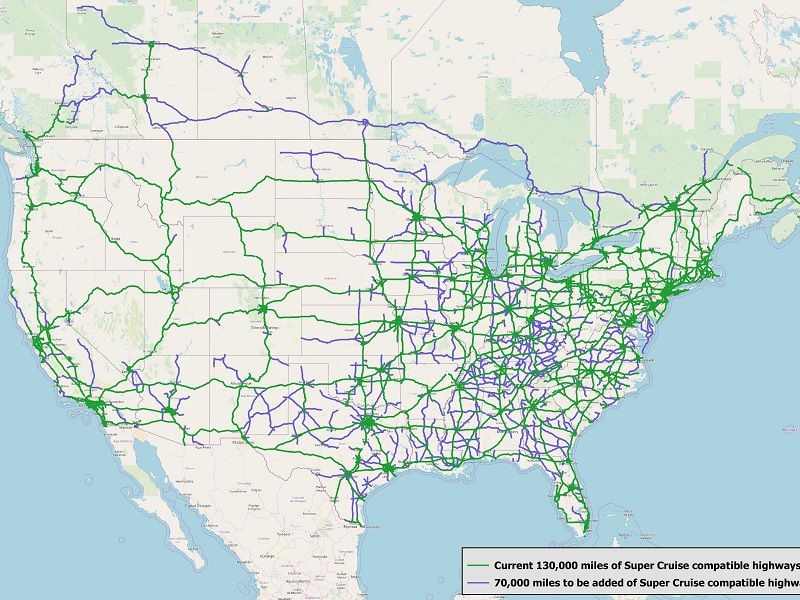 Photo by Cadillac
Tesla Road Following
Tesla's Autopilot system relies on a suite of sensors and cameras, including eight external cameras, one radar unit, and 12 ultrasonic sensors to monitor the traffic situation and keep the Tesla centered in its lane.
If a Tesla buyer selects the more advanced Full Self-Driving Capability option, Tesla states that the car will handle all freeway driving, including lane changes. The driver must enable Auto Lane Changes through the Autopilot Controls menu. Then when the car is using Autosteer, the driver makes the decision to change lanes and actuates the turn signal in the direction that they would like to move.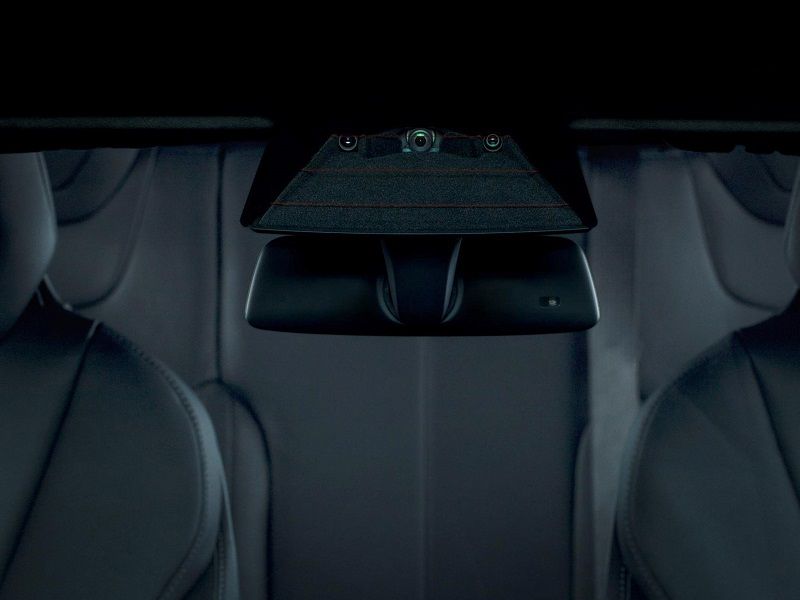 Photo by Tesla
Super Cruise Hands-Free Operation
The Cadillac Super Cruise system is unique in that it allows limited hands-free operation. However, that feature comes with an extensive set of responsibilities. Cadillac enforces driver attention to the road with a camera that looks from the dashboard to the driver.
If the Cadillac notices that the driver's eyes are closed, or that the driver is looking away from the road for more than a few seconds, an alert sounds. If the driver does not respond by bringing his or her attention back to the road ahead, Super Cruise deactivates. If the system deactivates too often, the Cadillac disables Super Cruise until its next off-on key cycle.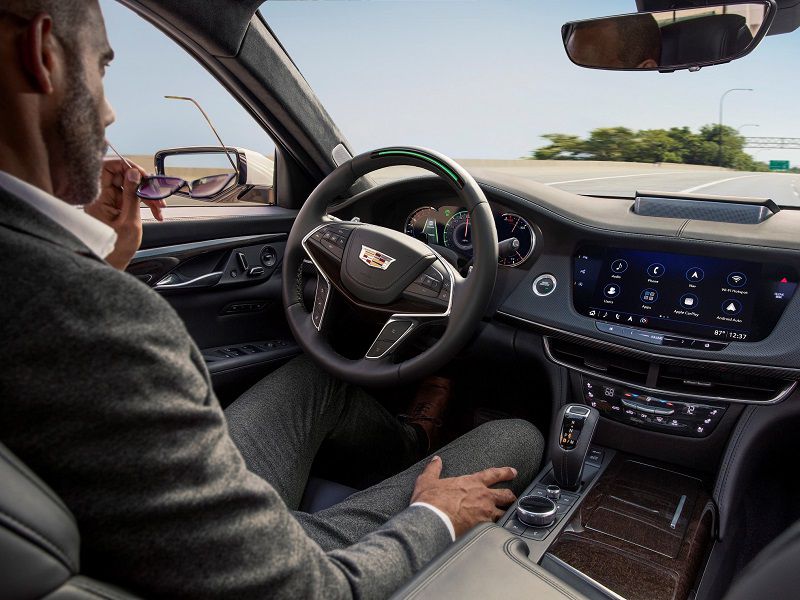 Photo by Cadillac
Self-Parking Features
Tesla's Full Self-Driving Capability enhancement to Autopilot will allow the vehicle to park itself. Cadillac offers a similar feature, called Automatic Parking Assist. This is well-established technology, and other automakers such as Lexus and Ford also offer similar features.
When it comes time to park, an equipped Cadillac or Tesla can parallel- or perpendicular-park itself. Both systems require the driver to select automatic parking, and then the systems notify the driver when a usable space is available, and will automatically steer the vehicle into an available space. Additionally, the Tesla can move out of a tight parking space automatically without the driver in the vehicle. Other automakers such as BMW and Mercedes-Benz also offer this functionality.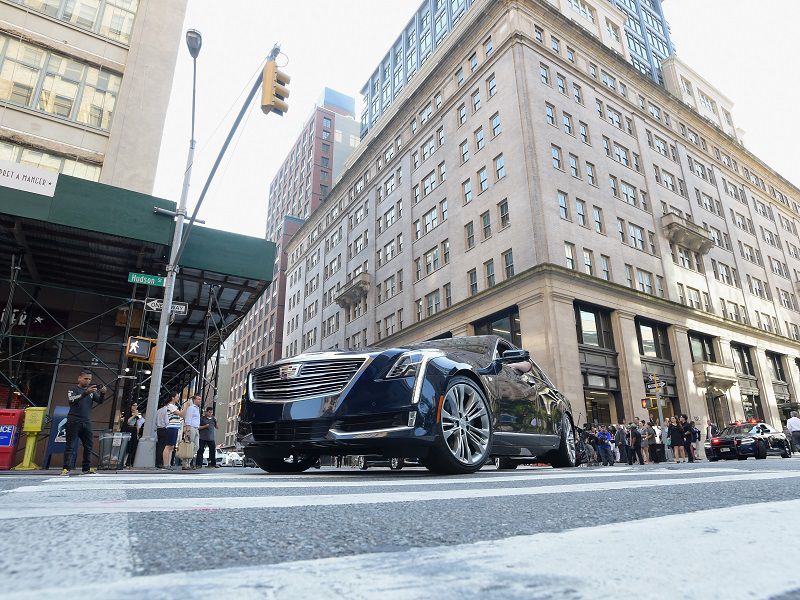 Photo by Cadillac
Tesla Summoning
One feature that sets Tesla apart is Summoning. It takes some time to set up, but you can use a smartphone app to ask a Tesla to park and unpark itself in a tight spot, while you stand nearby controlling the action. It's a great way to get in and out of the car in comfort and convenience.
Additionally, Tesla states that its vehicles equipped with Full Self-Driving Capability will navigate themselves around a complex parking lot to find their owners. If you've ever lost your car in a parking lot, the utility of this feature is obvious.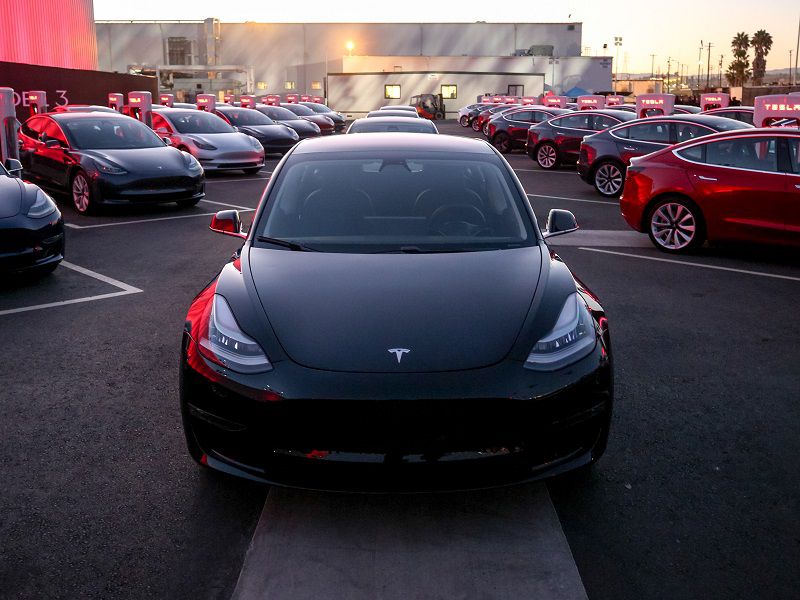 Photo by Tesla
V2X Communications
Both Cadillac's Super Cruise and Tesla's Autopilot make use of wireless communications. Tesla is known for its over-the-air (OTA) updates to vehicle software, and Cadillac is using OTA to add thousands of miles of newly mapped roads to its Super Cruise map. In addition to the mileage expansion, Cadillac's software update will also include performance improvements, enhancements to increase Super Cruise availability, and enhancements to the Driver Attention System.
Cadillac has stated that starting in 2023 it will offer Dedicated Short-Range Communications (DSRC) technology. This feature will enable communication with other enabled vehicles, or to roadway infrastructure. V2X-enabled vehicles can receive messages about road conditions, traffic light or pedestrian crossing status, emergency vehicles, and more. DSRC has a range of about 1,000 feet, allowing plenty of time for the Cadillac to alert the driver to upcoming events.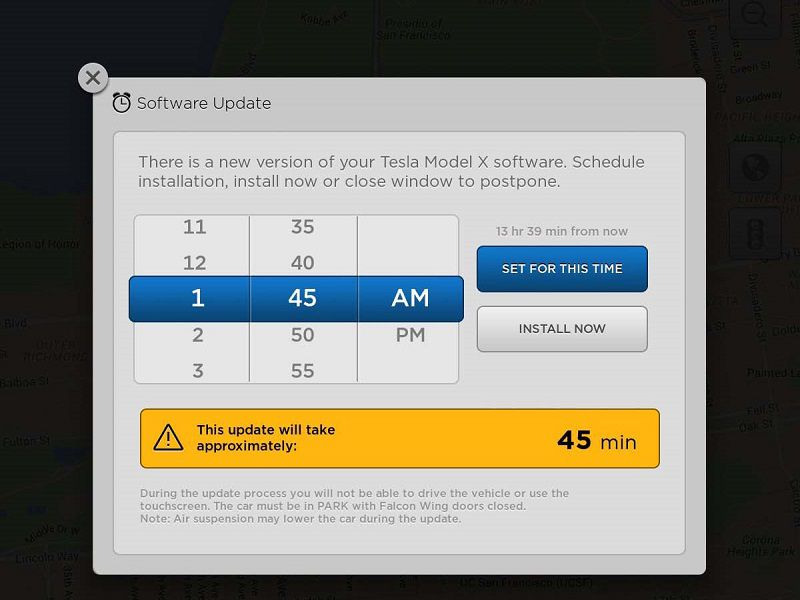 Photo by Tesla
The Bottom Line
Both Tesla and Cadillac make extensive use of the latest in ADAS technology, but neither company can yet claim to have a truly self-driving vehicle. However, the technology developed for Super Cruise and Autopilot points the way towards future developments in autonomous operation.
Tesla has been in the news several times with tragic collisions involving the use of Autopilot. In each of those cases, human error was still a factor. This is why both Tesla and Cadillac insist that the driver remain ready to take over control of the vehicle at any moment. The technology is good, but it's not ready to be responsible for your life.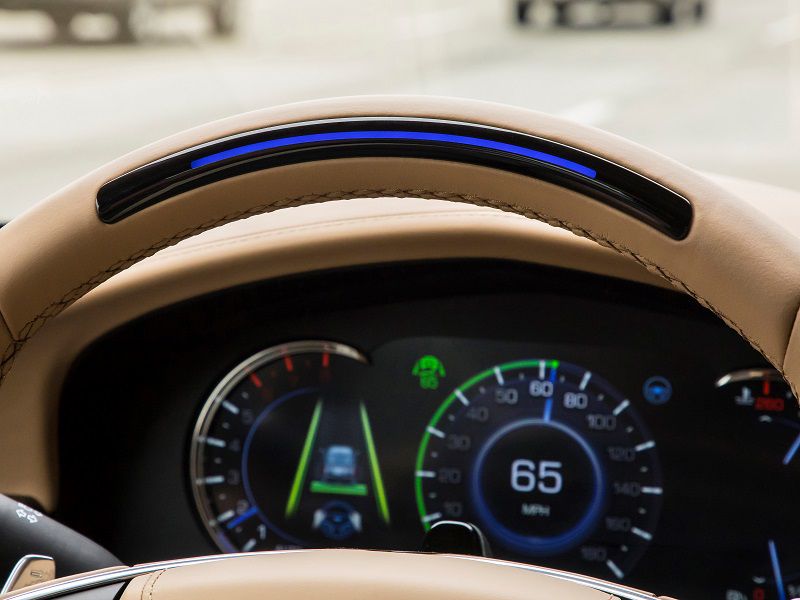 Photo by Cadillac