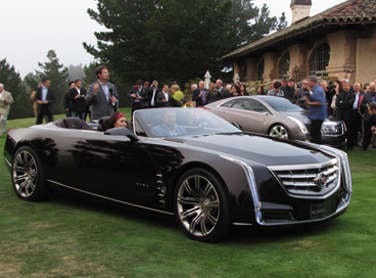 Although GM's luxury division has been facing stiff challenges on the sales front lately, Cadillac is preparing to restock its lineup with an array of new cars that already have the press and public alike buzzing in anticipation—and they're likely to include an all-new flagship based on the stunning Ciel concept that just premiered at the Pebble Beach Concours d'Elegance in California.
Cadillac was cagey about exact production plans for the striking four-door convertible—"Ciel" is the French word for "sky"—officially describing it as "a grand gesture that explores themes driving Cadillac's explorations into range-topping flagship luxury." Certainly, just one look at the Ciel clearly shows Cadillac's "explorations" have discovered an impressive new direction for its iconic Art & Science design language.
It's a notably more organic appearance, with long, sweeping lines and sleek sheet metal, set off by tasteful bright work on the exterior, but the Ciel also retains traditional Cadillac styling cues like vertical light treatments and a bold "shield-style" grille. The sophisticated style of the car's body is seamlessly integrated into its cabin as well, highlighted by the use of body-color accenting that directly connects the Ciel's exterior with its interior door panels. The interior itself then displays a chic two-tone color scheme with design elements made from materials like Italian Olive wood, machined aluminum and hand-tipped leather.
"There is authentic craftsmanship in the way the exterior and interior elements meld, much like a vintage wooden boat," said Gael Buzyn, interior design manager. "It is romantic, not only in its form, but the materials—nothing smells as good as real wood and leather. It blends together for a rewarding feeling of uncompromising luxury."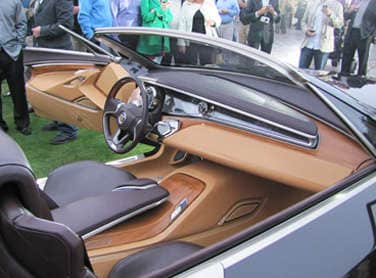 And along with these classic "Art" design cues, the Ciel serves up plenty of "Science," too, including a powertrain that showcases a twin-turbocharged, direct-injection 3.6-liter V6 paired with a leading-edge hybrid system with advanced lithium-ion battery technology.
"Large, expressive luxury is innate to Cadillac and the Ciel recalls that heritage, while suggesting where the brand can go in the future," said Clay Dean, global design director for Cadillac. "Authentic luxury is driven by experiences, not just products, and Ciel is about the experience of the journey."
Slotted just beneath a Ciel-based flagship in the new Cadillac lineup will be the Cadillac XTS large luxury sedan, which takes its inspiration from the XTS Platinum concept that debuted at the 2010 North American International Auto Show in Detroit. Essentially taking the place of the current Cadillac DTS and STS, the XTS is designed to appeal to more traditional Cadillac customers, offering an impressive road presence, both advanced front-wheel drive and an AWD setup, and a high-tech interior that features the same sort of capacitive-touch switchgear introduced on the Chevrolet Volt.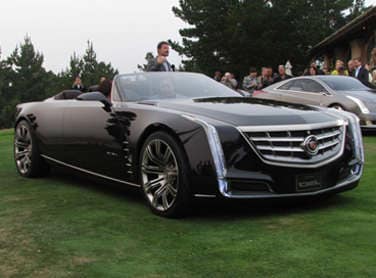 The XTS has been confirmed for production and will arrive in Cadillac showrooms in the spring of 2012. Also slated for a 2012 introduction is the all-new Cadillac ATS, a compact sport sedan that will be positioned below the award-winning Cadillac CTS family and aimed at the luxury market's largest vehicle segment. Designed to compete against rivals such as the BMW 3 Series, Mercedes-Benz C-Class and Audi A4, the ATS—according to early reports—will ride on a fresh new rear-wheel-/all-wheel-drive GM architecture; be available in coupe, convertible, sedan and wagon configurations; and boast a powertrain that includes a turbocharged 270-hp I4 engine and eight-speed automatic transmission.
Also worth pointing out: The ATS will be built at the same GM complex in Lansing, Mich., that currently manufactures the CTS.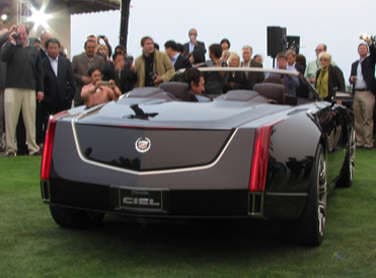 Finally, Cadillac recently announced that it had begun development work on a production model of the Converj, the extended-range electric vehicle the division premiered to much acclaim at the 2009 Detroit auto show. Now called the Cadillac ELR to fit in with the brand's international naming conventions, the car will leverage the same powertrain technology now used so successfully in the Chevrolet Volt: As a refresher, the Volt is capable of delivering an EPA-certified 35 miles of all-electric, no-emissions, anxiety-free driving by using an innovative T-shaped lithium-ion battery and efficient electric motor. Then, if the battery is depleted, a high-efficiency I4 engine seamlessly kicks into action to provide nearly 350 more miles of driving range at a combined EPA rating of 37 mpg.
Further details about the ELR, including its launch timing, will be provided by Cadillac at a later date.
For now, consider this all evidence of how, according to Dean, "Cadillac is demonstrating that the bandwidth of the Art & Science philosophy is wide, indeed—and we're going to make it even wider."