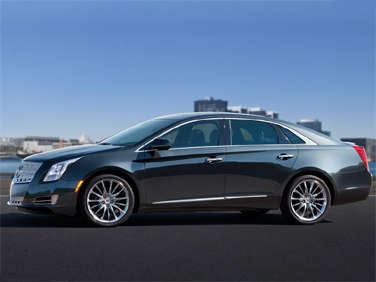 Cadillac will be making a major play for fleet buyers at the Las Vegas Limousine, Charter and Tour show next week with a livery-only version of the upcoming Cadillac XTS sedan. The Cadillac XTS sedan is the newest member of the luxury car company's family and the full-size automobile is designed to replace both the Cadillac STS and the Cadillac DTS, each of which took their final bow for the 2011 model year.
The 'black car' industry - that is to say, the automobiles that are used as executive transporters, stretch limousines and high end taxi cabs - is currently in a state of flux. For decades the vehicle of choice for coach builders and fleet buyers was the Lincoln Town Car, a sedan that was prized for its inexpensive repair costs, relative comfort and durable body-on-frame design. With the departure of the Town Car from the landscape, and with livery operators giving a lukewarm welcome to the suggestion from Lincoln that they adopt the Lincoln MKT full-size crossover as its replacement, it would seem that the black car market is currently wide open.
The decision to position the Cadillac XTS (which is not yet available for sale) as a potential fleet purchase says a lot about the premium brand's positioning of the sedan in its lineup. Early speculation held that the XTS would occupy the flagship role in a revitalized Cadillac stable, but it quickly became apparent that the new vehicle was intended to capture legacy buyers looking to replace their soft-riding DTS sedans with something more modern but equally plush. Cadillac's XTS fleet push is another clue that a true flagship model has yet to arrive from the domestic brand, as livery service would detract from the prestige of any top-of-the-line Cadillac.
Based in large part on the same platform that underpins the successful Buick LaCrosse full-size premium sedan, the Cadillac XTS fleet edition will come with Brembo brakes, parking assistance and a light-up door handles as standard equipment. A 300 horsepower, 3.6-liter V-6 engine that also generates 264 lb-ft of torque is the only engine available with the sedan, paired with a six-speed automatic transmission. Although the Livery Package version of the car will be on display at the Vegas show, extended wheelbase XTS models will not be available until further on in 2012.
Industry reaction to the availability of a fleet-oriented Cadillac XTS is another unknown. With so few affordable rear-wheel drive automobiles currently on sale it would seem that livery operators will have little choice but to grit their teeth and make the full transition to front-wheel drive, unibody sedans. Whether the shift will be made to luxury crossovers instead of the full-size automobiles that have traditionally populated this market space remains to be seen.