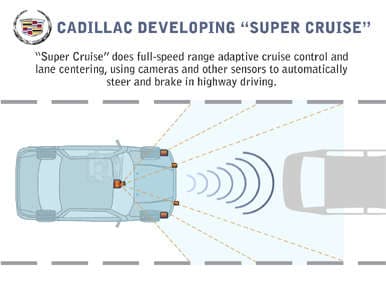 Google and Volkswagen are both at the leading edge of autonomous vehicles, but it might be General Motors that brings a self-driving car to market first. Expected to debut on a Cadillac by "mid-decade," GM's new Super Cruise feature will be a big first step for the automotive industry for driverless cars, and it is also intended to bring more safety, comfort and convenience to drivers especially on long trips and rush hour traffic. GM says that most of the advanced technologies used for the Super Cruise system will be offered on the upcoming Cadillac ATS and Cadillac XTS models.
"Super Cruise has the potential to improve driver performance and enjoyment," said Don Butler, vice president of Cadillac marketing. "Our goal with advanced technologies, like this and our CUE system, is to lead in delivering an intuitive user experience."
GM refers to its Super Cruise feature as "semi autonomous," but from the sound of it, the system is fully capable of taking over all aspects of driving at once including accelerating, steering, braking and obstacle avoidance. It uses systems such as Adaptive Cruise Control, Lane Departure Warning and Rear Cross Traffic Alert to keep the car in its intended lane and away from other vehicles, and it also uses GPS to map out surrounding roads and intersections. Even if bad weather limits the abilities of the vehicle's radars or sensors or lane marking necessary for such a system to operate, the system only requires a steering response from the driver to keep the car on its intended path. One driving maneuver the system can't do just yet is changing lanes to pass, but at this point, Super Cruise will definitely increase the safety of whichever car it is offered on.  
"The primary goal of GM's autonomous and semi-autonomous vehicle development is safety," said John Capp, General Motors director of Global Active Safety Electronics and Innovation. "In the coming years, autonomous driving systems paired with advanced safety systems could help eliminate the crash altogether by interceding on behalf of drivers before they're even aware of a hazardous situation. More than ever, consumers will be able to trust their car to do the right thing."
There is no word as to which Cadillac vehicle will be the first to offer the upcoming Super Cruise system, but it sounds like the system is far along in development and should help GM introduce one of the first self-driving cars to consumers.