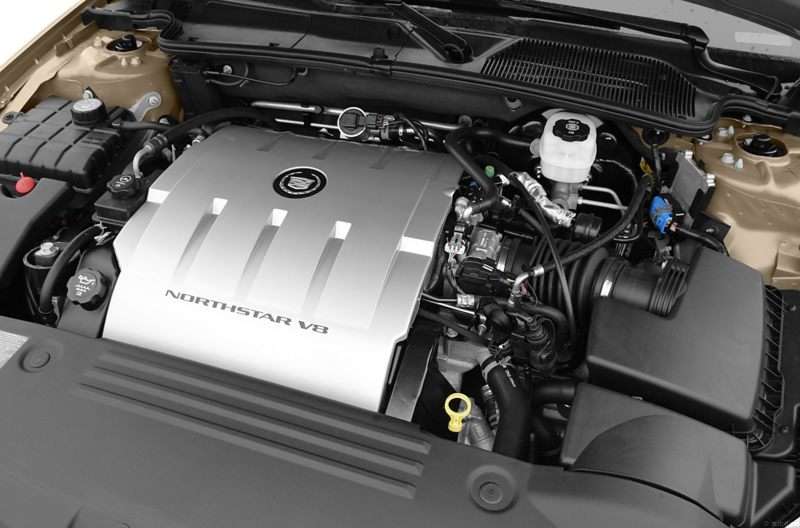 Having pioneered several automotive innovations, the landmark reputation of Cadillac was injured through the 1980s on the basis of flawed technology advancements. Starting in 1979 with a poorly-engineered diesel engine derived from Oldsmobile, Cadillac next attempted an early incarnation of cylinder deactivation called 4-6-8. This cylinder control feature flopped as a result of the limitation of available computer and mechanical systems. Developed through the last part of the decade is an all-new V-8 engine vying to change Cadillac's technological fortunes.
The Cadillac Northstar engine, debuting on the Seville, Eldorado, and the Allante in 1993 immediately exhibited world-class luxury car performance refinement that American automakers had lacked.
Recognizing that push rod driven V8s can not facilitate the super-smooth refinement of premium-oriented powerplant, General Motors needed to build a monumental engine. Corresponding with astrological north star, the trademarked Northstar name in Cadillac's case designates the dual overhead cam (DOHC) configuration. For each cylinder, four valves (two intake, two exhaust valves) allows for a highly efficient combustion cycle. Also unique to General Motors V-8s at the Northstar's introduction is the all-aluminum construction. Combined with an equally unique thermoplastic polymer intake manifold, the Northstar was comparatively lighter than traditional American V-8s weight about 400 pounds.
Performance wise, the Northstar engine has been carefully engineered for horsepower production between 270 to 320 under normally aspirated operations.
One of the biggest accomplishments with the Northstar engine is its integration of high technology features. Starting with a high-powered powertrain control module(PCM), the engine is actively monitored are emissions and performance. Northstar engines are equipped to preserve themselves in looming trouble. If engine coolant is lost, the engine computer will automatically shut down four of the eight cylinders allowing the vehicle to safely arrive at a service center. With earlier Northstar systems requiring premium gasoline, knock sensors would compensate against accidental fill ups of regular gasoline.
Since introduction, the Cadillac Northstar engine underwent several considerable upgrades to improve performance, fuel economy, and emissions. Major revisions in 2000 added coil-on-plug ignition system as well as the compliance to run on regular gasoline. The inclusion of variable valve timing followed in the 2005 model year.
At first developed only for front-wheel driven vehicles, a Northstar engine version called LH2 was built for rear wheel and all-wheel drive for usage in the SRX crossover, the Corvette-based XLR, the 2005 STS. The Northstar LH2 enjoys a performance boost up to 320 horsepower with an increased compression ratio. For 2009, the Northstar powerplant is available on all Cadillac offerings excluding the CTS and the Vortec-powered Escalade lineup.
General Motors could not resist sharing their technological marvel with vehicles outside of Cadillac. The Oldsmobile Aurora in 1995 was presented packing a 250 horsepower from a now obsolete L47 Northstar V8. As production of the Oldsmobile Aurora ceased, a LD8 Northstar engine migrated to the Pontiac Bonneville in 2004 for a two year run. For 2009, the Northstar engine is available outside Cadillac on the Buick Lucerne CSX and Super edition.
To challenge the high performance divisions of competing luxury car companies, namely Mercedes-Benz's AMG and the M lineup of BMW, Cadillac developed the V-Series in 2004. General Motor Performance Division added a root type supercharger to a reconfigured 4.4-liter Northstar powerplant. The supercharged V-Series Northstar is now offered in 2006 on Cadillac STS-V as well as the XLR-V. With differing but equally as impressive horsepower figures for the two vehicles, the STS-V is rated at 469 horsepower while the XLR-V features a slightly detuned 443 horses.
Upcoming development of the Cadillac's Northstar powerplant may likely be in danger following a January 2008 decision by General Motors to not pursue a new DOHC engine. However, as of late 2008, there is no announced plans to phase Northstar engines outright.