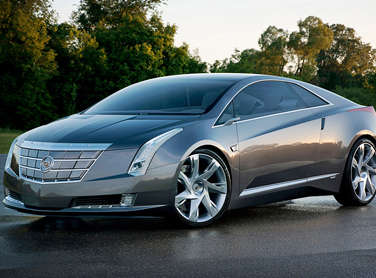 The rumors are true – the Cadillac electric car is back from the dead and slated to hit dealerships as the Cadillac ELR coupe. The Cadillac ELR will borrow its battery-powered drivetrain from the lauded Chevrolet Volt, adding in several improvements to the propulsion system as well as providing premium car buyers with dramatic styling and a high level of luxury features.
The Cadillac ELR will derive much of its design from the Cadillac Converj concept vehicle that wowed attendees at the 2009 Detroit Auto Show. The Cadillac Converj had been on schedule for production as late as 2010 when it was suddenly removed from the General Motors agenda and unceremoniously placed on the shelf. At the time, GM claimed that it would have been difficult for Cadillac to turn a profit due to the cost of the technology involved in the project and low expectations for total sales.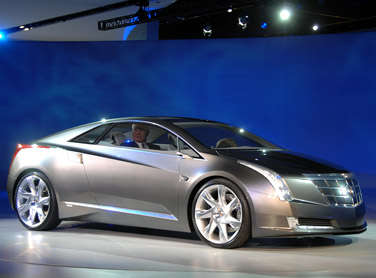 GM now appears to be more willing to risk pouring money into a slow-selling electric vehicle in order to add more luster to the Cadillac brand. There is no doubt that the Cadillac Converj's dramatic two-door body work is substantially more upscale and attractive than the passable lines of the Chevrolet Volt sedan, which should help justify its almost certainly expensive MSRP. Cadillac is being coy about pricing, but given that the Volt tops $40,000 before rebates it is not unreasonable to expect the flashy, luxury-laden Cadillac ELR to add at least $10,000 to that amount.
Cadillac is also playing its cards close to the chest when it comes to the overall power output and driving distance of the Cadillac ELR's extended-range hybrid setup. The current Volt comes with 149 horsepower and roughly 273 lb-ft of torque, and can drive approximately 40 miles on battery power before its gasoline-powered generator kicks in with another 300 miles of range. Despite its 2+2 coupe design, the Cadillac ELR will undoubtedly be heavier than the Volt due to its plusher features list, which means that GM will most likely be tweaking the Volt-derived drivetrain in order to deliver both more horses and at least an equal operating radius.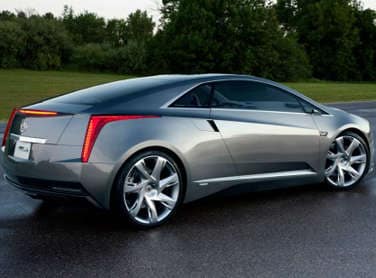 There is as yet no word on exactly when the Cadillac ELR will be made available for purchase. Cadillac is listing the vehicle's status as "under development," a turn of phrase that it has also used in order to deflect questions about the details of its technical specifications. It will be interesting to see whether the Cadillac ELR will be able to invigorate the compact luxury hybrid segment, which has seen even the likes of Lexus stumble in terms of gaining customer acceptance of its all-new offerings.