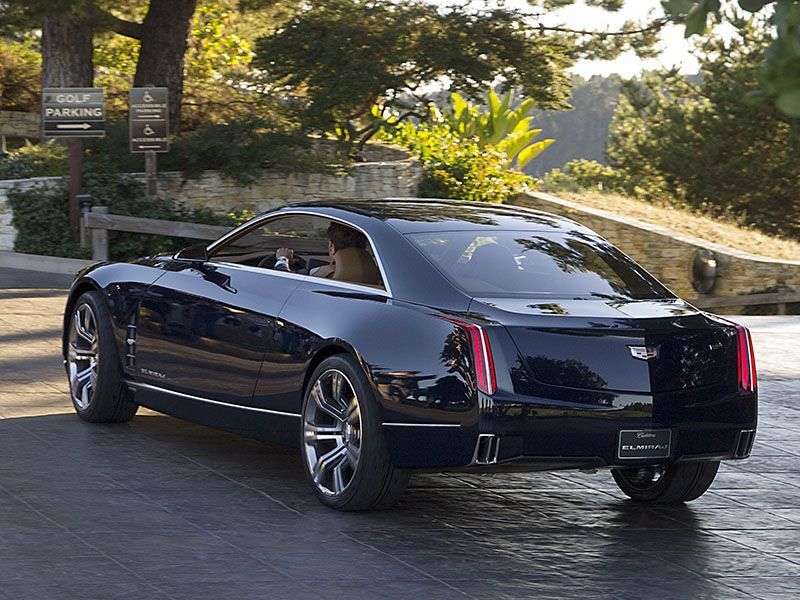 Cadillac is no stranger to bringing stunning concept cars to Pebble Beach - witness the appearance of the jaw-dropping Cadillac Ciel convertible concept in 2011 - and so it was no surprise that the luxury brand chose the days leading up to the 2013 Pebble Beach Concours d'Elegance to unveil the Cadillac Elmiraj.  Perhaps more shocking, however, was the sheer beauty and presence radiating from the full-size Cadillac coupe concept as it twirled around the driveway at a local golf course a few days prior to becoming the focal point of Cadillac's Pebble Beach pavilion.
First things first, drooling Cadillac fans: this car won't be making it into production.  The stunning Cadillac Elmiraj is intended to show off the brand's styling future, not its actual product direction.  What that means is that the two-door Elmiraj presents a collection of cues that can be found on existing Cadillac models like the XTS and CTS sedans, as well as a glimpse at what an upcoming four-door luxury flagship could look like once it reaches showrooms.
Under its sexy skin, the Elmiraj (which is named after the El Mirage Dry Lake, a mecca for high speed tuners) features a twin-turbo V-8 engine that squeezes 500 horsepower and 500 lb-ft from its 4.5 liters of displacement.  Although the Elmiraj might look massive, its hefty output only has to move 4,000 lbs, and its overall dimensions are within a few inches of the current Cadillac XTS.
Cadillac also brought the Ciel to the same party, and the link between the two cars was clear from both a visual and a conceptual standpoint.  Hopefully, Cadillac is able to bring the Elmiraj's street-ready sheet metal to the production line sooner than later and shake up the more conservative elements of the high end sedan segment.
See Autobytel's video coverage of the Cadillac Elmiraj.