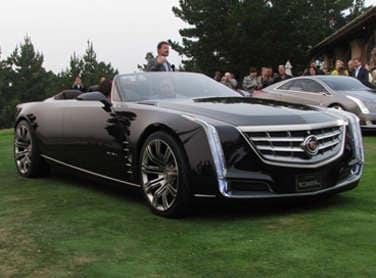 Cadillac has unveiled its vision for the future with the Ciel concept. This four-door, four-seat convertible is presented as a flagship that would let the uber-rich play in the sun. So, it is likely no accident that General Motors chose to debut this luxury machine in the Monterey area during the weekend of the Pebble Beach Concours d'Elegance.
Read on to see more of the Cadillac at Pebble Beach.
This four-door convertible's slab sides and suicide doors are reminiscent of the classic 1960s Lincoln Continental, but Cadillac is not copying its cross-Detroit rivals. The Ciel represents Cadillac's styling eye to further its "Art and Science" theme. This includes the concept car's angular rear end and front fenders that somewhat mimic the small tail fins of Cadillacs from a few generations ago.
A fun trick that is purely for concept purpose is the electronic door latch. Each door opens and closes automatically by a one-touch button system. The hinge slides outward before opening the door with an electronic whoosh noise that sounds like it came straight from Star Trek.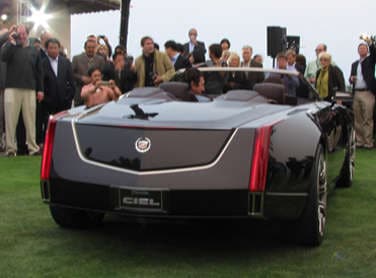 Inside is a mix of dark and light brown leathers. Italian Olive wood or nickel-plated trim accents are occasionally utilized, but materials other than cowhide are tastefully kept to a minimum. The driver's controls are simple and elegant. The shiny and minimalist gauge cluster is likely more a product of a pleasant-looking design concept than what is practical for a road car.
Powering this sun goddess is a 3.6-liter V-6 engine. It may not seem like much for a flagship car, but this is the engine that Cadillac will utilize for much of its future vehicle lineup. To show off how versatile this motor can be, the Ciel has twin turbochargers, direct injection, and a lithium-ion hybrid system, which GM claims can produce a total of 425 horsepower.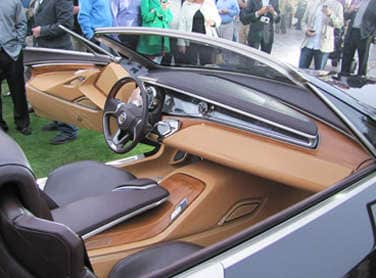 The unveiling in front of the Monterey/Pebble Beach crowd drew plenty of "oohs" and "aahs" from the attending media and loyal upper crust customers. There were even a few mutters of, "I want one." It is not hard to understand this reaction. The Ciel is bold, daring, and most importantly, it fits a niche that no other luxury car currently occupies.
Cadillac repeated many times that the Ciel is only a concept. The structural nightmare of building a convertible without a b-pillar will make this an expensive car to get on the road. Still, it should not be about the cost to Cadillac. Instead the Ciel is about the company planting its flag well beyond its current limits. This gives the rest of the lineup a goal to catch, which will allow the luxury carmaker to truly earn its motto, "Standard of the World."
The message to Cadillac needs to be clear: BUILD THIS CAR. It won't make you rich, but it will make you famous.