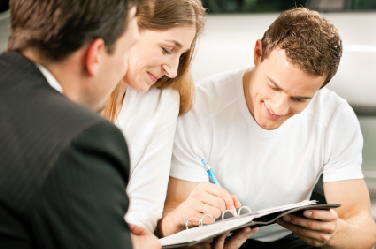 "I need a new car, so I'm going to go to a dealership." That's it. Plain and simple, right? Most people don't associate any certain type of dealership when they go to purchase their car, they just simply pull up in the parking lot of their favorite dealer, or in one where a certain car catches their eye. This may not necessarily be the case for the millions of car buyers across the country that have credit problems, something that is not exactly going to go away in the near future considering the current state of the economy. It used to be that if you had credit problems, your choices were very limited in terms of what you could do when it came to purchasing a new car. Typical dealerships would shy away from people with bad credit, but a Buy Here Pay Here Dealership doesn't use any type of outside financing and instead makes loan payment arrangements with the buyer right there at the dealership. Therefore a BHPH dealership is exactly what it sounds like. Buy the car here and get it financed here too.
People who have had trouble getting financed in the past may gravitate towards this type of dealership. Often, people who have credit problems are frustrated from being turned down after getting their hopes up many times in the past. They come to BHPH dealerships as a last resort. Others go to BHPH dealerships knowing that it may be their only chance of getting a car. BHPH dealerships are much like other dealerships, except most of the time they are a little on the smaller side, with more used vehicles on their lots. When using a BHPH, you can expect the usual buying process to be reversed: instead of looking at cars first before talking about your financing options, you can expect to sit down and discuss your payment and credit history and talking about what you can afford first. That way, the dealer can steer you towards a vehicle that will be within your budget. Also, with a BHPH dealership you can expect to literally "pay here." Most of these types of dealerships expect you to deliver a check cash or money order either weekly or bi-weekly to the dealership itself, rather than make a monthly payment.
The convenience factor is of course at play here with a BHPH dealership in that you purchase your car and pay for it in the same spot. For those that are in-between jobs and won't have the money for a large monthly payment but could perhaps afford a smaller weekly or bi-weekly one, these types of dealerships are often a Godsend. You can often be approved the same day and since it's the dealership that approves you, there will be no long drawn-out process of getting your hopes up and being disappointed over and over again as you try and fail repeatedly to get your "damaged" or "bruised" credit approved. BHPH dealerships take your budget into account way before the deal is even made, so you have a little more say in what your monthly payments will be, and therefore have more control over your options before making a purchasing decision. As a consumer with "less than perfect" credit, these types of dealerships can make your life easier by providing you with many more financing choices than what was previously available with a traditional dealership. BHPH dealerships also tend to be more flexible with vehicle trade-in options.
The main disadvantage that consumers face when dealing with a BHPH dealership is the fact that they use the credit factor to their advantage in order to charge you higher interest rates. Interest rates are the main negotiating factor in any financing deal, however at a BHPH dealership they are not subject to the same regulations that other finance companies are. Therefore they are able to charge much higher interest rates than are typical, with some as high as twenty six percent or more. Also, they may require you to pay more often and pay on-site, so the consumer who has little free time may find an issue with this. It is important to consider all of your options before making your final decision, but if you are one of the millions out there with credit issues, a Buy Here Pay Here Dealership may be a suitable one for you to explore.