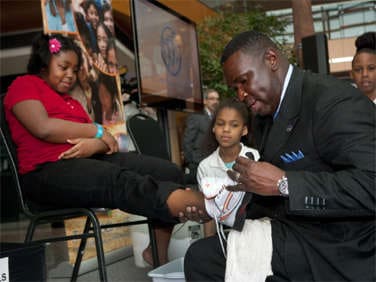 When hundreds of college players hit the court during the NCAA Men's Basketball Tournament, they'll be wearing shoes from some of the most famous names in athletic wear; but at the same time, some 300 million children around the world are wearing no shoes at all—and 1 million will die this year alone as a result of soil-transmitted and foot-borne diseases, including many from right here in the U.S.
That's why Buick, in its role as the NCAA's human achievement partner, has kicked off its own March Madness activities by donating 300 pairs of shoes to needy children in the Detroit area; the brand will then follow this up with thousands of more pairs to be passed out in conjunction with the NCAA Final Four, which is being held this year in the Superdome in New Orleans. It's the second consecutive year in which Buick has worked with the nonprofit charity Samaritan's Feet to help kids like these, showing how important another facet of Buick's tournament involvement can be.
Samaritan's Feet was founded by Emmanuel "Manny" Ohonme, who was featured last year in Buick's "Human Highlight Reel" campaign, as part of efforts to recognize student athletes whose top performances come when they're helping others away from the game. The 2012 honorees will be in the spotlight in short videos that can be seen at www.NCAA.com/Buick and include:
• Chris Duhon—After four years on the hardwood for Duke University, Duhon now plays for the NBA's Orlando Magic and continues to support his Stand Tall Foundation to encourage teamwork, commitment, discipline and a strong work ethic in today's children.
• Amber Tollefson—Tollefson played college soccer at Florida State University then competed internationally as well, then started the Give N Go Project to help kids around the world improve their self-esteem through soccer.
• Tyrone Grant—The former St. John's University basketball player has stayed true to his New York roots by founding and mentoring for Team First in Brooklyn; the program was created to promote responsibility and teamwork through competitive athletics.
• Jason Taylor—Taylor, a former football player for both the University of Arizona and the NFL, heads up the Jason Taylor Foundation to help improve health care, educational opportunities and the quality of life for children in southern Florida.
Of course, Buick also will have a big presence on-site during the Final Four, with two vehicle displays set to appear at the "Bracket Town" fan experience exhibition. And notably, the Buick team on hand there will include the all-new Buick Encore, one of America's first small luxury crossovers.
"The NCAA Final Four showcases incredible human achievement on the basketball court," said Tony DiSalle, U.S. vice president of Buick Marketing. "With the Human Highlight Reel and our involvement with Samaritan's Feet, Buick hopes to demonstrate the difference men and women can make away from the court, all around the world."