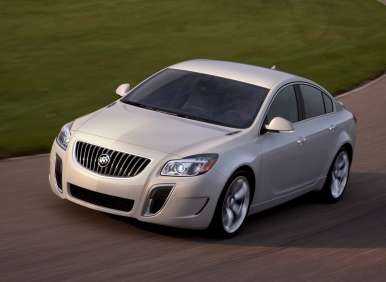 Someone better check the weather forecast for Hades: the Buick Regal GS just earned the No. 1 spot on the 2012 "Hot List" from Hagerty Insurance. Unimpressed? Well, keep in mind that the list is an annual tally of the 10 mainstream vehicles under $100,000 that are judged most likely to become future classics, and that Hagerty is one of the country's leading agencies for insuring automotive collectibles.
"After more than 20 years of witnessing car-collecting trends, we have the unique ability to look at new cars through the eyes of a collector," said McKeel Hagerty, CEO of Hagerty. "This year's Hot List includes cars that are sure to develop a cult-like following because their characteristics resonate with driving enthusiasts."
Of course, if you're surprised at which car tops this year's lineup, consider one of the prime reasons it did. According to Hagerty, "At a time when allegedly more sporting makes don't offer real three-pedal manual transmissions, Buick is doing it with the Regal GS."
Yes, the Regal GS starts with a six-speed DIY transmission—although a six-speed automatic with Driver Shift Control is available—and that's just one of many driver-oriented, collector-craving features baked into Buick's sport sedan. The engine, for example, is an advanced Ecotec I4 with both a turbocharger and direct injection, and engineers have managed to squeeze 270 hp and 295 lb.-ft. of torque from its mere 2.0 liters of displacement. That's more torque than on tap in Regal GS rivals like Acura TSX V-6, Audi A4 Sport, Lexus IS 250 and 350, Infiniti G25 and G37, and Volvo S60.
The result is a 0-60 time of 6.7 seconds, but the car is equally capable when it leaves the straightaways, thanks to some highly effective—and standard—suspension technologies. Among them is Buick's HiPer Strut front suspension, which provides enhanced cornering while minimizing torque steer. In addition, the Regal GS packs active Computer Damping Control, capable of automatically adjusting the car's dampers for a better ride in a range of different driving scenarios, and the Interactive Driving Control System. With the latter, drivers can select from three different suspension and steering system settings to dial in their optimum mix of comfort and performance.
Heck, the surprising—yet deserving—Regal GS even showcases Brembo brake components, with that company providing four-piston front calipers.
As for the exterior, it gets its share of sporty sprucing up as well, gaining a model-specific front fascia with large, vertically oriented air intakes, as well as rocker-panel extensions, a subtle rear spoiler, 19-inch "Twin Spoke" alloy wheels, and a GS-only rear fascia set off by integrated trapezoidal exhaust outlets.
"We've seen the list and we're thrilled the Regal GS took the top spot," said Buick Product Marketing Director Roger McCormack. "The Regal GS has a very distinctive look on the road and with its balanced mix of performance, technology and efficiency, it should appeal to driving enthusiasts and collectors well into this century."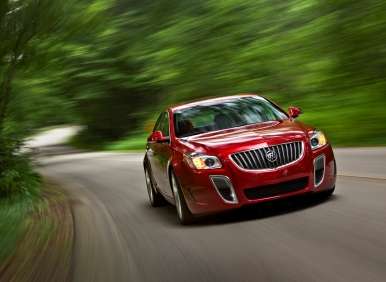 Most Collectible Cars of 2012
The complete 2012 Hot List:
Buick Regal GS
Ford Mustang Boss 302 Laguna Seca
Jeep Grand Cherokee SRT8
Fiat 500 Abarth
Volkswagen Golf R
Porsche 911
Chevrolet Camaro ZL1
Nissan GT-R Black Edition
Dodge Charger SRT8
Audi TT RS