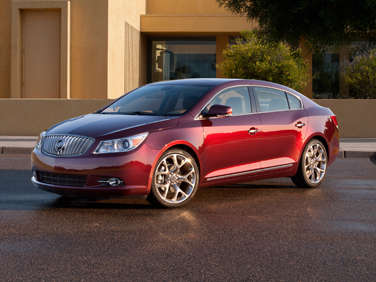 Evidence of Buick's aspirations to reach even higher into the luxury stratosphere were evident at the Los Angeles auto show this week in the form of the Buick LaCrosse GL Concept. The GL Concept is a top-drawer edition of the brand's flagship sedan designed to enhance its already comfortable interior with a thick coat of high end trappings that some industry observers have deemed a test case for building an ultra-lux version of the automobile.
At first glance, the Buick LaCrosse GL Concept doesn't appear to be radically different than the standard LaCrosse CXL, and that's because it isn't. The details are what make the LaCrosse GL Concept a more interesting version of the very competent sedan. Opening the unique cabernet red doors of the Buick reveals an interior that has been upgraded through the use of French-stitched leather upholstery on each seat, as well as a suede headliner that further extends the leather look to the roof of the car. Other leather touches include chocolate-colored leather coverings over the surfaces that occupants interact with the most, improving the soft-touch quotient of the automobile and helping General Motors shake past criticism of interior designs that relied too much on the use of hard plastics. The Buick also offers a specially-lined glove box and center console storage area that is meant to mimic the pillowed interior of a jewelry box.
External clues to the Buick LaCrosse GL Concept's special status are equally subdued, and include brushed chrome accents on its door handles, window and lighting surrounds and front grille. Special 20-inch satin wheels give the automobile more street presence, but other than its striking color the LaCrosse GL maintains the same classy sheet metal and elegant styling found in the current model lineup.
Given that none of the changes made to the Buick LaCrosse GL Concept reflect the need for dramatic re-engineering of the vehicle's platform - indeed, the entire exercise has been one where luxurious materials have been slathered on top of the comfortable sedan's existing equipment - it is entirely possible that this vehicle could see production in the near future. The move is a sensible one for Buick if it can convince its core customers to cough up an additional premium to drive home in a LaCrosse that is better turned out than some existing Cadillac models. However, both pricing and content will have to walk a careful line so as not to steal any thunder from the upcoming 2013 Cadillac XTS or discourage shoppers by asking them to drop too much cash on a car that makes its way on to many test-drive lists in part due to its appealingly affordable MSRP.