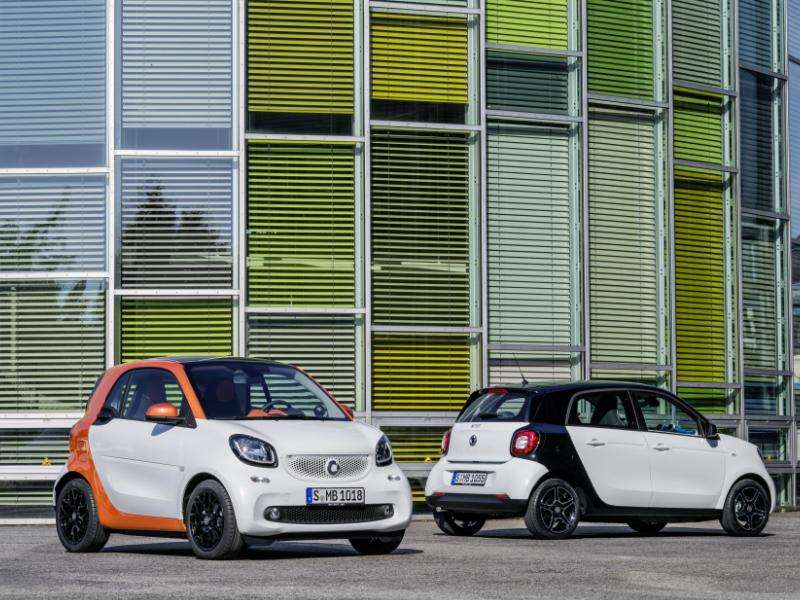 Faced with increasingly tough competition in the city-car segments, Mercedes-Benz' "smart" division has certainly upped its game with the 2016 smart fortwo—and forfour. The former is the next iteration of the classic smart coupe, and stuffs many of the top modern-day amenities into the same 106-inch-long package as the previous version; the latter provides two extra doors and two extra seats, yet still comes in at just a bit over 137 inches in length.
To put those marks into context, the 2016 smart fortwo would fit between the wheelbase of a regular-cab Ford F-150, with about a foot and a half to spare, while the forfour would nestle between the front and rear wheels of the smallest SuperCrew truck, and have seven inches left over.
Of course, if size were all that mattered here, the current smart lineup would have been a runaway success, which certainly hasn't been the case. The brand only sold about 9,200 units during all of 2013 and is in line for about the same amount of sales this year. Once the 2016 smart fortwo and forfour reach this country, however, those totals should see the same sort of upgrades as the vehicles themselves.
Speaking of which, the 2016 smart fortwo and forfour will benefit from: 
All-new engines, including a turbocharged three-cylinder unit that makes 90 hp and 100 lb.-ft. of torque (and provides output boosts of 20 hp and 32 lb.-ft. of torque over the 2014 engine)
Both five-speed manual and six-speed dual-clutch automatic transmissions
Multimedia offerings that boast "comprehensive smartphone integration, real-time navigation and intuitive operation with touchscreen"
Premium JBL audio with 240 watts of power and eight speakers in the 2016 smart fortwo and 320 watts/10 speakers in the forfour
A sharp focus on safety, evidenced by smart's signature "tridion cell" construction and high-tech driver-assistance measures like standard Crosswind Assist and available forward-collision and lane-keeping systems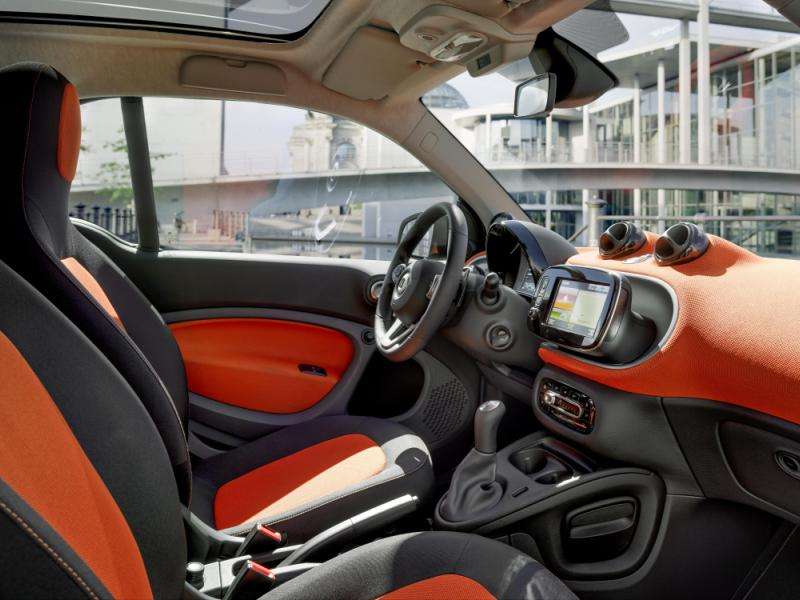 Said Annette Winkler, chief of the smart brand: "No-one combines functionality and emotionality as well as we do, as the inventors of individual urban mobility. The new smart fortwo and forfour adopt the proven concept while offering more of just about everything—more space, more color, more equipment ... and even more fun in the city!"
The 2016 smart fortwo and forfour are scheduled to launch in Europe this fall, then reach U.S. markets, with pricing that is still TBD, in the autumn of 2015.