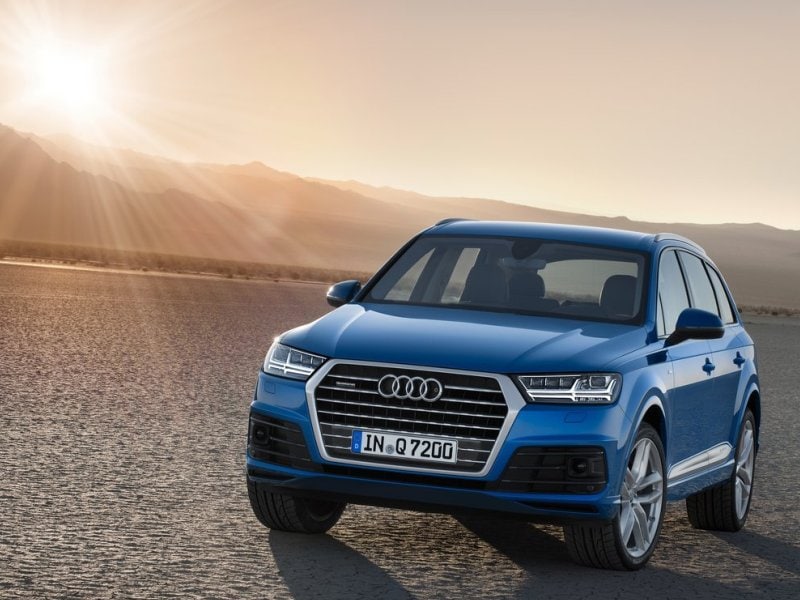 Although it hasn't gotten the same media play as Ford's work with the 2015 F-150, the four-rings brand also has made a noticeable effort to reduce the curb weight of one of its most important products, the Audi Q7 premium crossover, and the first results are now in: When the new model takes the field next year it will weigh in at just more than 4,398 lbs., making it both the lightest vehicle in its class and about 716.5 lbs. lighter than a comparable current model. 
True, some of that weight loss comes from slightly smaller exterior proportions, but the 2015 Audi Q7 actually reports noticeable gains in head, shoulder and knee room, with the new Q7 also claiming the longest cabin in its class. The real secret to reducing the Q7's curb weight was a new, aluminum intensive diet, which will have a corresponding effect on the vehicle's appetite for fuel. The EPA ratings, of course, are still to be determined, but Audi says it has "reduced the fuel consumption of the Q7 by as much as 28 percent [with its V6 gas engine] and 23 percent [with its similarly cylindered diesel unit]."
Even more interesting for green drivers is the chance that U.S. dealerships will offer a 2016 Audi Q7 with a diesel-powered plug-in hybrid powertrain. Now, to be clear, such a vehicle is definitely on the menu for European drivers, who can look forward to a quattro-equipped model that serves up 373 hp, 516 lb.-ft. of torque, a 34.8-mile all-electric driving range, and—in European testing—triple-digit fuel-economy ratings.
Other innovations of the new 2016 Audi Q7 include:
The latest Audi MMI operating system, highlighted by an "all-in-touch" control screen with a full-surface touch interface that provides audible and haptic response to inputs
Audi "connect," offering LTE connectivity and a mobile wi-fi hot spot
Rear-seat entertainment tablet(s)
A 23-speaker Bang & Olufsen audio system with 1,923 watts of power and 3D sound
The Audi "virtual cockpit," featuring a 12.3-inch TFT display screen that can be reconfigured to show either traditional or infotainment-based readouts
An enhanced two-zone air-conditioning system to complement the upper-level four-zone setup
The 2016 Audi Q7 is expected to make its world premiere at the 2015 North American International Auto Show in Detroit in January.