Euro-style Full-size Van Coming to U.S. Early Next Year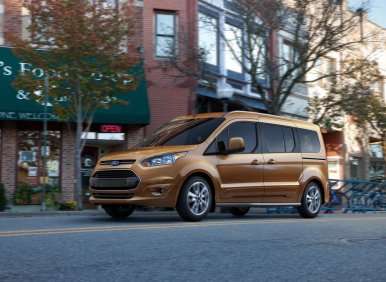 As American consumers continue to show renewed interest in more fuel-efficient vehicles, they haven't just driven up sales of diesel-powered entries by 24.5 percent through the first 11 months—they've also convinced the Blue Oval to offer a new clean-diesel engine for its all-new 2014 Ford Transit full-size commercial van. The big brother to the Ford Transit Connect is due at the beginning of 2013, and will actually provide owners with a choice of at least two advanced powerplants: A 3.2-liter Power Stroke I5 with clean-diesel technology and the company's breakthrough 3.5-liter EcoBoost V6.
The EcoBoost unit should be quite familiar to U.S. buyers, as they've already snapped up hundreds of thousands of Ford F-150 trucks with that engine beneath their hoods. As for the new diesel, it's expected to make approximately 197 hp and 347 lb.-ft. of torque, as well as deliver "outstanding performance, exceptional fuel economy and low operating costs."
More importantly, the 2014 Ford Transit will deliver the kind of quiet and clean-running performance that should make folks forget they're driving a diesel at all; well, at least until they notice the added power and all-around efficiency that come from features like:
Quick-start glow plugs for improved cold-weather starting
Cutting-edge common-rail fuel injectors that enhance efficiency and reduce noise
The first use of selective catalytic reduction—for lower NOx emissions—in any Ford van
Biodiesel compatibility (with B20 fuel)
Also, although the 3.2-liter Power Stroke diesel is built in South Africa, it will be exported to Ford's Kansas City Assembly Plant for the 2014 Ford Transit, which will be assembled in the Missouri facility along with the Ford F-150.
The party line here: "Commercial van drivers spend most of their working hours behind the wheel. We know they want a fuel-efficient diesel engine with smooth, responsive performance and low operating costs," said Joe Bakaj, Ford vice president of Powertrain Engineering. "The 3.2-liter Power Stroke engine has been developed and proven globally to deliver a world-class combination of power, fuel economy and refinement."