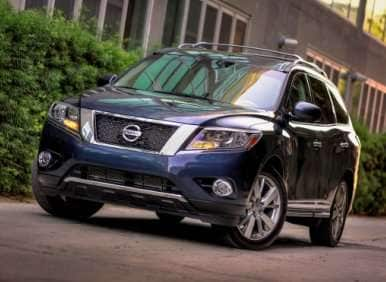 Although some shoppers may be surprised to learn that the redesigned 2013 Nissan Pathfinder will start at $28,270—$1,020 less than the model it's replacing—they probably shouldn't be. After all, the new unibody Pathfinder is actually the third recent 2013 Nissan product to showcase lower pricing than its 2012 iteration: The equally all-new 2013 Nissan Sentra will come to market with an MSRP that's $435 below that of its old-school version, while the 2013 Nissan Quest enjoys price reductions of $1,310 and $980 on its two mid-grade models—and holds the line on its $25,990 price of admission. And the brand doesn't seem to be done with its discounts, as rumor has it that the 2013 Nissan LEAF also will debut in a new low-cost trim level that's easier on the wallet than the 2012 starter model. When you also take note of the fact that many of the company's other 2013 vehicles—including the Nissan Maxima and Nissan JUKE—are providing price breaks on new content packages, it seems clear that the brand is forging a new identity for itself based on value.
2013 Nissan Pathfinder: What's New
Consider the 2013 Nissan Pathfinder. Autobytel presented an in-depth look at the new three-row crossover here:
http://www.autobytel.com/nissan/pathfinder/news/2013-nissan-pathfinder-heads-in-a-new-direction-112701/2/
But just skimming the surface shows that the vehicle's new, lower MSRP still includes standard amenities like 18-inch wheels, a tri-zone climate system with in-cabin filter, keyless entry and push-button start, a six-speaker sound system, a multifunction steering wheel with audio and cruise controls, Nissan's new Easy-Fill Tire Alert, and an industry-first EZ Flex seating system. The latter feature, which is a big part of the new Pathfinder's more family-friendly positioning, allows owners to slide and tip forward the second row for easy access to the rear seats, even if there is a child safety seat mounted in the middle row—but not, of course, with a child in the safety seat.
The 2013 Nissan Pathfinder then boasts best-in-class fuel economy (with an EPA line of 20/26/22), the segment's highest standard tow rating (5,000 lbs.), the most passenger volume, and the only available all-wheel-drive technology to offer all-wheel drive with selectable FWD, automatic and full-time AWD settings. And yes, there's also the obvious: The 2013 Nissan Pathfinder has gone from being a body-on-frame truck to joining the ranks of the unibody crossovers, and losing more than 500 lbs. in the process. 
Assembled in the United States at the automaker's plant in Smyrna, Tenn., the 2013 Nissan Pathfinder is scheduled to reach dealerships later this month.