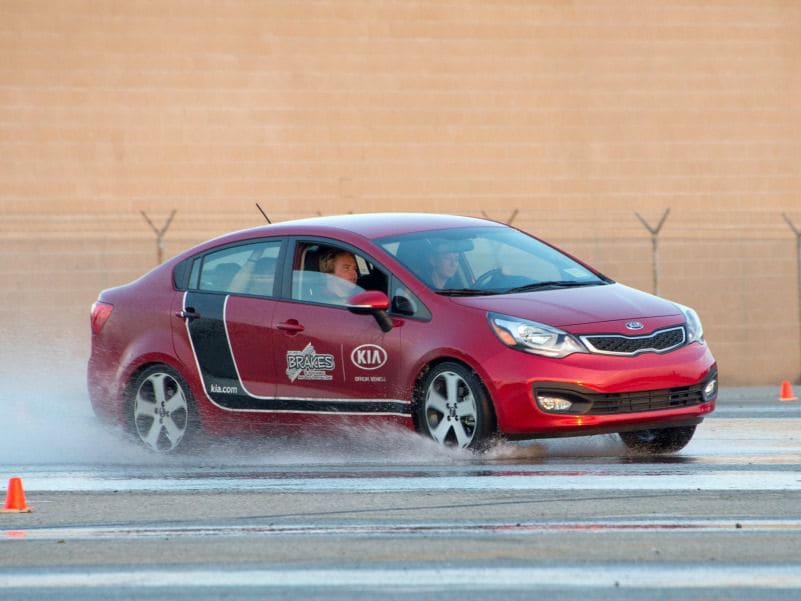 brakes driving school 3
Exploding outward at nearly 200 mph with the crack of a gunshot, the Kia's airbag rips apart the steering wheel casing and balloons to cushion the impending impact. The cabin fills with an acrid smoke, a by-product from the chemical inflation, as the nylon bag slowly deflates. There is no sound or movement, just a cloud of white powder wafting out of the broken side window.
Instead of dialing "911" on their phones, or rushing forward to help, a few dozen curious bystanders move closer to peer inside the shattered car. The late-model Kia sedan is empty of passengers, and the police and fire department are already on site. All have been brought to an expansive Southern California parking lot by B.R.A.K.E.S. (Be Responsible And Keep Everyone Safe), a non-profit organization on a mission to train and educate teenage drivers, and their parents, about the importance of responsible and safe driving.
Origin of B.R.A.K.E.S.
Tragedy is often the catalyst for these programs, and B.R.A.K.E.S. sadly is no exception. Doug Herbert, a NHRA drag racing star, lost his two teenage sons in a car crash in 2008 – and they were just two of the 5,000 other teenagers killed in car crashes that very same year. Devastated and wanting to help put an end to needless fatalities, Herbert made it his mission to start an organization to provide free advanced driver's education to help prevent injuries and save lives.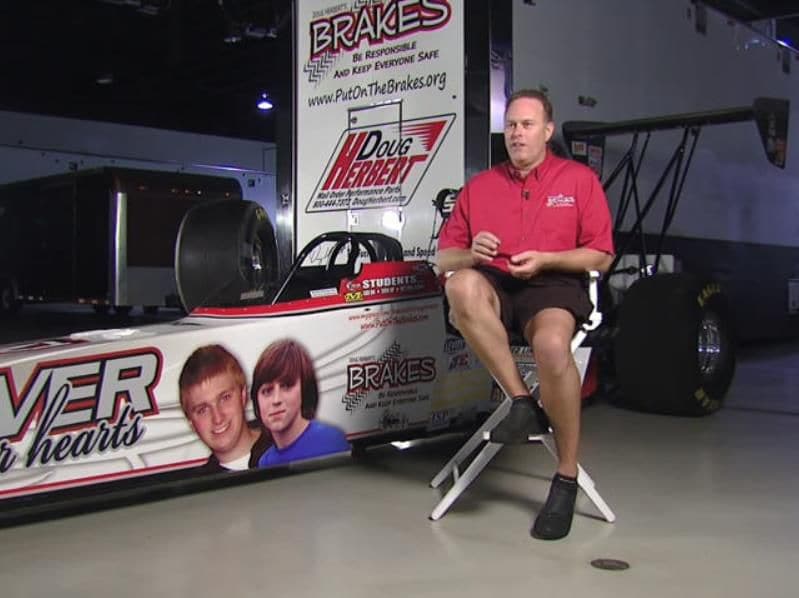 The Program
Kia Motors is a major supporter of Herbert's B.R.A.K.E.S. program, and they invited me to bring my 15-year-old son, who holds a learner's permit and is set to earn his driver's license within the month, to a recent class B.R.A.K.E.S. was holding in Los Angeles. Parents are required to accompany their teens and are allowed to drive through many of the same exercises, as it is learning experience for both. There is no charge for the program, but there is a $99 reservation fee that is completely refundable at the end of the attended class – the program has been so successful that nearly every class is sold out (the fee is used to secure each teen's seat).
Unlike the mandatory behind-the-wheel driving education that teens take to earn their licenses and which tends to focus on the basics of vehicle operation, B.R.A.K.E.S. training takes thing quite a bit further in a half-day session that takes the novice drivers through five hands-on exercises – each in the school's fleet of donated Kia sedans.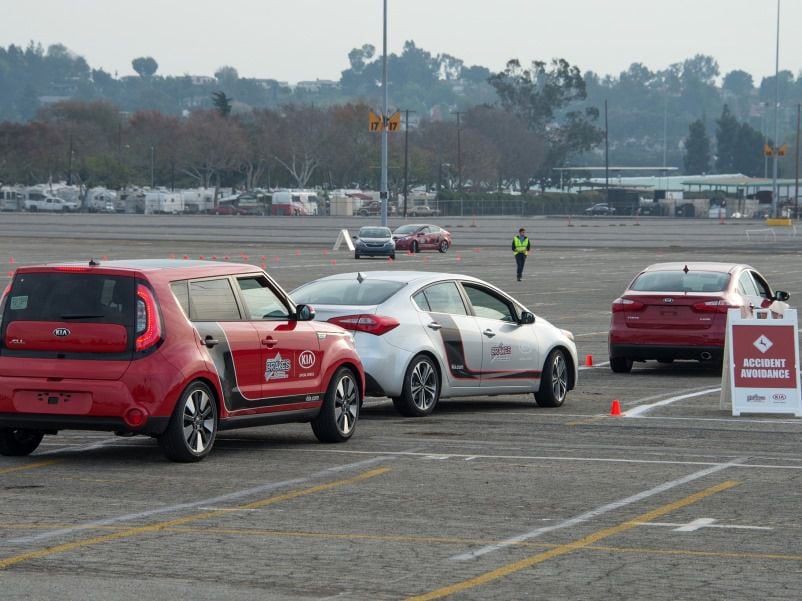 Classroom Instruction
Before the driving began, my son and I sat through about an hour of classroom instruction alongside the other parents and their young drivers. We watched videos, heard from experts about dangers of teen driving, and even heard from a California Highway Patrol officer who stopped by to teach the students how to react if pulled over (the officer stopped short of guaranteeing that every single new driver in the room would see the ominous red lights in their mirrors within a few years of earning a license). Surprisingly, the room was captivated.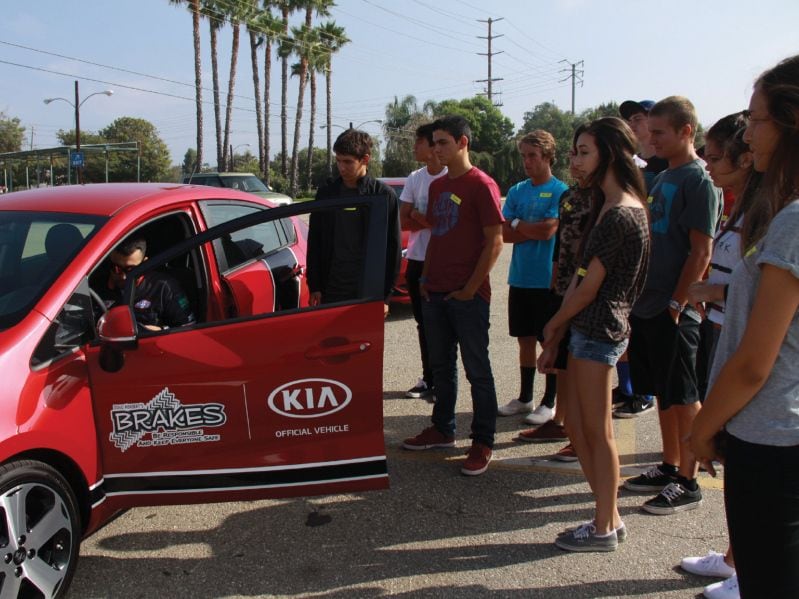 Jaws of Life
We then moved outside the classroom where the Los Angeles Fire Department had assembled around a brand-new Kia Rio (again, donated by the automaker). A few cadets eagerly busted out the windows and then spooled some wire a short distance away. After a brief warning, the airbags were electronically blown, one after the other, to demonstrate the sound and smoke that occurs during the activation of a supplemental restraint system – talk about an eye-opener!
With all of the Rio's airbags deployed, the cadets then went to work with the hydraulic rescue tools (aka "Jaws of Life") to show the students how post-crash locked doors are opened (they are actually "popped" open vertically, not ripped off) and how the roof is cut off, and dashboard lifted, to extricate those trapped within. When the carnage was over, the Rio sedan appeared as if it had lost a fight with an angry T-Rex.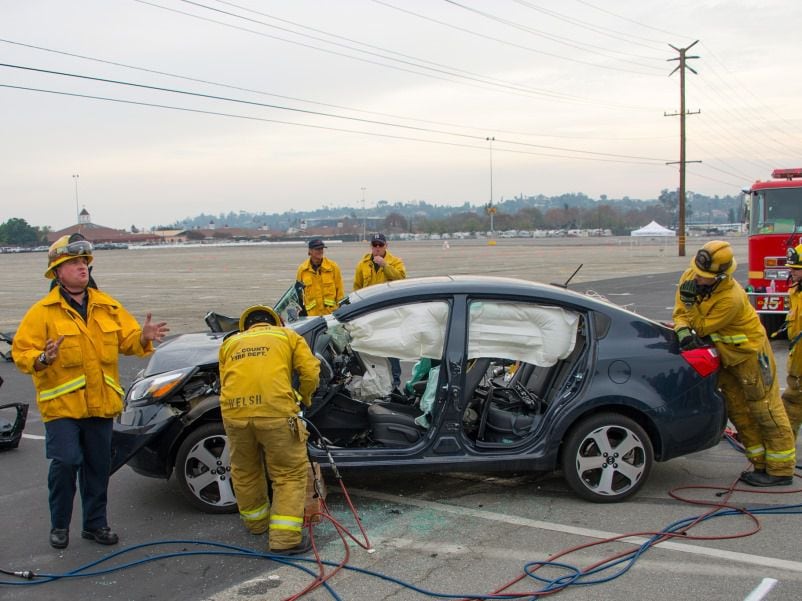 To the Skidpad
My son was shuffled away with a group of teens for a series of exercises: accident avoidance/slalom, distraction, panic stop, ABS braking, and car control and recovery on a wet skidpad (the student/instructor ratio is very high, and there are only a few teens sharing each Kia, so there is plenty of behind-the-wheel training). While my son was learning how challenging it is for the inexperienced driver to recover from oversteer – it's not anything like a video game and the girls picked it up faster than the boys – I walked over to an 80-foot-long tractor trailer for a quick ride-along.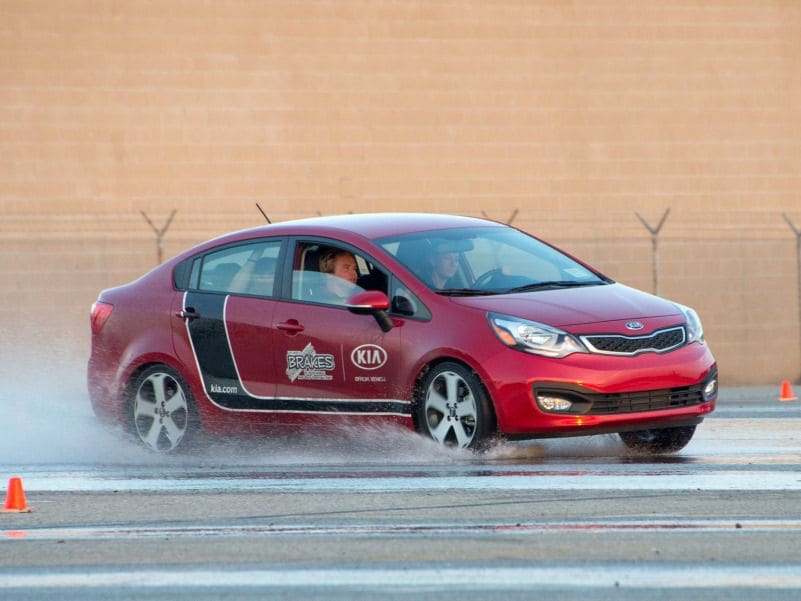 Big Rigs
KKW Trucking, Inc. had brought over a couple of big rigs to demonstrate the challenges its drivers face when maneuvering their 80,000-pound trucks on the same highway as 3,500-pound passenger cars. Using the huge paved parking lot as a test track, a driver brought an empty big rig (a featherweight at 30,000 pounds) to 30 mph and hit the brakes as hard as he could – with ABS actuated, the truck decelerated so slowly that I didn't even need a seatbelt. Lesson learned: Give trucks plenty of space. (Later, the teens climbed into the trucks to see how much the driver's outward visibility is restricted.)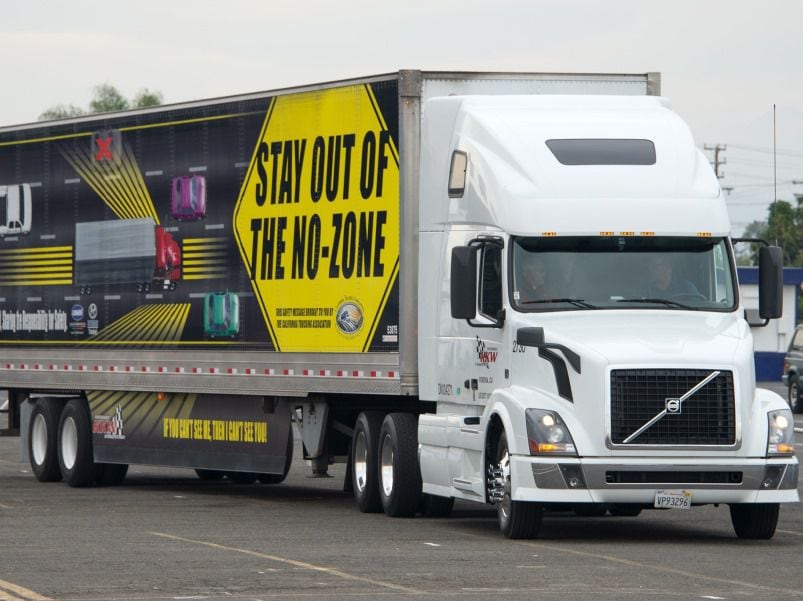 The Pledge
After four hours the program drew to a close. Everyone met back in the tent, and the parents and teens signed a pledge that both would exercise safe driving practices. The document included a statement for the parents that read, "Keeping my teen safe and alive is my number one priority," a reminder that preventing needless teen driving deaths requires a proactive parent.
On the 90-minute drive home, I asked my son if B.R.A.K.E.S. was worth his time. More specifically, I asked him what he learned.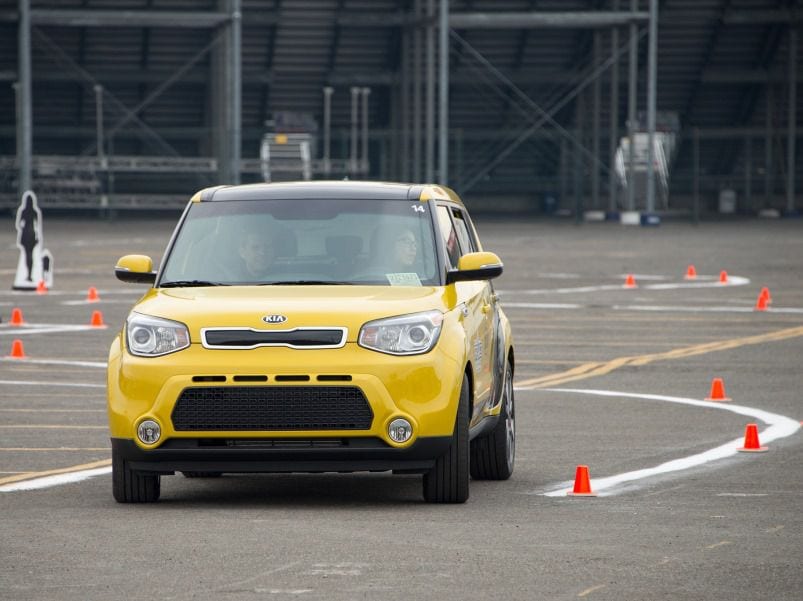 Lessons Learned
After a short conversation about how cool the airbag demonstration was, and a while pondering why Kia would let the firemen destroy a perfectly good car (after letting him stew, I eventually told him that the donated cars were destined for the crusher), he said that the panic stop exercises were the most educational, followed by the wet skidpad. The instructor taught him how to look far down the road – not at the end of the vehicle's hood – and anticipate events unfolding. In both cases his arms would steer where his eyes were looking, which was generally where the safe exit was located. As a track driving instructor myself, I was pleased that my son had learned a very important rule – keep your head up, and eyes far down the road.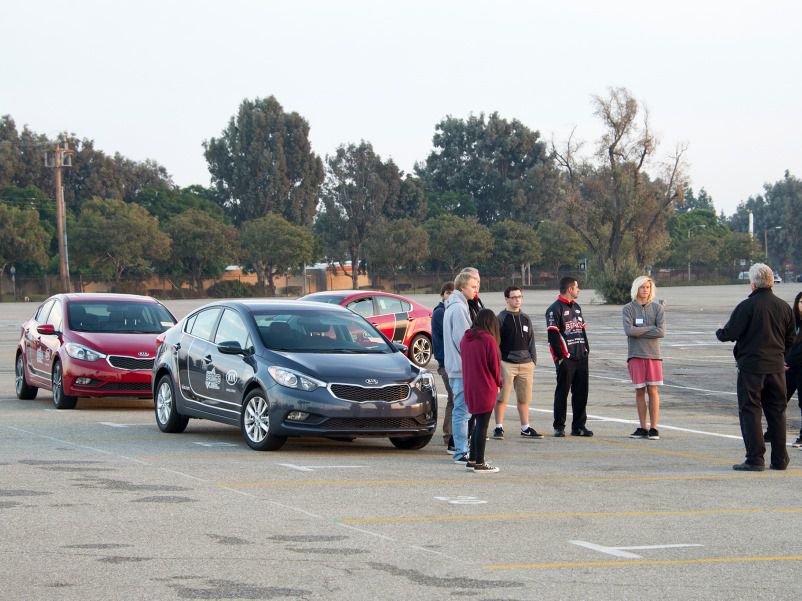 Sobering Truth
It is unfortunate that many teenagers in the United States are handed a driver's license long before they are properly trained and mentally ready to safely operate a motorized vehicle. As a result automobile crashes are the leading cause of death between the ages of 15 and 19 — a sobering truth. Thankfully, B.R.A.K.E.S. gives its graduates a much better chance of not becoming another tragic statistic.
To learn more about the B.R.A.K.E.S. program, or to sign up for a school near you, visit http://www.putonthebrakes.com/