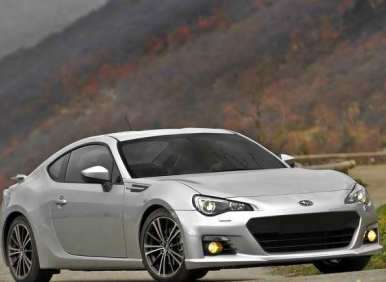 Subaru's current product-renovation plan has been a surprisingly low-profile affair, but that's likely to change once the 2013 Subaru BRZ goes on sale in the very near future—with an MSRP that will begin at $25,495. True, that's some $1,295 more than the exceedingly similar Scion FR-S, but the BRZ's more upscale packaging should help sway at least some buyers in the direction of their local Subaru dealerships.
2013 Subaru BRZ: Money Matters
Now, the just-mentioned MSRP for the BRZ is for the starter model—the BRZ Premium—with a six-speed manual transmission, while adding a six-speed automatic boosts the bottom line to $26,595. But the first thing to keep in mind about that pricing, especially as it compares to the FR-S, is that the Subaru entry—unlike the Scion—comes with a standard touchscreen, GPS-enabled navigation system that integrates full Bluetooth capabilities and an eight-speaker AM/FM/HD/MP3/CD audio setup with a 196-watt amplifier.
That eats up much of the price differential between the BRZ and FR-S, and the former also packs other standard Premium amenities like a leather-wrapped steering wheel, aluminum pedals covers, remote keyless entry, performance seats, a chrome-accented interior, HID headlamps and even 24/7 roadside assistance for the length of the vehicle's limited warranty.
Further, it's worth noting that those who do opt for the automatic get a transmission that delivers steering-wheel-mounted paddle shifters, a downshift-control program, and both "sport" and "snow" shifting modes.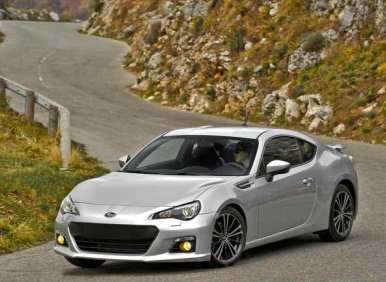 2013 Subaru BRZ: Upping the Ante with the BRZ Limited
Stepping up to the BRZ Limited models rewards owners with dual-mode heated front seats with Alcantra inserts and leather bolsters, a dual-zone automatic climate system, fog lights, heated exterior mirrors, front-door courtesy lights, pushbutton start/stop, a body-color rear spoiler, dual illuminated visor mirrors, and an integrated security system.  All that adds exactly $2,000 to the BRZ bottom line, with the automatically transmissioned Limited models starting at $28,595 and cars with a DIY transmission beginning at $27,495.
All prices exclude a $770 destination charge—however, they do include all the hardware that's expected to make the BRZ (and its Scion sibling) such a blast to drive.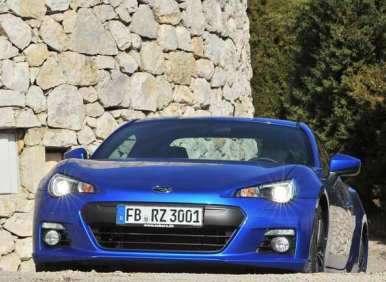 2013 Subaru BRZ: A Refresher Course
For those who need a brief refresher as to what all the fuss is about, the BRZ is the brainchild of a Subaru/Toyota partnership that set out to create an affordable sports car in the classic front-engine, rear-wheel-drive configuration. (Remember, Toyota currently owns about 16.5 percent of Subaru, explaining why each automaker ended up with its own version of the car.) On its part, Subaru developed a unique platform just for the project, and also contributed a new 2.0-liter four-cylinder engine, again tailor-made for the BRZ. Naturally, that powerplant is in the automaker's signature boxer-style configuration, with horizontally opposed cylinders, that makes for a more compact package and helps the car maintain a particularly low center of gravity for superior handling. The engine incorporates Toyota's advanced D-4S fuel-injection system as well, boasting both direct and port injection.
As a result, the engine is capable of 200 hp and 151 lb.-ft. of torque, which go a long way in a car that weighs under 2,800 lbs. In fact, Subaru claims the BRZ will be the "lightest closed rear-wheel drive sports car in the U.S. market" when it debuts, with its curb weight undercutting that of the Porsche Cayman by approximately 160 lbs.
But clearly, the BRZ was designed with an emphasis on driving dynamics more than sheer power, and that's further emphasized by its model-specific double-wishbone rear suspension, specially tuned electric power steering system, Torsen limited-slip differential and five-mode Vehicle Stability Control technology with a special setting for track use.
And it's all wrapped up in suitably dramatic and aerodynamic sheet metal, with a long, low hood, strong wheel arches, and a seriously sinister-looking face.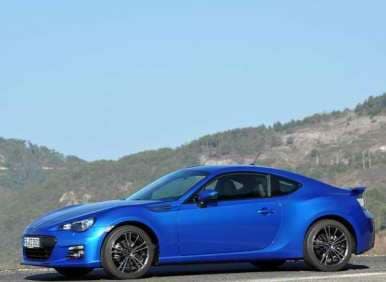 2013 Subaru BRZ: Where It Fits In
The 2013 Subaru BRZ represents a bit of a gamble for the Subaru folks. The company continues to post record sales in this country, thanks largely to the all-new Subaru Impreza. Now showing off an impressive EPA line of 27 mpg city/36 mpg highway/30 mpg combined, the Impreza reaped a 214.3 percent jump in sales in March and is up more than 170 percent through the first quarter of the year. And the automaker unveiled refreshed models of the Subaru Outback and Subaru Legacy at the recent New York Auto Show, where it also introduced the all-new Subaru XV Crosstrek compact crossover. With the company both on a roll and in the midst of rolling out these fresh products, one might think the BRZ would be the proverbial icing on the cake.
But there may be some reason for concern. The first regards the BRZ's competition. There really aren't too many direct rivals for the car, since there just aren't that many purpose-built, rear-wheel-drive sports cars on the road today for under $26,000. The Mazda MX-5 Miata opens at $23,470, but is a notably smaller and less practical car, with less power, too. You can get into a modern-day muscle car at this price point, but vehicles like the Ford Mustang, Chevy Camaro and Dodge Challenger all offer a far different overall experience than the BRZ will. That essentially leaves the Hyundai Genesis Coupe; on paper, the Genesis Coupe's combination of 274 horses for just over 24,000 bucks looks like BRZ's No. 1 problem.
Well, except for the Scion FR-S, which is very (very) similar to the BRZ, which in turn means much effort is going to be needed to differentiate the two in the marketplace. And the thing is, the Subaru version will be missing one of the brand's most important differentiators: All-wheel-drive. Also potentially troubling is that Subaru happens to be working on a totally separate high-performance vehicle lineup that will feature AWD and cater directly to the hardcore Subaru fan: The all-new Subaru WRX and STI, now split off from their Impreza origins and set to debut in the 2014 model year.
Whether those cars also will split off customers from the BRZ will be an interesting question.