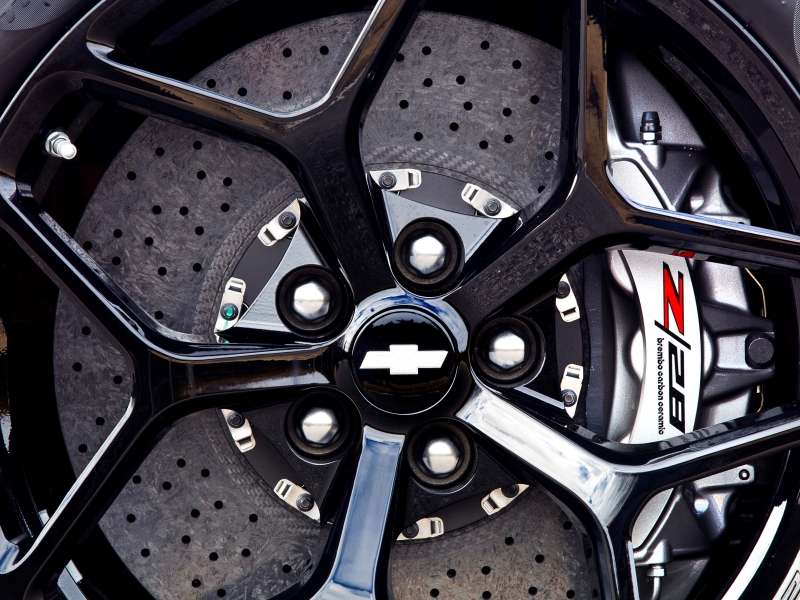 Don't worry, no journalists had their feelings hurt while creating the 2014 Chevy Camaro Z/28. Instead, the media being blasted here is a gritty substance that's sprayed on the Z/28's massive wheels—19 inches up front, 20 at the rear—to help stop its tires from slipping along the metal of the wheels proper. It's not the kind of thing that most folks have to worry about on a typical production car, but the 2014 Chevy Camaro Z/28, on the other hand … well, you know.
As pointed out by Mark Steilow, Chevrolet program manager and pro-touring expert: "We were told to build a fast car—period. We knew on Day One we'd need to bring some of the best suppliers onboard to make it happen."
A case in point: With a 7.0-liter V8 engine that makes 505 hp and 481 lb.-ft. of torque, and is complemented by Brembo brakes with carbon-ceramic rotors, the new Z/28 can get going so fast that when the driver stood on the stoppers during testing, the car's tires continued to rotate along the wheel—sometimes by more than 360 degrees in a single lap. On racecars with a similar problem, engineers often can add an abrasive paint along the edge of the wheel to give the tires a little something extra to grip. But even that didn't work with the 2014 Chevy Camaro Z/28, and Steilow went on to state: "Media-blasting the wheel created an extremely aggressive grit on the rim, which finally got the tire to hold."
And speaking of tires, the 2014 Chevy Camaro Z/28 relies on Pirelli P Zero Trofeo R rubber, boasting a track-friendly tread design and competition-oriented compound that can enable up to 1.5 g of lateral acceleration.
Added Mark Reuss, president of GM North America: "The Camaro Z/28 is an uncompromising performer that's bred for the track—and every one of its unique components supports the goal of faster lap times. It takes the Z/28 back to its racing roots and adds to the strong lineup of Chevrolet performance cars."