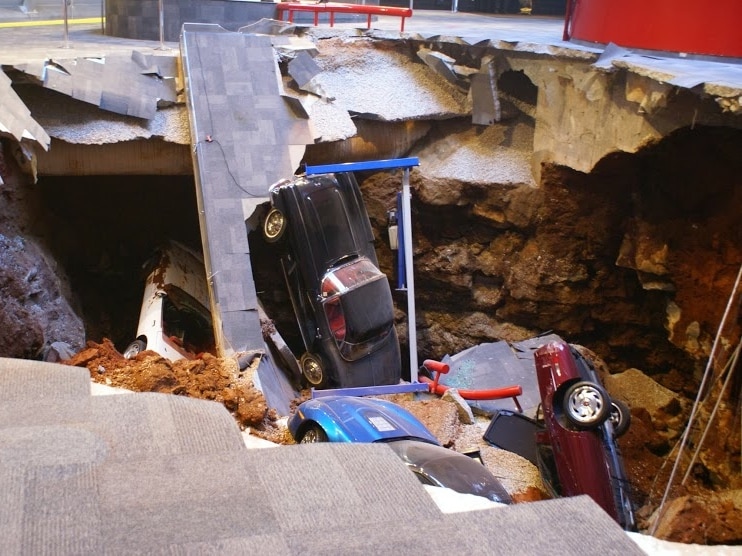 As most folks know by now, a massive sinkhole opened up beneath the "Skydome" exhibition space at the National Corvette Museum in Bowling Green, Ky., and swallowed up eight classic Chevrolet Corvettes. The incident occured early in the morning, before the museum had opened for the day, so no one was on site or got hurt. The cars, on the hand, weren't so lucky, at least not at first. But after news of the problem got out, offers to help began pouring in from the Corvette faithful, including Chevrolet.
The Bowtie Brand has announced that Ed Welburn, vice president of GM Global Design, would head up restoration efforts that will be overseen in-house by Chevrolet—once the cars are recovered from the gaping maw of a sinkhole that was estimated at 25 to 30 feet deep and some 40 feet across.  That could take awhile, though, as the situation remains in flux. One good thing is that the Skydome is separate from the main building of the Museum, which seems to have remained unharmed.
Still, the vehicles involved were some fairly high-profile Corvettes. Per the list released by the Museum, the damaged cars included two that were on loan from General Motors, a 1993 Chevy Corvette ZR1 Spyder and 2009 ZR1 "Blue Devil," as well as six from from its private collection. Perhaps the most notable of the last group is the 1-millionth Corvette produced, from 1992. Also currently in the hole are a black 'Vette from 1962, which was the final year of production for the first generation cars; a 1984 pace-car edition celebrating the PPG IndyCar series; a 40th anniversary edition from 1993; a tuned-up 2001 Z06 from Mallet; and Corvette No. 1.5 million, built in 2009.
"The vehicles at the National Corvette Museum are some of the most significant in automotive history," said Mark Reuss, executive vice president of General Motors Global Product Development. "There can only be one 1-millionth Corvette ever built. We want to ensure as many of the damaged cars are restored as possible so fans from around the world can enjoy them when the Museum reopens."
And to be clear, the Museum is not part of General Motors; it's an independent entity that's supported through tax-deductible donations.
For ongoing updates, visit the National Corvette Museum's website at www.CorvetteMuseum.org.
(Photo courtesy of the National Corvette Museum.)