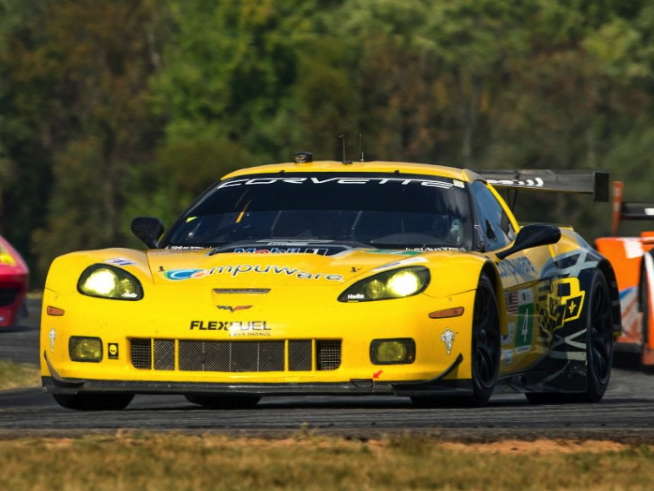 With the recent news that the Chevrolet Corvette C7.R would debut at the North American International Auto Show in Detroit in January, then later that month make its motorsports premiere at the Rolex 24 in Daytona, Fla., most Chevy racing fans have their sights set squarely on the future.  But before next year's racing season gets the green flag, Chevrolet wants to take the time to celebrate the 14 motorsports championships that it scored during this year.
They included five titles in the final season of racing for the American Le Mans Series, where the Corvette C6.R set an awfully high standard for the next-gen racecar. More specifically, last year's car capped off its career by bringing home a 10th manufacturer's championship for Chevrolet, as well as the 10th ALMS team championship for Corvette Racing; the 2013 GT class driving championship then went to Corvette racers Antonio Garcia and Jan Magnussen. And by combining that kind of on-track success with impressive fuel-efficiency performance, Corvette Racing also won both the Green Challenge GT Championship and Michelin Green X Challenge.
Chevrolet wrapped up five other road-racing titles last year, too. In the Grand-Am Rolex Sports Car Series, Chevy won its second straight engine manufacturer's championship in the Daytona Prototype class, with Bowtie pilots Max Angelelli and Jordan Taylor sharing the drivers' trophy. The brand did one better during the 2013 World Challenge season, with Lawson Aschenbach driving a Chevy Camaro to the GTS driver's title, Chevrolet claiming the manufacturer's award, and Aschenbach's backers at Blackdog Racing getting the team trophy.
On perhaps U.S. racing's biggest stage, Chevrolet added yet two more NASCAR Sprint Cup trophies. Jimmy Johnson drove a 2014 Chevy SS to his sixth Sprint Cup driver's championship in the last eight years, allowing Chevrolet to cement its 37th manufacturer's title. Complementing Johnson's efforts, Chevy driver Austin Dillon was the driver's champion in the NASCAR Nationwide Series.
Finally, Chevrolet captured its second consecutive manufacturers' championship in IndyCar racing.
"We had an amazing year in 2013, winning more championships in professional motorsport than any other manufacturer," said Jim Campbell, General Motors' U.S. vice president, Performance Vehicles and Motorsports. "Our success was the direct result of considerable preparation, strategy, teamwork and great drive from our teams, drivers, and partners in open wheel, stock car, and sports car racing. We are looking forward to continuing that momentum for 2014."