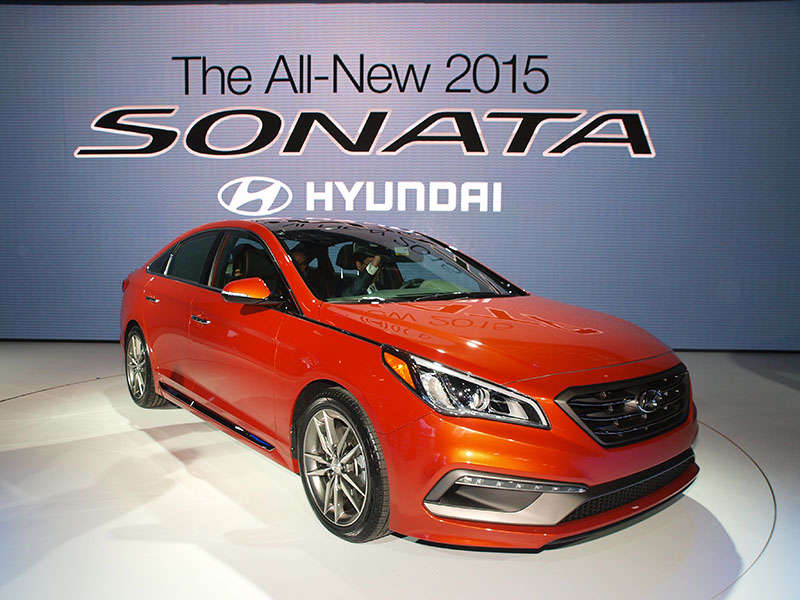 Photo by Megan Green
After already making a nice value play with the MSRP of the 2015 Hyundai Sonata, Hyundai is now upping the ante through a new program with BoostUp. That, of course, is the online social savings platform that delivers partner-provided "boosts" of cash to help fund major purchases like homes, weddings and cars.
The automaker actually has been working with BoostUp since 2009, but the latest effort in support of the 2015 Hyundai Sonata brings some new advantages. Said Nathan Miller, senior group manager, Incentives, Hyundai Motor America: "We are extremely excited about the all-new Sonata and see our partnership with BoostUp as a perfect way to help today's smart car buyers. Through our partnership with BoostUp, we are creating more dynamic incentive capabilities to support new car purchases and give prospective customers a hassle-free savings platform that comes with a $500 Starter Boost to get them into their next ride."
Added John Morgan, founder and CEO of BoostUp: "The Sonata promotion is unique to BoostUp, as our users won't have to wait until the end of the buying process to receive their 'Boost' from one of our partners. The goal of BoostUp is for users to save for life's big purchases, and what better way to reward them for doing so than by immediately giving them $500 toward the purchase of a great vehicle like the Sonata."
Further, as indicated above, the extra incentive comes after the automaker had previously sliced $300 from the starting price of the 2015 Hyundai Sonata, which starts at $21,150 for the new selling season.
For more information about the 2015 Hyundai Sonata, see: http://www.autobytel.com/hyundai/sonata/news/msrp-falls-by-300-for-2015-hyundai-sonata-124311/.
For more information about the new BoostUp program, visit: www.BoostUp.com/Hyundai-Sonata.