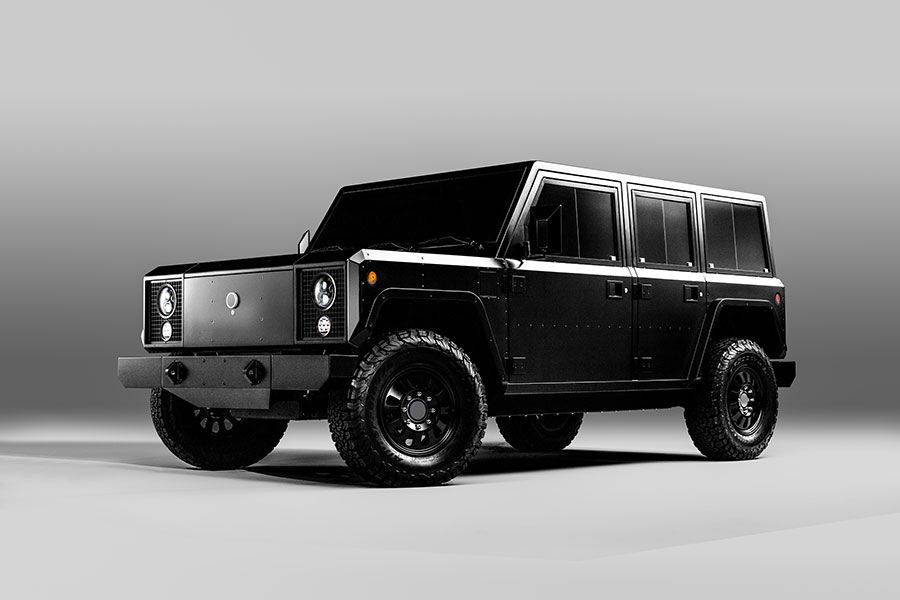 Bollinger Motors B1 900x600 ・ Photo by Bollinger
To become the world's most successful electric-car startup, Tesla evoked the future. Huge touchscreens and eye-catching features like gullwing doors made Tesla vehicles always appear to be on the cutting edge.
Bollinger Motors, another American company that's launching all-new electric luxury vehicles, is taking a different approach. Its B1 SUV and B2 crew cab pickup truck are a mix of ancient-looking design and cutting-edge technology, and the company pitches the result as an unparalleled blend of capability and efficiency.
Today, Bollinger announced that both the B1 and the B2 would cost $125,000 when they go on sale in 2021. That's higher than most estimates, but we don't think Bollinger is worried. The company is expecting low production volume, and such unique vehicles are sure to get attention.
These Bollinger vehicles look more like Soviet military equipment than six-figure luxury cars. They're big and blocky, without the gently curved sheet metal or dressy headlights found on even the toughest modern trucks. Their industrial-grade interiors have no infotainment touchscreen… or even typical buttons and knobs, just expanses of metal and four seats (trimmed in cloth, leather, or "vegan leather"). There aren't even airbags. The overall experience makes a Mercedes-Benz G-Wagen look like a Porsche. That means they look like nothing else on the road — which will surely be part of their appeal.
Not that Bollinger vehicles are designed only for the road. The company quotes a 15-inch ground clearance (with an adjustable suspension that can shift 5 inches in either direction), along with with 36 inches of water-fording capability, a hose-out interior, removable doors, and a fold-down windshield. And when you're working instead of playing, the company says they can carry a 5,000-pound payload or tow 7,500 pounds.
These capabilities set the Bollinger lineup apart from the electric vehicles on sale today, all of which are built only or primarily for light-duty on-pavement use. Tesla says it has a pickup truck in the works, but we think it will go to the segment's other extreme: Silicon Valley's take on the pickup, unlike this apocalypse-ready beast.
Let's cover the spec sheet. These vehicles aren't production-ready, so anything could still change. But at this point, Bollinger says both its electric trucks will go 200 miles per electric charge — this is shy of Tesla's mark, but still a respectable distance — at a thrifty 70 miles per gallon equivalent (MPGe).
Now, to be clear: Bollinger isn't the only startup electric-car maker with big dreams and cars we're months away from trying out. Starting a new car company is tough, and we don't want readers to bank on this company starting up without any hitch. But if the vehicles do come through as promised, we see them filling a hot niche.
The Bollinger B1 SUV is for well-heeled buyers who'd like the capability of a Mercedes-Benz G-Class along with the efficiency of a Tesla Model X — and wants a truck that, unlike those two cars, won't be seen on every Beverly Hills street corner. Meanwhile, we see the Bollinger B2 pickup going to drivers who dislike the shiny chrome and indulgent creature comforts of a Ford F-350 or Ram 3500.
If you see yourself in these descriptions — or you're otherwise drawn to the idea of an ultra-brawny all-electric pickup or SUV — Bollinger is inviting you to put down a refundable $1,000 deposit at bollingermotors.com/reserve. The company's current estimate is to begin production in 2020, with deliveries beginning in 2021.