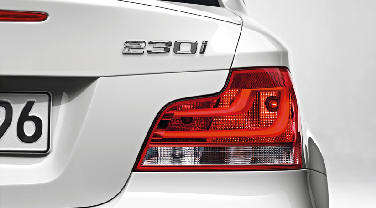 After the debut of the BMW 1 Series hatchback models, which so far have been tapped for release only outside of the United States, BMW's next step might be radically re-branding its compact luxury cars around the world. The BMW 1 Series and BMW 3 Series could be joined by the BMW 2 Series and the BMW 4 series by the end of the year 2015, with the earliest models arriving by 2012. According to Car magazine, BMW's plan to fill a greater number of automotive niches will be accomplished by separating out the BMW 3 Series coupe, sedan and convertible, as well as the current BMW 1 Series coupe and convertible into different product lines.
The current BMW 3 Series coupe and convertible would become known as the BMW Series 4, as would the convertible. The BMW 3 Series sedan would continue on under its current moniker when the next generation of BMW's most popular model is introduced at the Frankfurt Auto Show this fall (with an intended U.S. sale date of spring, 2012). Eventually, the new BMW 4 Series would trickle onto the market as the all-new platform spreads to the two-door variants of the vehicle, as well as a potential all-new GT model that would follow in the mold of the BMW 5 Series GT.
The BMW 1 Series coupe and convertible would both see their names changed to the BMW 2 Series when their re-engineered replacements arrive in 2013 and 2014, respectively. In theory, this makes the BMW 1 Series name available for the new line of front-wheel drive compact cars that the German brand plans to introduce in the near future, alongside the current Europe-only rear-wheel drive hatchbacks. Autocar reports that one of the front-wheel drive models could feature a GT-style design that mimics the BMW 4 Series GT but with smaller dimensions, and that a compact crossover vehicle that would be smaller than the current BMW X1 could also be in the cars. This vehicle may resemble the van-like people movers that are popular across the Atlantic.
BMW is far from the only luxury car company to give the two-door and four-door models of the same platform different names – Audi has been employing this strategy for several years – but it will be interesting to see if the automaker will mix front-wheel drive and rear-wheel drive vehicles under the BMW 1 Series banner in the United States. The company might in fact choose to avoid bringing the 1 Series hatchback to America until an entirely front-wheel drive lineup is available. BMW will also be testing out the strength of its brand as it trades in the cachet and recognition of the 3 Series nameplate for the uncertainty of the BMW 4 Series appellation.