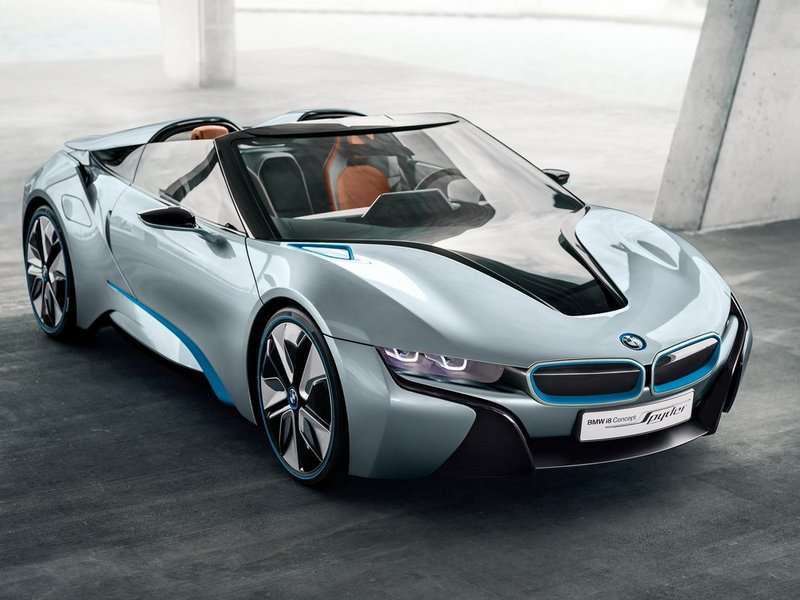 BMW looks to be keeping the i train going. Last week, the brand introduced the i3 electric city car. This week, the German automaker is teasing us with the upcoming i8 plug-in hybrid sports car by releasing details on the i8's plug-in drivetrain and specifications.
The i8 will be powered by a 1.5L turbocharged three-cylinder engine churning out 231 horsepower and 236 pound-feet of torque for the back wheels, and a 96 kW (131 horsepower) electric motor with 184 pound-feet of torque for the front wheels. Total output stands at 362 horsepower and 420 pound-feet of torque. Power goes through a six-speed automatic transmission.
Performance numbers for the i8 are as follows:
0 - 60 MPH: Under 4.5 Seconds
Top Speed: 155 MPH (75 MPH on electric power only)
Range: 21 to 22 Miles on electric power, 310 Miles with the engine (increases by 20 percent when the vehicle is in the ECO PRO mode)
Charging Time: 3.5 hours when plugged into a 120V outlet, 1.5 hours when plugged into a 220V Level 2 Charger
Much like the i3, the i8 comes with BMW's new LifeDrive architecture. The Drive module houses the powertrain, electronic control units, suspension components, and crash protection components in a aluminum chassis. BMW says having all of these components in the module helps give the i8 a low center of gravity and 50:50 weight balance.
Sitting atop the Drive module is the Life module which is made up of carbon fiber-reinforced plastic. This allows the i8 to have a low curb weight while retaining the strength and rigidity of steel. BMW says the i8 will weigh around 3,285 pounds. That might sound like a lot, but the company says if they went with steel, the weight would increase by 50 percent.
That's all BMW is saying for now. We'll have to be patient until September when BMW plans to debut the production version of the i8 at the Frankfurt Motor Show.